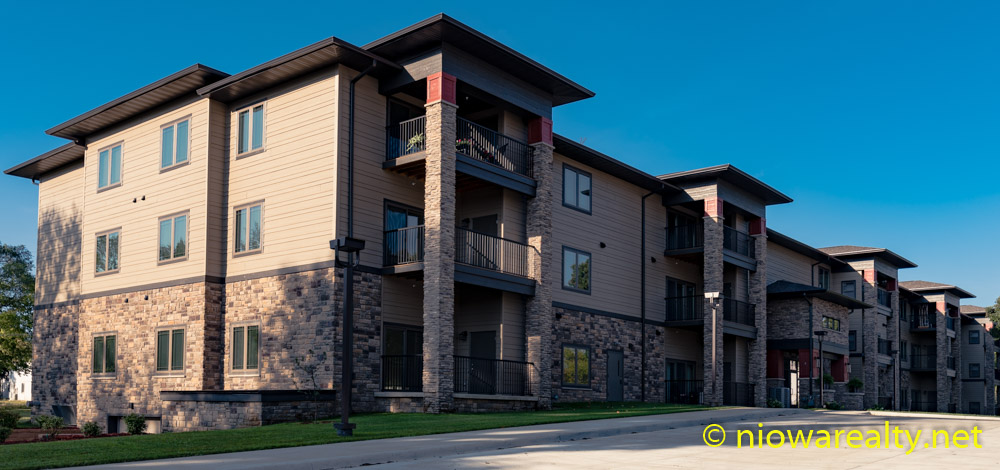 It was good to be back to a normal Monday with the exception of finding it hovering around 23 degrees when I left for work. Ouch! After looking at the weather, I see it's not going to be getting much better the rest of the week. If this keeps up, we'll be seeing some of that evil white stuff more sooner than later. When talking with an elderly lady this afternoon, she mentioned that most of her "Snowbird" friends are getting ready to head South.
Another condominium unit at Prairie Place on 1st sold over the weekend along with having another buyer circling. Perhaps I may be sounding like a broken record, but I must admit every time I'm over there showing the complex, I feel very much at home.
Our City administrators should be thanking their lucky stars that the Good Shepherd donated a million dollars towards that project with no strings attached. Before I was informed of that, I couldn't understand how those units could be selling at such a great discount considering the square footage being offered as well as the quality of construction. So if you divide 32 units into one million, you'll find that each one of those units cost $30,000.00 more to build than what we're seeing them priced. Now you know the rest of the story.
Not only are the units pleasing to the eye on the interior, they're also exceptionally attractive on the drive-by. That complex will far outlast many others and serve as a beacon of hope for others to beautify their areas of our City. Thank you Good Shepherd for creating a new neighborhood at the periphery of our Historic Downtown by your being so generous with your "giving back" to our City. Bravo!
The short article I read today troubled me deeply which spoke about the current percentages of Americans that are now living from pay to pay. Believe it or not, there are approximately 80% of our citizens in that boat. Some who were interviewed said that it's difficult to save even $100.00 per month. What is this Country turning into? It's beginning to appear more like a third world where there's no middle class; just those few very rich and a growing mass of poor. It's no wonder people are getting crazier by the day.
I'm hoping all registered voters get to the polls tomorrow to cast their ballots for those running for election as well as the Renaissance Mason City proposal. Now I want all of you to think about, along with reflecting upon this vote "YES" campaign. If you truly believe that this proposed multi-million dollar project is going to "fix" the real problems we're having in our City, then I simply say to you, "Vote your conscience, and let the future of our City speak for itself."
After reading about this 80% living from pay to pay, I truly doubt there'll be any more of our area residents doling out money they don't have to spend. What we desperately need are better paying jobs. Good jobs are something our City should be placing all the more emphasis on instead of leisure activities. Let's focus more on recruiting companies to locate here so there'll be real leisure money in the pockets of our shrinking middle class. Now that's my story and I'm sticking to it.
The above photo of Prairie Place on 1st is one of my favorites which I thought appropriate for tonight. Stay warm and be sure to vote your conscience tomorrow.