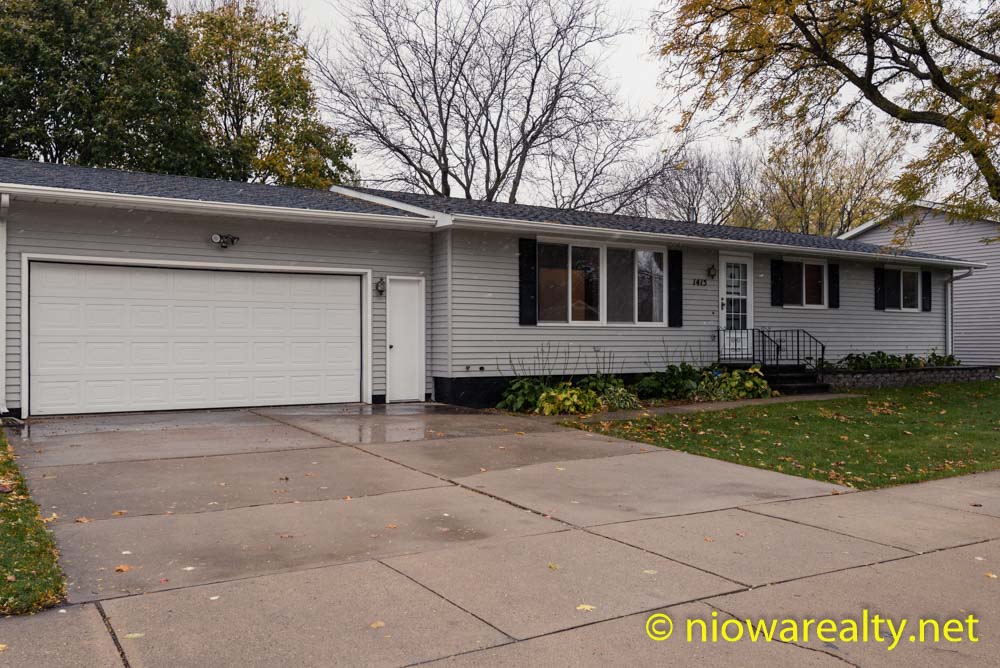 Oh Mercy!  What an absolute change in weather in a week's time!  While driving out of town to my closing this morning, the snowfall seemed to be getting heavier, but while driving back, it was just as if I was caught in the beginnings of a January blizzard.  Thank goodness the snow slowed way down by the time I got back to Mason City.  If it would've continued like it did that half hour or so, we would have been in the middle of a big mess.  I heard the States north of us were getting pounded with snow, and hope it continues to stay north.
In spite of the snow, my closing went very well to where everyone was very happy.  I could tell the buyer was exceptionally excited to get moving and improving.  I have a feeling they'll be in that home for a very long time along with hoping their move won't be so difficult in this weather.  As November's quickly approaching, each good day is a blessing because we all know how quickly things can change.  I was reminded of that while driving back to our City today. With two public open houses planned for this weekend, I'm hoping the wind will quiet down from what it was like most of the day.
Another story was told to me today by a customer who'd been duped by an internet scam which angered me immensely.  Seems just before he went to pay the deposit to his new landlord, he received a fake email from him telling him to deposit his security deposit which was cash, into a Wells Fargo account with instructions.  Not 24 hours later, his new landlord called asking why he hadn't stopped to pay his deposit.  Well, you can now piece together the rest of his story.  I'm sure an evil scammer hacked into his landlord's email and stole his identity long enough to steal a good chunk of free cash.
From what it sounds like, the sad part about this is that Wells Fargo claims it can do nothing at this time because there was cash deposited into what appeared to be a legit account opened in a State out West.  I told the young gentleman today that I wouldn't walk away from that unfortunate incident because whomever stole that money from him, is likely doing it to all the many more.  It's just one more example of how it's become easier to extort from innocent and hard working people who actually have real jobs.
Late this afternoon I listed a marvelous ranch home that's in one of Mason City's sought after neighborhoods.  It's located at 1415 – 9th St. SE which is very close to Jefferson Elementary, John Adams Middle School, and the High School.   It's far more roomy than what appears from the street view because it has a large main floor family room at the rear which offers a gas fireplace and sliding doors leading to a private patio. The real bonus is that if someone would want another bath and bedroom in the basement, the plumbing has already been stubbed in, and also a room that could serve as a 4th bedroom if one would install an egress window. As far as I'm concerned, it's a keeper.
I've already got it posted with accompanying photos, so don't wait too long because I believe this home is going to sell rather quickly considering it's in an affordable price range and located where many young families want to live.  Click on the link and see for yourself what 1415 – 9th St. SE has to offer you.