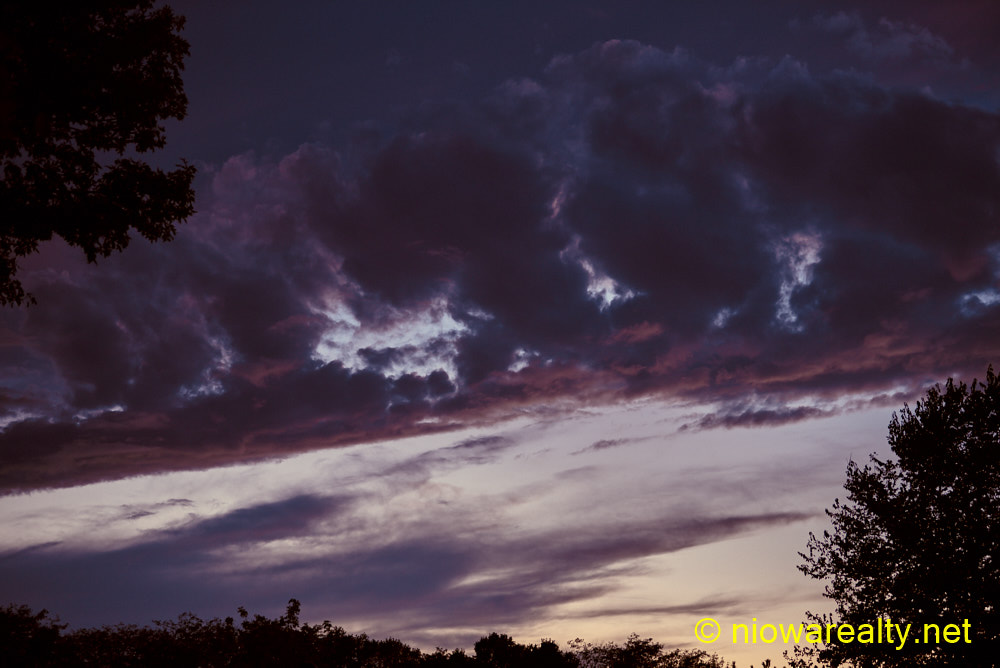 My day started a bit early with having to get a few more preparations done before the cold arrived.  After yesterday, I'd say I'm starting to get acclimated to our colder temps.  It didn't make me very happy seeing these next two weeks are supposed to be colder than normal for this time of year.  I reminded a client this morning about a November we had about 20 years being extra cold, but then the remainder of the winter was delightfully mild.  It's a crap shoot when trying to guess the weather when we've got those unpredictable effects of global warming to take into consideration.
Another one of my listings that sold will be closing tomorrow at an out of town bank.  I haven't been in that community for a number of years so it'll be interesting to see how things have changed over the years.  I'm going to miss working with that particular young couple.  They've been exceptionally loyal as well as thankful for the extra counseling I gave them during their decision making process.  I'm sure they'd agree their understanding of the whole procedure of purchasing a home has increased many-fold since our first encounter.
Over the years, I've listened to countless horror stories from first-time buyers who purchased homes for more than they should have, along with inheriting problems they were too naïve at the time to recognize.  If only someone had taken the time to educate and guide them on their home buying journeys, their lives would have been far less financially burdened.  There are people living in our community who've intentionally sold pig-in-a-poke homes to ignorant buyers, and likely laughed all the way to the bank with their fat proceeds checks.  Why is it there have be people who just don't want to play fair?  Nobody wants to hear about "us", but rather all the more about "me".
This coming Sunday, I'll be hosting a public open house over at Prairie Place on 1st from 1:00 – 3:00 pm for seniors over the age of 55.  We're still getting activity and sales on them, but yours truly's perfect world would be having those remaining available units already sold.  There's no question in my mind that it's the best of the best senior housing complex in North Iowa.  If you don't believe me, ask each and every one of the current residents.
A late appointment took me out of town this afternoon.  The country landscape has certainly changed to where I was beginning to think it was late November instead of October.  The particular buyers I'm now working with want something either in a small town or an acreage and don't want to pay much over $100K.  Sound like a tough order, but with winter on its way, there'll be a seller or two wanting out before the first of the year.
My suspicions have been recently confirmed regarding yet another wild animal population on the rise in our area.  We've now got a growing problem with coyotes.  Just recently around sunset, I've seen them running out in the fields.  It wouldn't surprise me if most would think them to be mid-sized dogs.  Between the exploding population of deer, the multiply number of squirrels, and now the coyotes, I'm not sure which group I consider to be the most vile.
If you have time, do a little research on what has been happening out West in their suburbs regarding the chronic problem they've been having with coyotes.  I personally despise them because they're finding our area fox dens and killing and eating their pups.  I know there've been coyote hunts in our area in the past, so I hope they're planning others in the very near future. It seems all the more like we're being invaded from every side by unwanted creatures of the day and night.