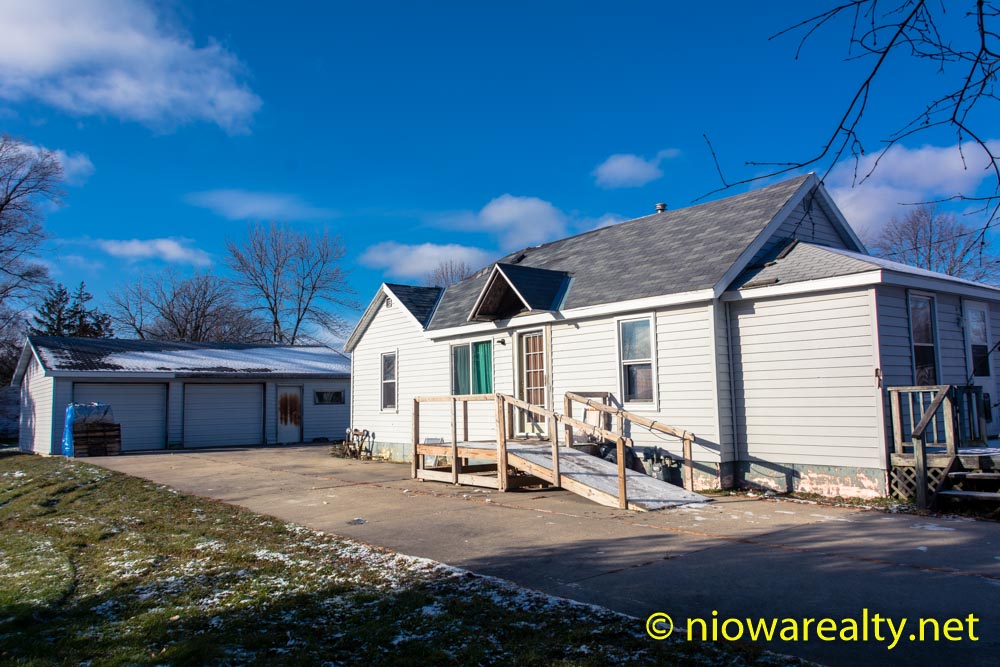 Several really positive things happened today.  The first is that even though it's cold outside, the wind has finally dissipated.  Thank goodness!  One of the people who works in a building near my office stopped me this morning in the back alley for an early morning chat.  He was also thankful the wind finally stopped since he has about a half hour drive to get to work.  We townspeople really don't realize how hazardous it can be for workers when having to drive from other towns to get here.  Nearly every morning while driving to the office, I see Hancock County, Floyd, and even Kossuth County plates on some of those vehicles.  Most of them must work at Mercy Hospital because those two corners are usually where they turn off.  I pity those coming from Kossuth County because that's certainly a very long winter stretch of Hwy 122.
The second positive happening, was getting a sale closed a full week earlier than planned.  I was most appreciative towards everyone involved for getting my buyer into his new home well before Christmas.  While doing our final walk-thru, I continued to speak about what possible improvements I would make in the home to create real future value.  Since he's fully capable of making home improvements, it'll be fun to see what he's done with it this coming year.  For sure there'll be some quality upgrades that'll "wow" me.  I couldn't wish him any more than the absolute best with his new home.
Sometimes things really do happen for reasons that'll never be understood.  Several weeks ago I was helping a client with some clearing out in a building.  While working there, I noticed there to be a handful of short boards that were of the age and cut that would be perfect replacements for filling in several spots in the floor of a home that I'll be working on next Spring.  At the time, I just piled them separately from all the other piles of lumber that would be going to the landfill in knowing I'd get back to pick them up before the clean-out crew would arrive this week.  Well, yours truly forgot about them until today.  That crew had been already working there for several days and I was convinced they were in the landfill. When I had time to stop by, I walked in and said, "I'm sure that small pile of boards I set aside were thrown."  When I walked back, I  found they were still there!  I said to one of the workers, "I'm surprised you didn't throw this pile."  His response was all the more beyond coincidence.  He said, "I really don't know why we didn't take them, because we took everything else."  I thanked him for whatever reason why he didn't."  Maybe those boards were determined to be re-used.
Location, location, location…that's what it's usually all about when looking for an investment in real estate.  Well, today I listed the home show above that's in one of the best areas considering its price.  The home is in desperate need of a re-model, but there's a 26 x 34 newer 2 car garage with an attached shop that goes with it.  I could see "upside value" written all over the site, and I won't be surprised if we have it sold quickly.  It's priced at $42,500, and located at 2026 S. Wilson, here in Mason City.  The link is below.