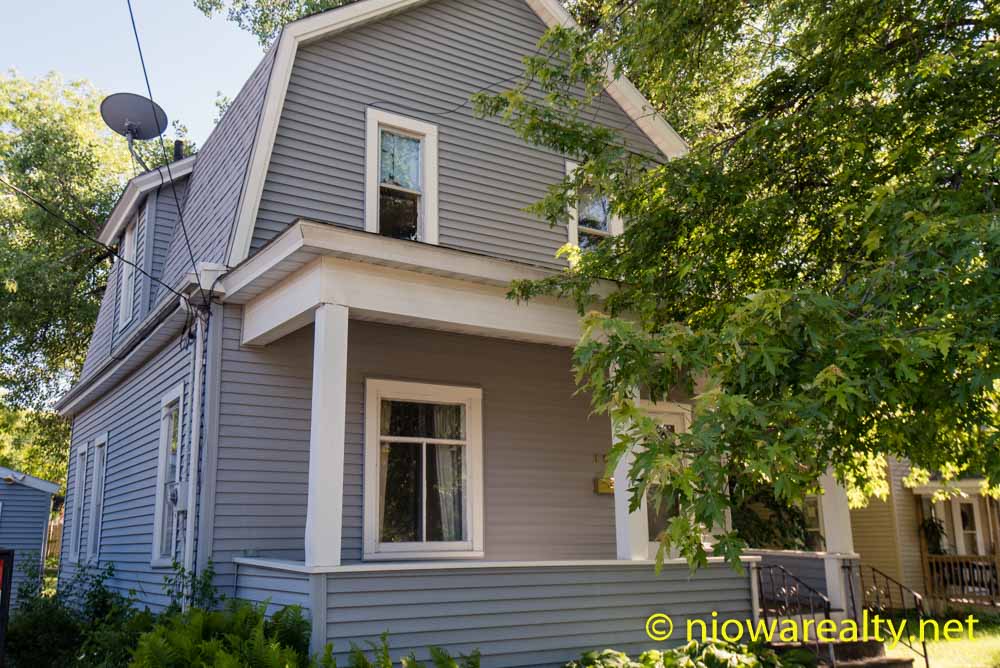 One of my clients who's moved out of town decided to do a $5,000 price reduction on his home today so I e-mailed him the form to sign and I just received it back this afternoon.  His home located at 103 – 20th St. SE here in Mason City is now priced at $49,000.00, and with it being in the 40K range, should help it to sell more quickly.  It does need some cosmetic work but the mechanicals are all recent along with there being permanent siding and a garage.  It doesn't look that big from the exterior, but once inside, the open floor plan gives a more roomy feel to the home.  I like the larger than normal master bedroom, and of course another favorite of mine is its Dutch mansard design.  For some reason, I've always liked that style.
I was saddened today when hearing of another fine mind deciding to relocate elsewhere.  It's understandable considering the troubling years he's endured here with a bloody divorce and people not wanting to want to let it go, but rather continue on with the dredging up and talking about his past relationship.  I'm finding there to be more people crossing borders in these times than ever.  They may think they're getting more close with a person, but instead they're driving themselves away.  When the door is closed on a very bad relationship, it should remain closed and people should have the understanding that it's hurtful when opening a door to someone's past which gets them all stirred up again.  The most unfortunate thing about his moving out of town is he'll likely not have any good things to say about Mason City in the future.  One thing he said that I've had to endure these long years is what he referred to as "The village mentality."  As much as I've worked at getting people to stop having their snouts in the pail of gossip, it continues on nearly as much as I've experienced in past years.  Before he leaves I'm going to tell him to be sure to send someone back to replace his position in our community.
Our weather today has been near perfect with the low humidity and cool breeze.  It's amazing how much more pleasant it is outside when the humidity is down.  This is one reason I would find it hard to live in the South.  Their summers are not only hot, but very humid.  I wasn't happy to hear about the giant heat wave that's supposed to arrive next week and cover the bulk of the Plains States including Iowa.  I'm going to hope the humidity isn't going to be high because it will certainly be unbearable if it is.
I had a strange sort of conversation today with a customer were he was wanting me to show him one of my listings, yet also informing me he was working with another agent. Having shown this person another one of my listings in the past, I was a bit confused over the whole thing.  He then said, "I'm not going to buy a home from the agent who has it listed!"  That of course prompted me to start talking about the real thrust of consensual duel agency and why if it is followed through accordingly, there's really no reason to steer away from purchasing a home from the listing agent.  I was quick to mention to him how important I feel it is for a buyer or seller to work with an agent they feel the most comfortable with.  I then encouraged him to contact whomever to get a showing scheduled. I think he was finally brought to speed regarding agency.