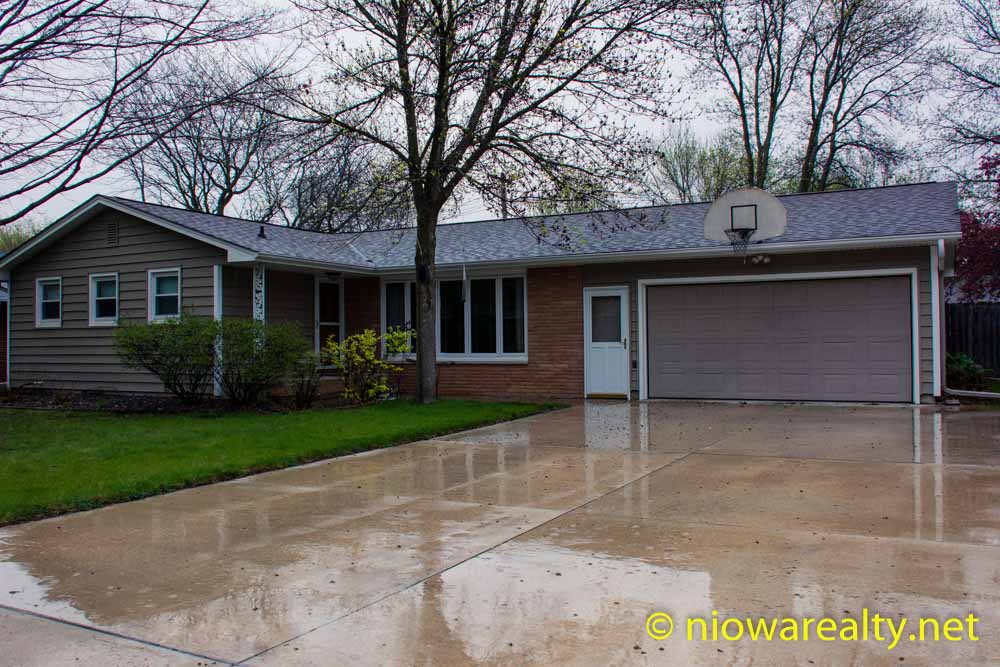 If there ever was a day when I felt stretched to the limit, today was one of them to where I actually found myself 20 minutes late for an appointment.  All I could do was apologize to my client.  It doesn't help when making flimsy excuses for one's own oversights.  It's just best to blame oneself rather than attempting to place the blame on others.  In spite of it being an overly stressful and gray day, I was touched by the number of sympathy cards that were either dropped off at my office or arrived in today's mail.  Living in a smaller community does have its benefits when knowing there are many understanding and supportive people in our community.  For me, a death in the family has always been exceptionally hard because no matter what we do to try to fill the "void" left by someone that's been a part of our lives for so many years, it'll never be the same.  We are left to make adjustments as best we can and continue on with our own life journeys.  I mentioned to a business person this morning after condolences were given, "Only a very few knew how exceptionally intelligent my mother was because of how private she was and never gloating over accomplishments or abilities."
I noticed at times over the years when supposed friends became dark and more likely due to their jealousy over her abilities.  That's one thing I'll never understand about those who tear others down in an attempt to build themselves up.  We all have specific abilities that rise above the average but some never make an attempt to work at increasing their own talents.  Instead, they make cutting remarks that have nothing to do with anything other than being a reflection of their own ineptitudes.  I mentioned to one of my relatives who arrived yesterday for my mother's funeral, "I become exceptionally angered when listening to people passing judgement on the creations of others when they possibly have an intellect, but take no initiative to create something themselves."  It's like someone standing on a pulpit looking down on everyone else and pointing out each and everyone's mis-givings but never pointing out their own.  That's a sign of insecurity as well as denial of their own shortcomings.  Not long ago I said something rather cutting about a person with a similar attitude.  I said, "Just because they had two or three children, they believe it was one of the world's greatest achievements and refuse to contribute anything more to the rest of the world."  It sound a little like some sort of modern day caveman mentality doesn't it?
I listed a fabulous home today that'll likely sell quite quickly if not sooner.  It's located at 280 Parkridge Drive here in Mason City and as far as I'm concerned, it couldn't get any better than it is. The owner has made every imaginable improvement and it certainly shows.  There are three roomy bedrooms, a large half bath off the master with heated floor, a custom-to-the-home's original design main floor laundry room, a stunning kitchen with all appliances included, a delightful knotty pine basement rec room, Pella windows, newer siding, a very private rear yard that offers a two-tiered deck and patio along with it being fully privacy fenced.  The most captivating feature of this home is that it has a wonderful circle floor plan where one doesn't feel trapped when being in any given room.  Yes, I'm truly thankful the owner chose me to market this beautiful home.  All I can say is, "You'll be your family's hero for buying two eight zero Parkridge Drive.  Click on the link below to view this listing.