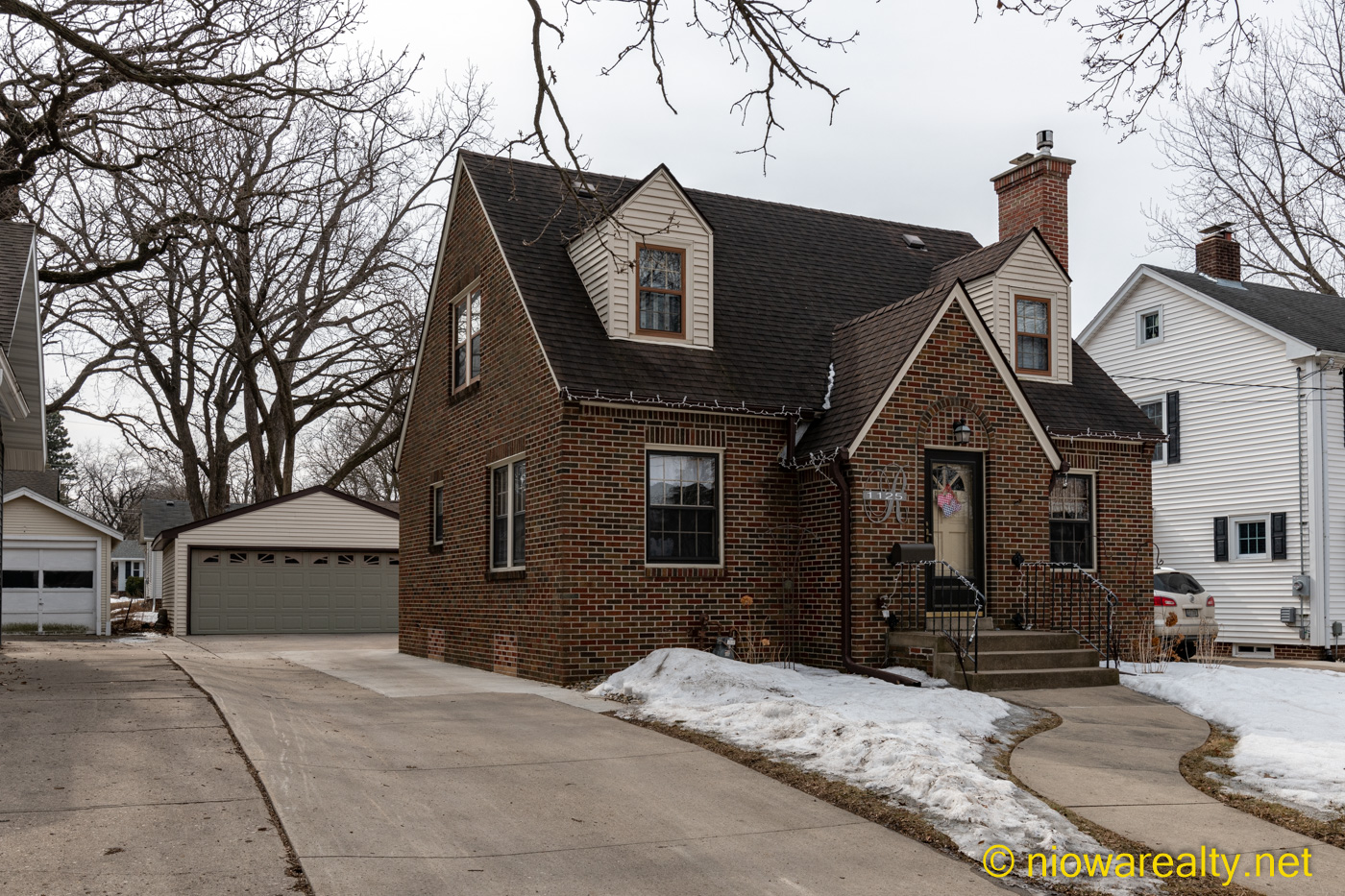 View More Photos
Another windy March day arrived which caused it to be much colder than expected, but we have to remember we're still officially in the grip of winter. The upside of it all, are the longer daylight hours we're getting which gives us more time to get what we need done before darkness falls.
I called the owners of 1125 W. State Street this morning and asked if I could stop out and take new photos of their home because they did mention having done some additional de-cluttering, and since we've not been getting enough showings on it, I thought it best to get new ones taken.
Tonight's photo is the front view of 1125 W. State St., and if you click on it, a full slide-show will begin. Without a doubt, this home is exceptionally well-cared for, and offers just about everything a buyer is looking for, and since it's in walking distance to the hospital, it should be all the more attractive to anyone working in the medical community. Its three car garage is also a bonus, along with all the appliances being included which means a buyer won't have to go out and buy new ones right away. So if you happen to know anyone looking for a new home, please tell them about this brick beauty.
Another sale of mine closed today, and of course it was yet another soft landing for the buyers. They were absolutely delightful to work with, and as I was walking out, they handed me a card which I opened upon return to office. I was nearly brought to tears by the kind words they had to offer regarding the services I provided them. It was so moving, I'll likely have it framed and hung on a wall in my office, just as a reminder of how appreciative some buyers can be. What impressed me the most, was that note coming from a couple who've purchased and sold many homes in different States during their careers. They will always be remembered from the first day I met them at my listing at 1125 W. State Street. It wasn't the right fit for them, but after numerous other showings, the right one did come along.
I had some additional accounting and bills to pay, so I went ahead and got those things done, and by the time I had them finished up, it was the hour to get over and get those new photos taken of 1125 W. State Street. I did spend some time with the sellers, just to let them know what our market conditions are like right now. I'm going to stay positive it'll sell once our weather warms because there really isn't that much to choose from on our market right now, and I don't see it getting better anytime soon.
Whenever I had some free time, I was back on the computer to see what's been happening in Ukraine. I give those Ukrainians a gold star for the resistance they're giving those Russians, and if our governments continue to arm them with more effective weaponry, I'm going to stay confident they'll be slowing those Russian forces down, and then begin eroding their ability to strike back. As most battle strategists know, fighting on foreign soil is an automatic disability.
They did report having killed one of the higher ranking Russian officers which of course will weaken morale within their ranks. Of course Putin is still spewing his deranged propaganda, and each day it seems to be all the more bizarre. With him saying Americans are all a bunch of Nazis was a real jaw-drop. It looks like more of the Russian citizens are taking to the streets in spite of being warned that they'll be thrown in prison for 15 years.
I still can't believe there hasn't been some sort of attempt on his life or a mutiny within the military. I had to laugh to myself when thinking how much he likes to show off his physique by riding around on a horse with his shirt off, yet he's not leading the charge of battle mounted atop one of his tanks bare-chested.
While Downtown this afternoon, I ran into a contractor who absolutely despises Putin, and for the first time, I actually heard another person refer to Putin as "That Russian pygmy." I guess I'm not the only one with a cutting tongue, but that contractor has me beat because he can spew expletives with such flair, a person just can't keep from laughing.
The Ukrainian are now manufacturing "hedge hogs" which are metal fabrications with wicked spikes on them which are being distributed and then appropriately placed on roadways where those Russian military vehicles are traveling which when run over, will puncture their tires. How ingenious. Just another example of necessity being the mother of invention.
As I suspected, it's now being widely reported that many of those young Russian soldiers who're being captured, had absolutely no idea they were going to war, and left to believe it was a continuation of their war games. The amount of lies those poor Russians are being force-fed, is beyond remarkable.
I also read where there's now been three assassination attempts on President Zelinsky's life. Thank goodness he's got his back covered. Let's all keep praying they remain diligent in beating back those Russian insurgents. I still can't believe those idiots almost caused Europe's largest nuclear reactor to blow. How much more insane can Putin get?
Tonight's One-liner is: For true success, ask yourself these four questions: Why? Why not? Why not me? Why not now?
Related Property:
1125 W State Mason City