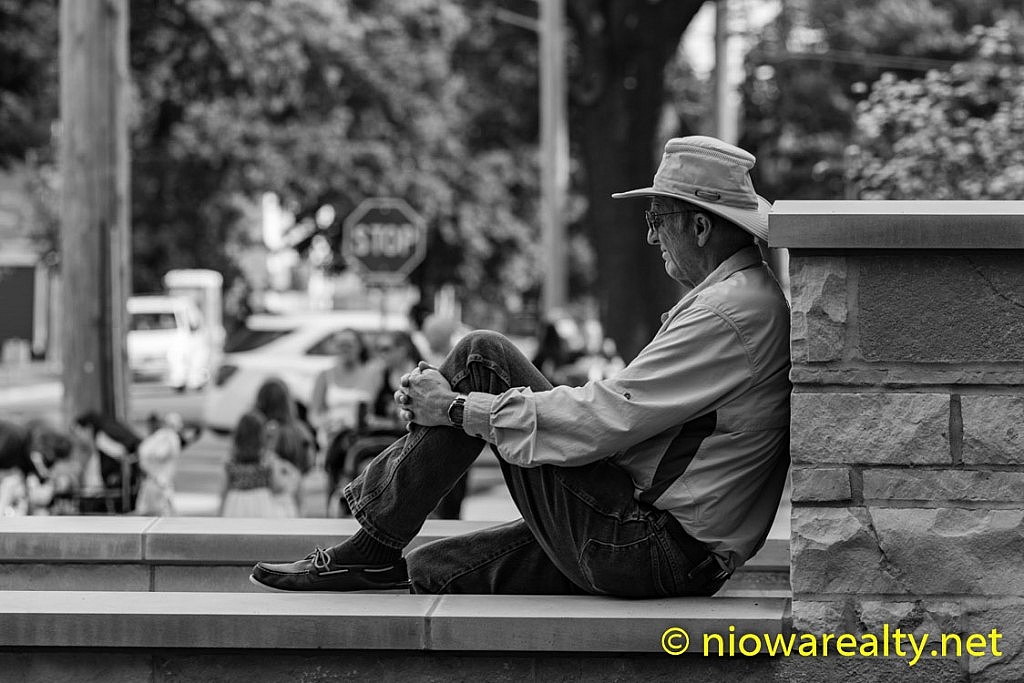 Looks like we're going to have a powdery white New Year's Eve along with some pretty biting below zero temperatures.  Many with whom I've spoken about their plans have said that due to what the weather is going to be like, they'll be going out early and back home all the earlier.   This weather is something like we used to nearly always have for two weeks or more around the 1st of each year.  At least we don't have as much snow as we've had in past years during these weeks.
The last of my year-end "to do's" are now finished, and all I have left is to pay the remaining bills that'll arrive in the mail tomorrow.  Speaking of mail, there were a few letters I needed to get out this morning, so I walked over to the post office and mailed them, but before I did, I stopped at their "ever-open" window to wish one of my favorite clerks a Happy New Year.  I had to stop her from running to a letter bin due to her thinking I had something held there.  She's having fun with my nickname since discovering it. Even her associate clerks are now having fun with my nom de plume of sorts.  I wish all clerks were as nice as many of them are.  Another necessary stop took me to my regular bank to get some other business done.
Several of the tellers asked to help me, but I declined by saying, "I'll wait until my regular is finished with the person she's helping."  After I walked into her office I quietly said, "If and when you leave this bank, I'll be closing my account and opening another elsewhere because I've been spoiled by your top-drawer service."  She blushed and said, "Now Joe, you know there are others here that are good."  I chuckled before replying, "Yes, but they're not as good as you."  She's one of the most kind and courteous tellers I've known who is always in the best of moods.  I told her if she needed any public survey feedback for her superiors, I'd be more than happy to give mine.
Since the snow just didn't want to stop falling, I had to go out and shovel twice before leaving my office.  I'm always a bit fussy about those sidewalks out front.  For sure I'm wearing my rubbers each time I'm out there since having a very hard fall at curbside about 4 years ago.  Ouch!  That was a big hurt in need of a long term mend.
Looks like my last real estate appointment for the year is going to be late morning on New Year's Eve.  A customer who lives out of town called early this morning to cancel an early afternoon showing.  She must've thought I'd be terribly disappointed by her cancel, but I brought her back to reality by saying, "There's no house that's been built worth risking one's safety on ice and snow packed roads."  We're supposed to have sunshine that day, so all should be well.
Getting back to my visit with the bank clerk today, I mentioned how the more gray hair I grow, there's all the more many of the younger clerks and salespeople considering me ignorant to modern terms and technology.  Several days ago I internally bristled when a service person told me something that I knew was not true or acceptable.  The more he insisted, the more I challenged him to where I finally looked at him and said, "When you get back to your office, have your manager give me a call."  After he left I thought, "How many older people simply "cave" and believe whatever someone in the business world tells them is gospel?  This is all the more reason we as a City and State must develop some sort of bureau to assist our elderly in need.  Elder advocacy is something that's lacking in our Nation, and if a "net" would be established, there'd no longer be vulnerable seniors trying to survive while in the shadows of fear.  I'm sure you've all heard some pretty scary real-life stories.  Right?