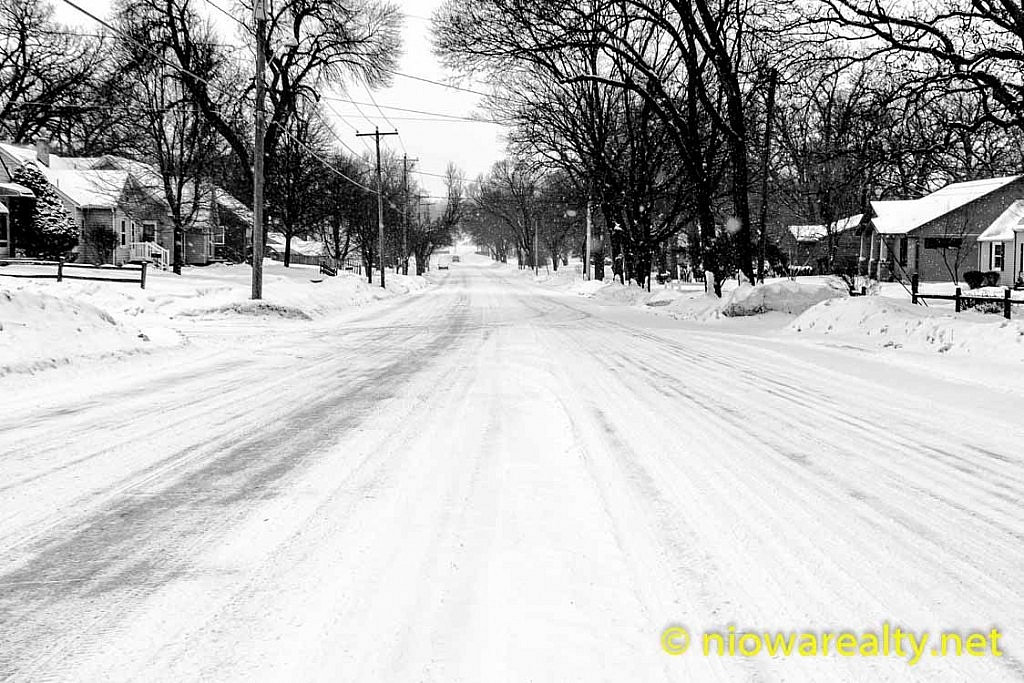 Let's all hope these extended well below zero temperatures are the first and last to be had in North Iowa for the remainder of winter.  After shoveling a short stretch in a "wind tunnel", it was a good thing I wasn't out there any longer than I was because when I looked at my face in my rear-view, it could see it was well on it's way to being frostbitten.  With the temperature at the time being -12 degrees, I don't even want to think about what the windchill was with that brisk northerly wind.  For sure, it wasn't fit for man nor beast outside.
Most of the remainder of my day was spent at the office getting the very last of my year-end office duties finished.   After paging thru the office expenses for this past year, I was again brought back up to speed how expensive it is to keep a real estate office running smoothly during a twelve month period.  One wouldn't believe how many reams of paper are used, or monthly advertising costs that usually go un-noticed by the general public.  As always, the costs for basic services continue to creep up.  As I mentioned to someone no long ago, "Real estate office expenses can't be normally passed on to consumers like other businesses, but rather those costs that have to be absorbed whether their offices are having a good month in sales or a bad."
Speaking of sales, I thought my just before Christmas one was my last sale for the year, but as chance would have it, another Realtor brought in an offer on one of my listings this morning, and by mid-afternoon, it was sold.  That home should've been sold right out of the gates due to the amount of activity and number of offers we had on it at, but as chance would have it, we couldn't get together on price.  The new buyers should be thankful for getting the great buy they did on the eve of 2018.  Let's just hope it goes to close with a soft landing.
One of my clients called this morning to have me check on his vacant home, so in between my shoveling, I drove out there to make sure all was well.  Unfortunately the seller forgot to hire someone to shovel, so I called to inform him all was OK except the sidewalks hadn't been shoveled.  When I got back to the office, I text him the name and number of a company's name and phone number we normally give people in need of lawn care or snow removal.  They do a good job in timely manners, and their prices are more than fair.  I don't think anyone could've paid me enough to be out shoveling in weather like today's.
My last appointment today took me to Clear Lake which just happened to be a short one.  As I drove away from the home, I decided to have a look at the lake.  Oh Mercy.  Those extremely cold swirling gusts made me think it to be a sight out of our last Ice Age.  The wind was blowing powdery snow in a fashion to where it looked like mini sand storms randomly happening across the lake.  It's no wonder many of those lake homes are seasonal–especially on south shore.  That brutal north wind would drive me up the walls.  I did stop at their Downtown grocery store and picked up some handsome veggies.  They were the best I've seen in a produce section for quite some time.  They must've just received a new shipment.  I did find interesting packages of un-cured ham pieces which were produced in Albert Lea, so I purchased one.  When I arrived home, I opened it and was delighted by the taste. Good judgement call on my part.
Without a doubt, I'm glad I made it safely home before dark and out of North Iowa's flash-freezing temps.  Please my dear ones, keep close to home and stay warm while these temperatures are so low, because it only makes sense to be ever so careful and cautious.