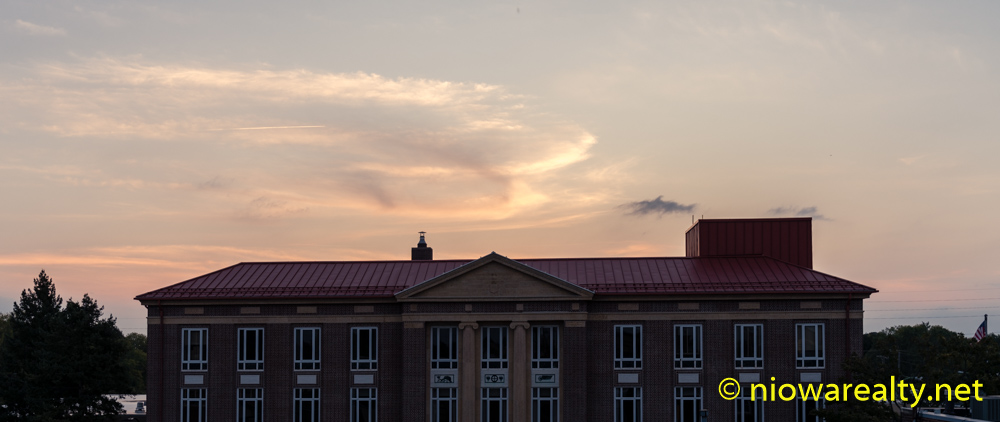 Another day went racing by with some good things accomplished including getting another one of my listings sold. After looking at my current inventory of un-sold homes, I'd say I'll be getting busy beating the bushes for new listings. This is going to be yet another year where I'm eternally thankful for the business a number of residents in Mason City and North Iowa have given me. In spite of the ever-strong competition, I've managed to remain a favorite of buyers and sellers.
It's almost unbelievable how hot it's been these last two days and from what I've read, it's supposed to be like this thru Sunday. It sounds like there's going to be some records broken. The school children are going to be suffering again tomorrow in classrooms not offering air conditioning. There's never been a time this late in September where I remember the temps being so high in our City.
I had a closing today was with a couple who decided to move back here from the State of Washington. The husband grew up here and his wife was originally from eastern Iowa. Hearing the stories about the traffic, the prices of goods and services including gasoline, and the distances from point A to B, they're now going to be enjoying a much simpler and quieter life, and still able to have a very nice home which they're going to upgrade even more to fit their needs.
Since they had to drive here from out West, I heard stories about crossing the continental divide, driving for hours in windy South Dakota, and the uncomfortable nights in pet-friendly motel rooms. But after doing their final walk-thru on their new home, they're all the more happy they made their choice to move hear in spite of their difficulties traveling half way across the country with two dogs in their car. I couldn't help but blush when they told me how impressed they were with me and would certainly tell everyone they know how good a job I did for them.
A few days ago I mentioned how I believe Mason City should start focusing on getting the elderly to move here. Each year, I'm seeing all the more buyers from out of State purchasing here. It's funny how perspectives are with people. There are elderly people I know who always speak negatively about North Iowa, yet others whom I've sold to, have nothing but good to say. No matter what anyone believes, there is no paradise on earth.
A well known whom I haven't spoken to in over a month called to chat today. We had a good visit, but somehow later got on the subject of jealous people whom he's just recently discovered to be of such mindsets. I went on to tell how there are many who disguise their jealousies with crazy ideas of conspiracies going on which they're by hook or crook going to have revealed. Nearly always it's nothing but smoke and mirrors created by the jealous ones so to have their own audiences who'll listen to their childish accusations being directed toward innocent souls. Be warned, there are many faces of jealousy, and the worst are those who appear the most likable as well as believable.