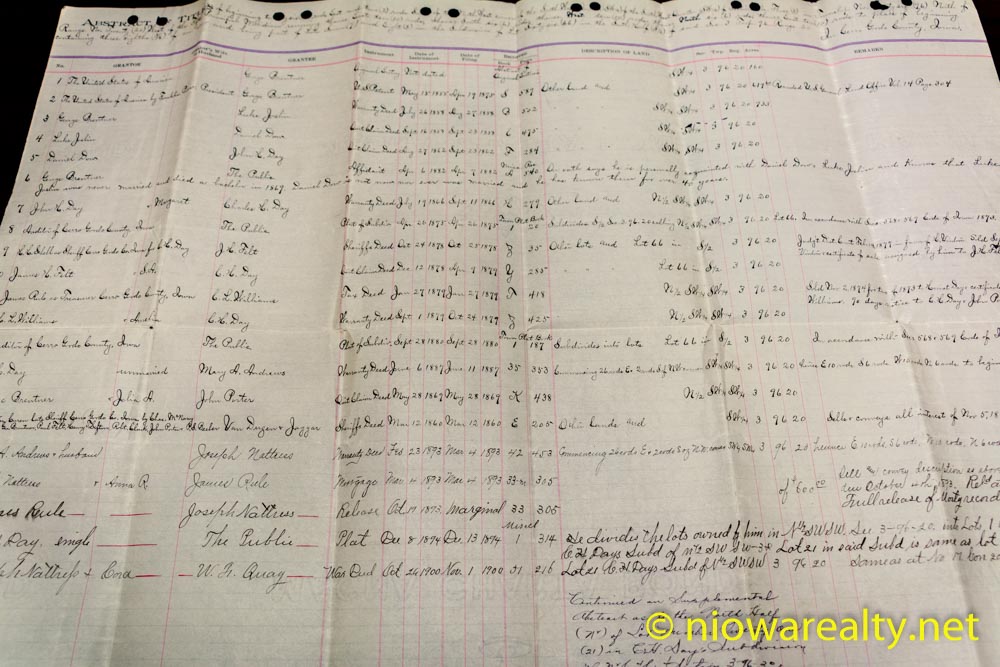 The activity on Prairie Place on 1st is gaining momentum to where I believe we'll be seeing some purchase agreements written soon.  The more I'm there and becoming familiar with all the little extras being offered, the more the general public over 55 years of age absolutely MUST realize those condominiums are the best to be had in North Iowa.
One thing I did discover today which is yet another example of how technology has gone to the next level, is whenever there's a visitor at the front entry which has a computerized entry system for residents, that's all the guest of say, "John Doe" has to do, is scroll to John's name and push a fully displayed button that has the symbol of a phone on it.  When the owner of the unit answers their home or cell phone and wants the door unlocked for that person, that's all he or she has to do is press "9" on their phone and the front door unlocks automatically.  Now that's a welcome break from intercoms!
While picking up some paper towels at Fareway over the lunch hour, I looked for that rack of Sterzing potato chips and it was gone.  I thought, "Oh No! They're not selling them anymore."  But then I went on a hunt knowing full well they wouldn't have pulled them for lack of interest.  Luckily I did find them and they're now located at the end of the produce section near the "employee only" entrance.
While looking at them, I thought of someone Downtown whom I figured would appreciate them so I grabbed a bag, and later dropped them off at her office saying, "I'm sure you'll be as amazed by these chips as I've been."  I couldn't believe she already knew about them from someone she knows along with saying, "He's raved about them for years."  I'm glad there are others in our City who appreciate good taste.
The above photo is of the first page of a very old abstract of title I spoke about several days ago.  Just looking at the dates entered takes my thoughts back to days of no electricity, no indoor plumbing, and no centralized heating or cooling systems–especially refrigeration.  It would be fun to be transported back in a time machine to those years and spend maybe a week or more and participate in a sort of "time transported learning vacation" to where all the little things we take for granted in our lives are suddenly gone.  I think most would be freaked out when seeing how foods along with meats were preserved for winter use.
Realizing I was needing a few supplies from our "Save Big Money At…" store, I made a quick in, grabbed what I needed, and then to the checkout.  Now please don't think me wicked, but that young lady was standing there looking half dazed and chewing the biggest wad of gum in a fashion resembling a goat.  I kept thinking to myself, "Don't look or you may say something you'll regret."  I paid with cash and when she handed me my change, the most disgustingly filthy penny was in with it.  I handed it back to her and said, "I don't do filthy pennies." and walked out.
I'm sure that at least made her stop that goat grinding with that wad of gum for at least a moment or two.  I'm still ever thankful for being enrolled in a  school system I attended for having a hard and fast rule of no gum chewing during school hours.  Watching and listening to some with their mouths full of gum can grow exceptionally irritating.  I'm still wondering what that clerk did with that filthy penny.