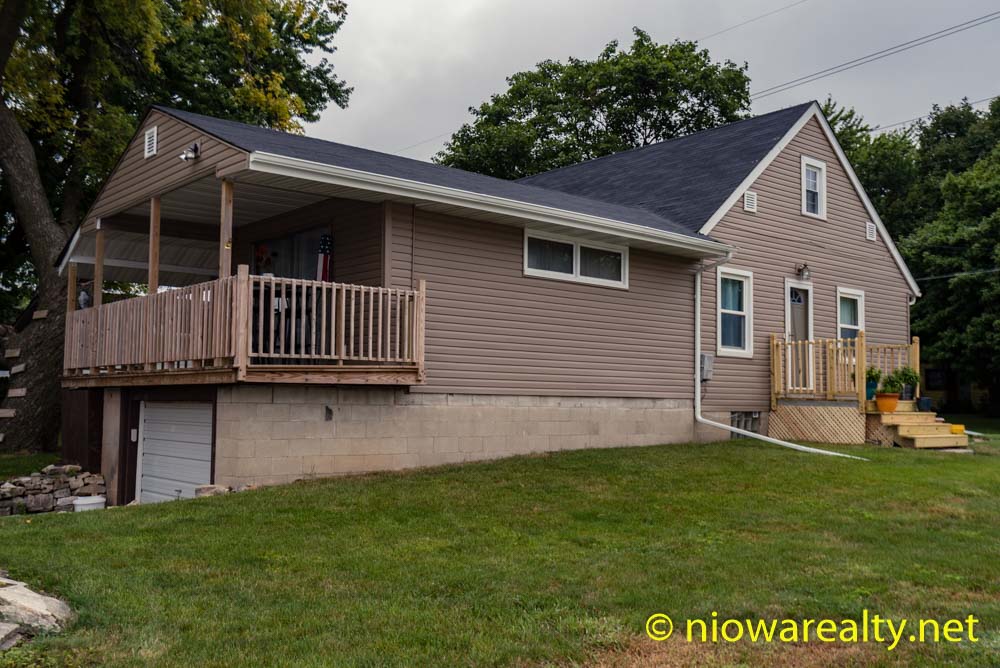 Nearly my entire day was spent taking care of loose ends concerning listings and closings that'll be taking place soon.  Another new listing came on board which is located at 103 – 27th St. SW here in Mason City.  The current owner has done a great deal of updating on it to where it should be attractive to first time home buyers.  I really like the family room which has sliding doors that leads to an upper deck.  It's high enough off the ground to where it feels more like a balcony.  We have it listed at $99,500 which I believe is a good buy for someone looking for a 3 bedroom home that needs little or no work, and of course it's located in the popular southwest side of our City.
One of my dear friends called today to share some things that've been happening in her life of late which saddened me greatly.  The story she told was reminiscent of similar ones I've heard many times before.  It took a great deal of internal strength to admit the fact that her children have been taking advantage of her financially, but thankfully she's decided to dig her heels in and take a stand by saying, "No more!"  She went on to say how she raised them the best she could, they all make more money than she does, and yet they continue to think she owes them. I couldn't help but say, "Isn't it supposed to be the other way around?"
There must be some sort of genetic flaw in me to where I couldn't imagine looking for a free handout from my parents.  Every time I see or hear of people taking financial  advantage of their parents or grandparents, I have to tie my tongue down.  Don't ever think it's just a fluke because I've seen it happen in even the most upstanding families. There's always one or two within a familial cluster who are the ringleaders of greed, and usually the ones who've done the least, but certainly the first to be holding their hands out for their inherited portions.  I read on a t-shirt once some years ago which gave me a good laugh which said, "Legacies should be abolished."  When you think about it, perhaps many of our greedy relatives would treat their oldsters differently.
On a lighter and perhaps a bit devilish note, I happened to be visiting with a well known over the weekend and the name of a guy came up in conversation whom we've both crossed paths with over these long years.  I discovered both he and myself are of the same opinion of that aging gent.  I went on to say, "The first time I met him so very many years ago, I didn't care for him enough to where I'd go out of my way to avoid entering into any sort of dialog."  His response was a classic when saying, "Every time I've been around him, I've always considered him gooey."  I got a good laugh out of his comparing him to something "gooey".  Just before we finished, I said, "I'll continue to thank you for giving me a new word to use whenever I encounter another similar to him."  I'm sure you know a few who're syrupy, icky, gloppy, sloppy, schmaltzy and slushy.  So there you have it, you've got one or two gooey acquaintances too.
The above photo is of our new listing located at 103 – 27th St. SW, Mason City, Iowa