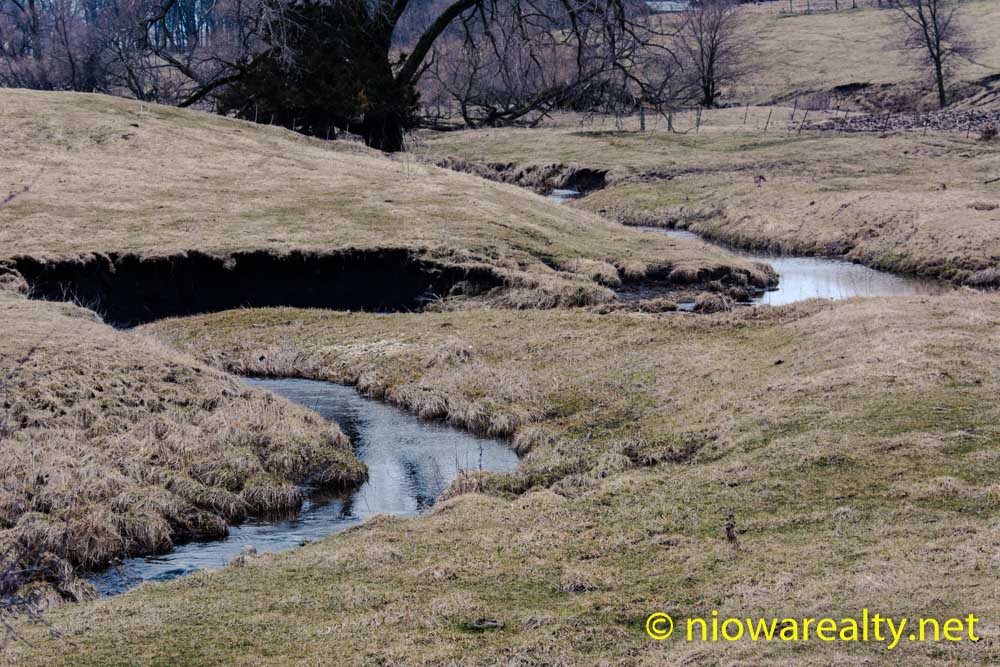 My day started rather early with an appointment I had at an acreage out of town.  If anyone would like to get a real glimpse of our countryside without being annoyed by traffic, it's best to do it early on a Sunday morning.  Of the two lazy days of the weekend, I'd say for most part it's Sunday—especially early in the morning.  In thinking I'd be able to get a few good photos while out in the hinterland, I took my camera with me just in case.  On my way back, I turned off on an inviting gravel road where I discovered a babbling brook with a blue heron standing on its bank.   Unfortunately it flew away before I could get my camera out.  It truly was a blue beauty.  The above photo would've been fabulous if that heron was in it.
To my delight, my open house at 677 – 15th St. SE was busy nearly up to the time of closing.  I was sure to get some reading done on a book I just started, but I didn't even have time to read even a paragraph.  Having read the forward, I'm not so sure if it's based on fact or fiction, but it certainly does have to do with the supernatural.  From what I've read, it sounds like the main character in the book somehow managed to metaphysically travel into the past looking for answers regarding her deceased father to where she found herself on a gray and lifeless beach with six hooded horsemen who were silently circling her on their mounts.  It was a confrontation she'd not expected and all she could do was look for the smallest break of their circle so she could run.  The break did arrive so off she ran back down the same path from whence she'd come.  Without knowing until it was too late, she'd found the six hooded horsemen had cosmically followed her back into her present time.  So the story begins.  Sounds a bit gothic but perhaps a good mental diversion for anyone. From what little I've read so far, the author's narrative ability does manage to bring his pages to life.
With about 3 hours to kill before my open house, I changed into my work clothes and went back to my daunting project.  It's actually beginning to now look like the hours I've spent were not in vain.  Seems every year I catch myself starting a project which turns into a long drawn out affair.  After carefully looking at what I've already done, I doubt there'd be many who would've considered taking it on.
The unfortunate thing about living in our age where it seems all the more people don't want to perform a task that takes any more time to do anything than the time takes to watch a two hour movie.  I've found the general public are being programmed to believe everything has to get started and finished in the "Now".  Just think about it for a minute or two.  How often do you get flustered when having to wait for something longer than what "you" believe is adequate?  Whether you want to believe it or not, we live in the age of instant gratification.  I believe nearly everyone has ever-so innocently fallen into a trap that was set by our consumer oriented/based society.
It's no wonder many have lost their ability to envision.  Most can't even clearly think about what their lives may be like five years from now.  Before any of you start demanding your "now's", think about what possibilities are waiting for you in your futures.  "Now" decisions oft times create lifetimes of regrets.