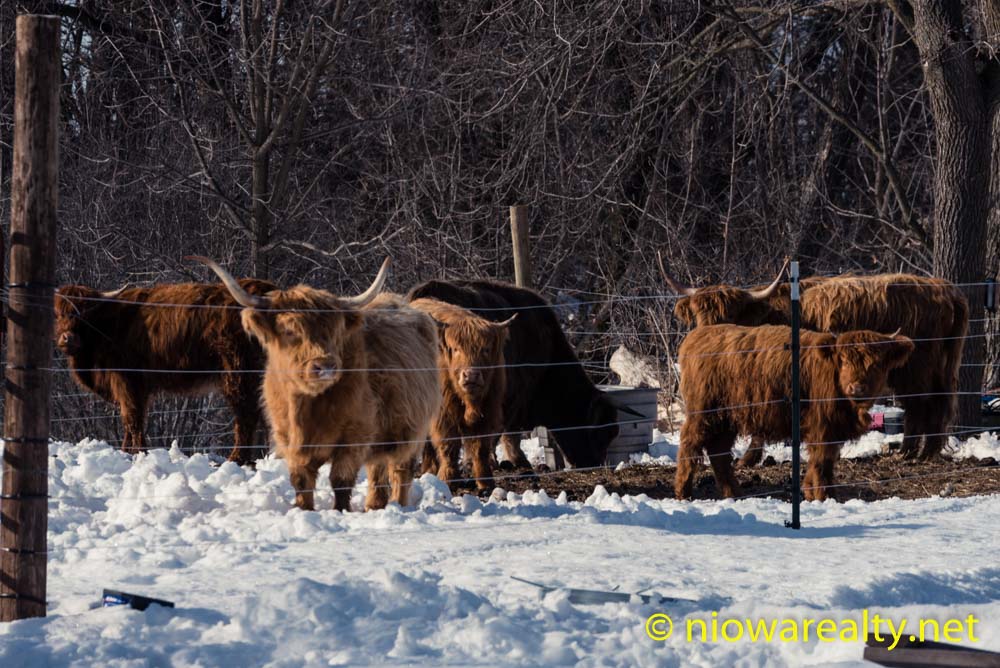 With it being the first day of 2017 and nothing pressing at hand, I decided to go on a long drive across the top of Iowa.  Having no end destination at all in mind, I just told myself I had to be back in the City before dark.  As chance would have it, I managed to make it back as darkness was beginning to fall.  What a perfect day it was for a long drive.  The sun was shining, the pavements were clean, and the traffic was nearly non-existent.  I was sure to take my camera with me just in case there was something worth stopping for a quick shot, and yes there were many.
After zig-zagging my way eastward, I finally decided Postville was going to be the farthest of my eastward travels.  I did stop for a late lunch at an eatery that was open in Decorah.  I hadn't been in that town for well over 20 years and was certainly impressed by how the residents have maintained and improved its Historic Downtown.  I think I only noticed one vacant storefront for rent;  all the others appeared to be occupied by successful businesses.  After standing back and taking a real good look at their Main Street, I could actually envision Mason City's Historic District taking on the same look once all the remaining storefronts are filled–only as long as our naysayers keep still.
There was one thing missing in Decorah which is quite alive and well here in Mason City, and that's the rickety rental housing we have blighting the periphery of our Historic District.  I made sure to drive up and down nearly all the streets surrounding their business district, and I don't remember seeing one that looked out of place.  There was one particular street that was lined with the most charmingly modest late 1800's homes that appeared unbelievably well maintained.  I would certainly like to find out how they managed to keep their town from becoming blighted.  I'm going to contact their Chamber of Commerce and try to find out why they're so successful in maintaining their widespread high levels of exterior appearance which any visitor would notice.
After Decorah, came my drive to Postville.  Oh Mercy!  What a night and day difference there was between those two towns.  I was very sad to see how Postville has fallen into such decay.  The last time I was there was likely 15 years ago when I decided to make a quick stop while on my way back from Dubuque.  At that time, I was noticing big changes beginning to take place to where I swore I'd not stop again after remembering what it used to look like.  Many years ago while out on a family Sunday drive to see the Fall colors in the east, we'd stop at their cemetery and visit the graves of relatives who passed generations before.  After what I saw today, I'm sure they're rolling over in their graves.
Sometimes a missed turn becomes a blessing for a really good photo to share.  The above photo is of a Highland breed of cattle which some farmer must've decided to raise.  They originated in Scotland and are prized for the quality of their meat as well it being lower in cholesterol than any other breeds of beef cattle.  What a welcome surprise! Isn't it amazing how many wonderful things are taking place right here in our beautiful North Iowa that most haven't even a clue? I believe our area news providers need to start focusing more on the good things that are happening around us instead of dredging up dirty old subjects which foster the negativity that's already overly abundant in our community.
After my travels today, you'll be hearing more from me about the evils of chronic negativity.