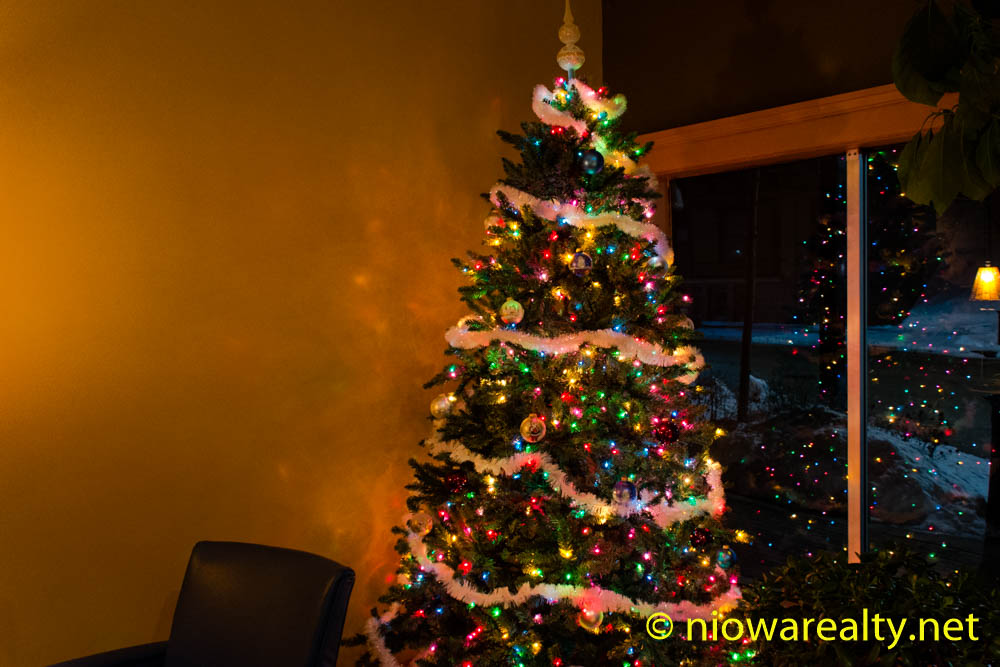 Every so often when a sale is closed, there are those little extras that must be attended to before I can truly say the sale is finished.  I had a recent closing of a vacant home which went very well, but unfortunately the seller hadn't rounded up all the keys.  After three or four phone calls, I did manage to get one set from a neighbor that I delivered yesterday, and the other from a relative which I delivered today.  I'm a little more particular about making sure keys are rounded up just for the sake of security for the new buyers.  With all the craziness that's happening in our world, one can never be too careful about keys floating about.  I was finally able to say the file is closed.  For it being only 3 days before Christmas, I actually have appointments thru Friday.
In reading the recent national real estate news, it sounds like the serious buyers are still out there looking in spite of the recent hikes in mortgage interest rates.  I mentioned something to someone today about how we'll be on a sort of maiden voyage of what to expect when our new President takes office.  I feel as though we've taken a huge step all the way back in time to when our Country was founded.  They were all playing it by ear back then, and I think we'll be doing similarly in the foreseeable future.
I ran into someone Downtown today and had a quick chat about how our local media is sliding downwards into the pit of poor news reporting.  It's almost as though they're chasing each other to see how low they can get.  I was quick to mention how many people I've spoken with who really hate those online comment sections on news stories.  They're nothing more than platforms for people with hidden agendas who're looking for a way to tell the world what's on their minds, and it's usually always something very negative.
Even in my profession, there are people who'd rather tear someone else down in hopes they can make themselves seem "taller" like Putin.   About 10 years ago I sat in on a newspaper interview with a highly regarded person in our community.  Several days later when I read the article, I said, "Wow. What happened in that interview was certainly not reported in an unbiased manner.  The reporter created a negative "feel" of the person being interviewed."  It was just that one incident that made a believer in how reporters can re-make stories into something that borders on being headliners on the fronts of those nasty magazines being sold in the aisles of check-out counters.
I continued on today with my surprise gift giving.  For some reason, I've always preferred giving than receiving. I think most of it comes from my childhood where gifts were not so freely given or received.  For years our household was a one gift per child affair.  I don't think any of my siblings considered themselves lacking.  With the advent of commercialized Christmas, we've nearly forgotten what this time of year is all about. Shouldn't we be focusing more on getting our friends and families together so to nurture and refresh those very bonds that've kept us together thru thick and thin?
The above photo is of the Christmas tree in my office window.  I consider it a beacon of hope during these long and dark nights.  I thought it appropriate since this night is our 2016 winter solstice.  Tomorrow, the sun will turn around and start marching itself back north again.  Thank Goodness!