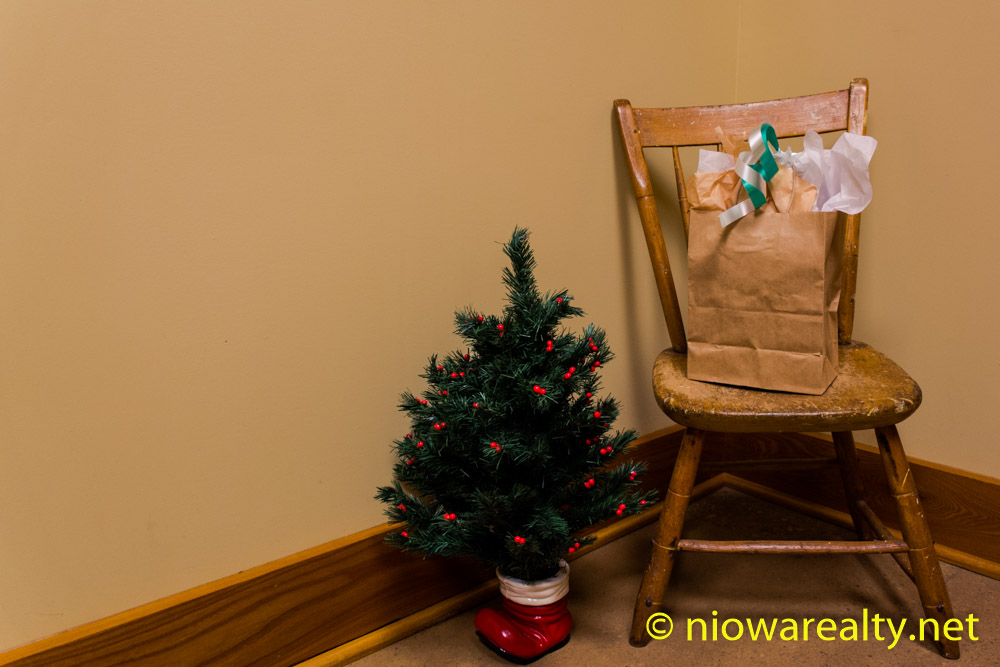 We've heard the saying about no matter how well we plan, there's always something that creates a basket of problems.  In just trying to get a little re-modeling done in a bathroom, there's been one unexpected problem after another.  I'm usually not into speaking ill of some of our local companies, but the number of times many of us have had bad experiences with items purchased at Menards, it's high time we have another similar company locate here to create some honest competition.  With just one big store having the bulk of our market, opens the doors for a poor competitive attitude with management and their employees.  I'm sure if there were a Lowe's or Home Despot here,  they'd be all the more customer and quality oriented, and we'd all be the happier for it.
Some months ago I was invited out for lunch by a very intelligent and long time client/friend.  I asked for a rain check but assured her I'd be calling sometime, and then I'd be the one buying.  She agreed on today, so we met at Thai Bistro located in our Historic Downtown.   As always, the food and service was excellent.  Being overly brave, I ordered a dish made with a curry sauce.  After eating it, I was again reminded how curry never fully agrees with me.  I know many give rave reviews when using curry in their cooking, but I'm one of the few who wouldn't.  I think it's a genetically predisposed aversion to it.
We had a good visit and touched on just about every subject in our circles.  It's always fun to have lunch with an intelligent person who is knowledgable on many subjects.  We even talked about one our favorite hobbies—gardening.  We both agreed that time spent in a garden is the best therapy to shed the chronic troubles of our world.  I told her how so many years ago when working on our farm, I actually grew to like being out in the gardens alone.  It allowed time for my mind to freely wander.  Once you grow used to the mechanics of gardening, you just turn into a robot and then free your mind to go exploring.
Somehow I managed to leave a basement light on in a house that I have listed, and freely accepted the chastising I received from the seller today.  I'm going to be extra careful to not let it happen again.  It is one home that I've got a burn on to get sold.  As I told the seller, we've had one offer on it that didn't go thru, so the next one'll be the one to make it happen, and then we're all going out to celebrate after it closes.
Believe it or not, I have three appointments to show three different homes to three different buyers tomorrow.  I have a feeling one of them is going be purchasing.  I've been telling a few people lately how memorable it would be to purchase a new home as a Christmas present to themselves.  It's happened enough times in the past to where I've grown to expect it.
The above photo is one I took of a very old primitive chair that was given to me some years ago by an antique dealer.  Although I don't have enough stuff, I couldn't help but agree to take it because of it's appearance.  It's much shorter than our chairs of today, but we must be reminded most people back in the 1800's were not as tall as the humans of today. Whenever taking a good look at it I think, "The stories you could tell about the people you've carried and places you've been would fill volumes."  The paint splats, the scratches in the wood, the plank seat being slightly bent over to one side, certainly gives evidence of the rough and tumble life its had.  It is so old, it could've likely been carried to its first family from a railhead by wagon or sled.  It's too bad we can't hear the stories waiting to be told by this silent seat.