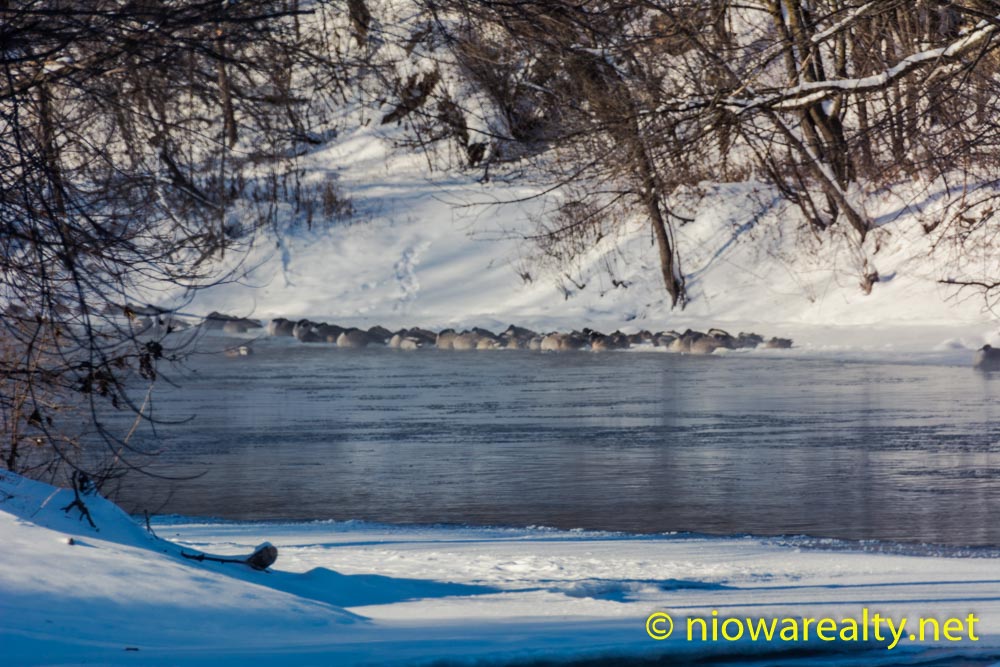 Well, it looks like we all lived thru nearly 24 hours of very cold weather.  When I got up this morning, I was not surprised to see my outside temperature gauge reading -21 degrees.  Fortunately the wind subsided enough to where we didn't have an even colder windchill effect.  It wasn't fit outside for man nor beast and hopefully there weren't any freeze kills of pheasants and wild turkeys.  I could have sworn I saw a quail under a bush which was likely trying to stay alive.  I have been noticing more of them these recent years.  I do hope this is the last of our arctic vortexes for the winter.
I'm not sure how others handle the extreme cold, but I'm of the stripe that gets noticeably crabby.  I think my crabbiness arrives when my feet and hands get so cold, they begin to grow numb. While in conversation with one of my clients today, I had to apologize for being a little on the sharp side.  I'm glad I did because it was very evident to him.
I actually managed to finish up a report today that I had promised to have submitted before Monday arrived.  Nothing like waiting until the last hour.  I'm normally not like that, but with the Christmas around the corner and this recent storm, it seemed to take a back seat to higher priorities.  I'm glad it's finished so I can start the week out fresh tomorrow morning.
Today's article about Alex Kuhn in the Globe Gazette made me very sad.  People who've never interacted with those who suffer from bouts of depression have absolutely no idea how crippling it can be.  I knew him well enough to say he was a visionary who wanted the absolute best for Mason City.  As with our most recent elections, the viscousness that took place out of the public's eye certainly must've have weighed heavily on him.  People like him don't come along often, and when they do, it's our duty to commend them for their extra efforts.
There was something quite funny I read today about a man who was so much into himself that he penned in a comical fashion, his dubious abilities.  The following are some of his statements. "I've made extraordinary four-course meals using only vegetables and a tag sale toaster oven. I build large suspension bridges in my garden for  stray cats breeding under the porches of my neighbors. Using only a hoe and a glass of water, I single handedly defended a small village in northern Mexico from an army of ferocious fire ants. I breed prize-winning oysters.  I cook thirty minute meals in twenty. Years ago I discovered the meaning of life but forgot to write it down."  I thought his into-himself comments were appropriately laughable for our cold winter's night.
Believe it or not, I actually noticed children and adults on the East Park sledding hill this afternoon.  Yes, have our share of winter lovers in North Iowa.  Since I knew I'd be in the area of East Park, I made sure to take my camera with me in hopes to get a shot of something worth sharing with you all tonight.  I drove off the well-worn path towards the Winnebago River and noticed the water quickly freezing and giving off steam from the great difference between air and water temperatures, and there they were.  A flock of water birds clustered at the shore and likely while shivering, in unison wishing their river to remain their fluid realm.  It was quite the sight seeing those sub-zero quackers trying to stay warm in the midst of our second and more intense arctic vortex.
Quackers or not, we are experiencing first-hand the effects of global warming and it's going to get worse before better.