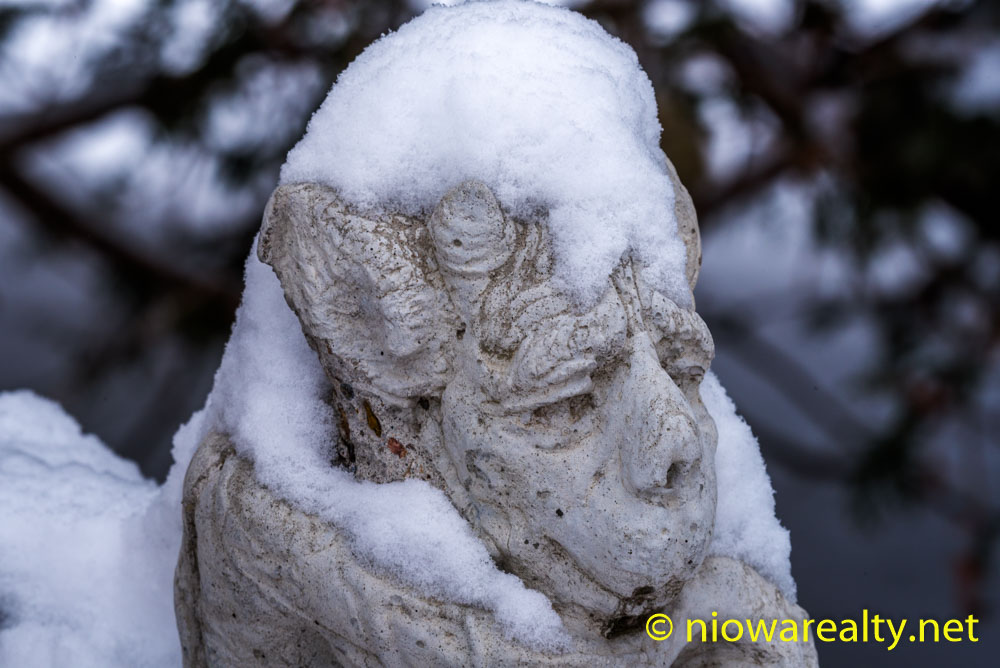 It was written a number of years ago about how global warming will create more radical weather patterns, and I think we're seeing it today with not only having it so terribly cold earlier than normal, but also the arctic air masses that have arrived twice already.  We haven't even hit the official start date of Winter! I certainly got my workout with the shoveling this morning.  I couldn't be out in it very long due to the extremely cold wind trying to freeze my hands and feet.  After hearing one of my clients tell me the wind chill is supposed to be -30 degrees tonight, I began worrying about people and animals. It never seems to fail when it's so cold that there are furnaces going out and houses turning dangerously cold.  Let's all hope for once there'll be no outages in North Iowa during this extreme cold spell.
My public open house at 507 – 4th St. SE was more of a success than I'd expected considering the weather. Everyone in attendance was surprised by all the updates.  The kitchen is what I think is the real selling point.  The half bath on the main floor is also a bonus since most turn-of-the-century homes only have water closets on their second floors.  Every time I'm in the home, I get a warm and fuzzy feeling about it.  I'm sure it's because of all the light entering it as well as its room sizes. Of course the beautiful oak woodwork and floors are a bonus.  It'll get sold, but I do hope whomever purchases it takes as good care of it as it has been since it was built.
One of my clients sent me an e-mail today regarding a book he's been reading.  I thought the subject of his current read to be quite a coincidence since my words to you last night were about how reporters create discord by putting such nasty thoughts into the minds of their readers.  The book he's reading is called The Four Agreements by Don Miguel Ruiz.  He speaks about how everything you say, hear, and do, makes and imprint on you, as well as other other people, and in the end, going out into the entire universe.  We are supposed to already know it, but refuse to practice it all the time.  Interesting concept don't you think?  I'll have to do some of my own investigating on the author as well as his book.
Several of my customers stopped today to chat and during our conversation, his wife mentioned something about making dinner tonight.  I asked, "What's for dinner?"  She said, "Lasagna."  Instead of just letting it go, I continued on by asking how she makes it, what ingredients she uses, and how it's baked.  The more we talked about it, the more I could see that aromatic lasagna in my mind to the point I could even smell it.  After they left, I suddenly realized why the multiple questions.  There've been numerous times when I've been invited to gatherings where lasagna was being served.  Believe me, I've seen some pretty scary attempts being made at creating one of America's favorite casserole meals.  In remembering just a few, I've found the pasta overly dry from being in the oven too long. I've discovered it too mushy and soft to where it gets goopy and mushy.  I've even seen it with so few ingredients, it looked like pasta shells with a jar of spaghetti sauce poured over it.  Fortunately my visitor today makes everything from scratch with the exception of the pasta shells and meat.  She and I both agreed that Italian sausage is the best of meats to use. Isn't it funny how just the mention of a familiar meal like lasagna can invoke all our senses when talking about it?  Do you think the Medici's served lasagna at table?
I thought I'd share the above photo, so to remind us all what today's weather was like when out sweltering under next summer's sun.