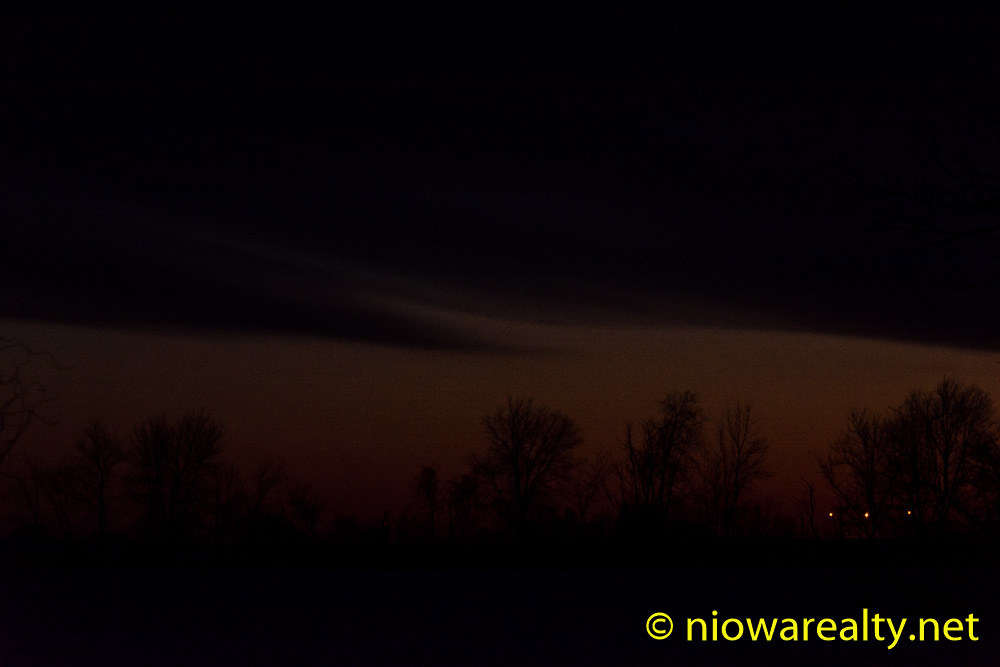 It may appear I'm sounding like a broken record, but I had another office listing close today without a hitch.  While pulling up to the house to do the final walk-thru with the buyer, I noticed he'd arrived much earlier than I when finding he'd already cleared the snow from the sidewalks and the driveway with his snowblower.  I walked over to him and said, "You're a gentleman beyond compare in finding you freely and willingly cleared the snow.  I brought my shovel with me just in case the seller hadn't cleared it."  Now tell me.  How often would you find a buyer stepping up to the plate and doing something like that in this weather?  I told him he'd be forever remembered as well as there likely being some really good karma coming his way soon.
Finding people who without a thought, doing something for others remiss of regard of payment or praise are becoming fewer and far between in this "gimme" world we're supposed to be sharing.  One of those rare ones stopped by my office to drop off homemade Christmas goodies.  I'm wishing I could clone her and spread her copies all over North Iowa.  After receiving a phone call today from a dear one regarding another bashing letter she received from one of her relatives, I would be the first to aid in the replanting of intelligence and selflessness all across our Country.
Every day I wonder how much more crazy the general public can be. There seem to be no boundaries or social mores of many when reading and seeing their written language as well as actions which not so many years ago would've been considered taboo in nearly every circle.  The "look at me" generation which the sociologists have been following these past ten years, have somehow created a norm for others to where it's becoming pan-generational.  I've heard and read words from people who are in their 50's, 60's, and even 70's acting like naughty elementary school children venting out on their playground companions.  There are millions wanting to play the role of the "victim" for the sole purpose of being noticed.  It's growing so commonplace that they don't even realize how many lines they've crossed and polluted impressions they've given.
After speaking to another seller this afternoon, it looks like I'll be getting about three new listings after the first of the year.  I'm glad for it because my office's inventory is dwindling due to the number of recent sales.  I'm repeating myself again, but I must say how soulfully thankful I am to all my loyal and faithful customers for helping me to have a very prosperous 2016.  I just realized today that when 2018 rolls around, Holtz Realty will have been in business for 75 years. Now that's an accomplishment considering how many offices have opened and closed since the year of 1943.
This past weekend's weather was something I'd really like to believe never happened.  I was very sad when reading the news this morning about all the accidents out East.   The above photo is one I took of last night's sky.  I branded it, "Silent Night, Creepy Night".