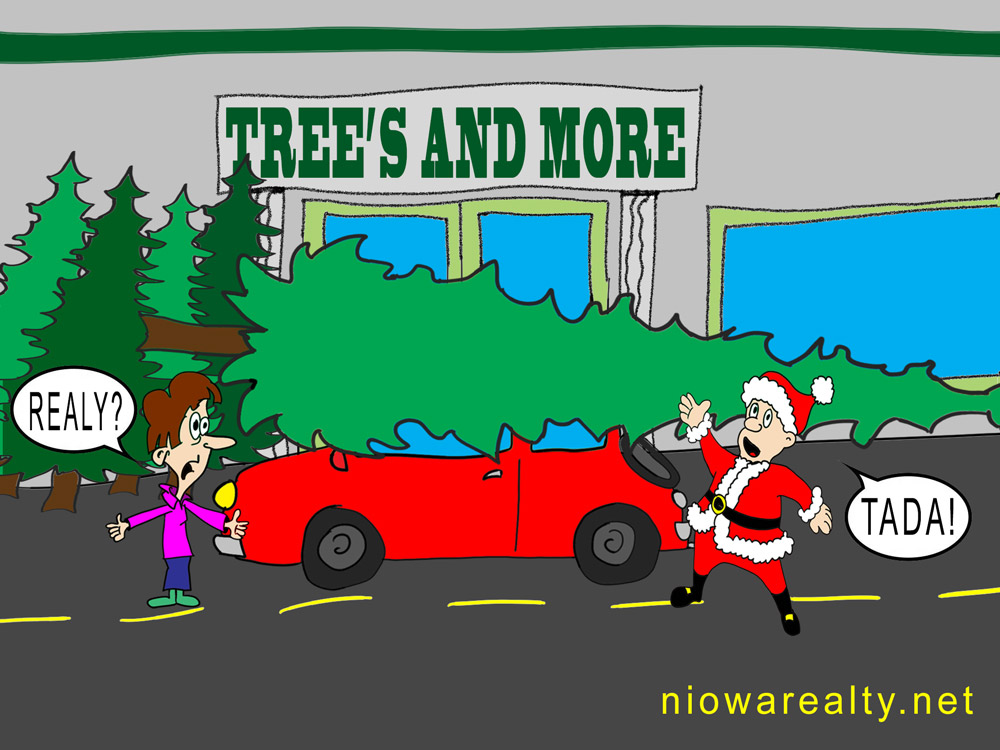 Being unable to put my finger on it, I've come to the conclusion that today was just one of those strange ones that arrive at random without rhyme or reason creating quirky, yet memorable happenings as I'm living thru them.
Thank goodness the snow flurries were just that, and left nearly as quickly as they arrived.  Certainly without complaints, I'd say the longer the snow stays away, the shorter our winter will seem.  Each year, I'm seeing more clearly the signs of our growing Zone have been changed from 4 to 5.  With that said, we should be experiencing two weeks warmer weather on both ends of Winter–a later Fall and an earlier Spring.
My public open house at 1415 – 9th St. SE had a good turnout today with not much of a down time while there.  There's been a greater than normal number of people circling that home with there being 2nd and 3rd showings to the same buyers, but there seems nobody ready to pull a trigger and make an offer.  I think part of the problem is our being in the midst of our Holiday porthole which is creating too many other important things on people's plates.  Whatever the reason for it not being sold as of yet, someone's going to get a great home for the money.  I absolutely love its main floor family room which includes a gas log fireplace.
Speaking of fireplaces, most people have no clue how expensive it is to have a good one professionally installed.  Even if you're doing a gas insert on an existing wood fireplace, the prices normally start in the thousands.  Of course they're worth it if you spend more time at home during winter's early mornings and extended evenings.  There's nothing better than a gas log to take the chill out of a home which quickly creates an added ambiance.
With my late afternoon being free, I decided to run off to a church service out of town. The experience I had there was just another episode of the funky day I was handed.  The sermon was flat, the readers hadn't practiced, and the church was a bit chilly.
There was a young man with an OK voice up front leading the congregation in song.  I'm sure he was wondering why so few people were singing which included me, because whomever picked the bulk of their sung music must've did a random pick-thru of Advent music.  Oh Mercy!  The syncopation and exceptionally wide voice ranges abounded to where I think their song leader was the only person in church that was actually singing all the lines.  I felt like I was in some sort of wanna-be new age church where you're supposed to feel like getting up and rocking in the aisles.  You may think all ages are capable of freely singing such music, when actually it takes practice, practice and more practice to get it comfortably right.  And that's if they have seasoned voices capable of singing such pieces.
Oh I have to share with you the funniest sight I had last night.  Just as I was walking to my car out at Hy-Vee West, I noticed three people attempting to place a real Christmas tree atop their low-slung newer vehicle.  The Hy-Vee worker was saying something to them as he was backing away after helping them with it's hoisting.  Believe it or not, there those two were getting in their car with that tree just sitting on its rooftop with absolutely nothing holding it down.  Now you know where my thoughts were going.  A quick stop would send that tree flying forward and possibly hitting another car.  A rapid acceleration would send it careening in the opposite direction and possibly going thru the windshield of a following vehicle.  And lastly, even the slightest of turns would give it a good roll off and into a ditch or curbside.  Now just think how many hundreds of scratches there'll be on the roof of their nearly new vehicle when they finally notice them.
That whole visual was reminding me of several episodes when watching National Lampoon's Christmas Vacation.  I'm still wondering how many times that Christmas tree hit the ground before they got it home.