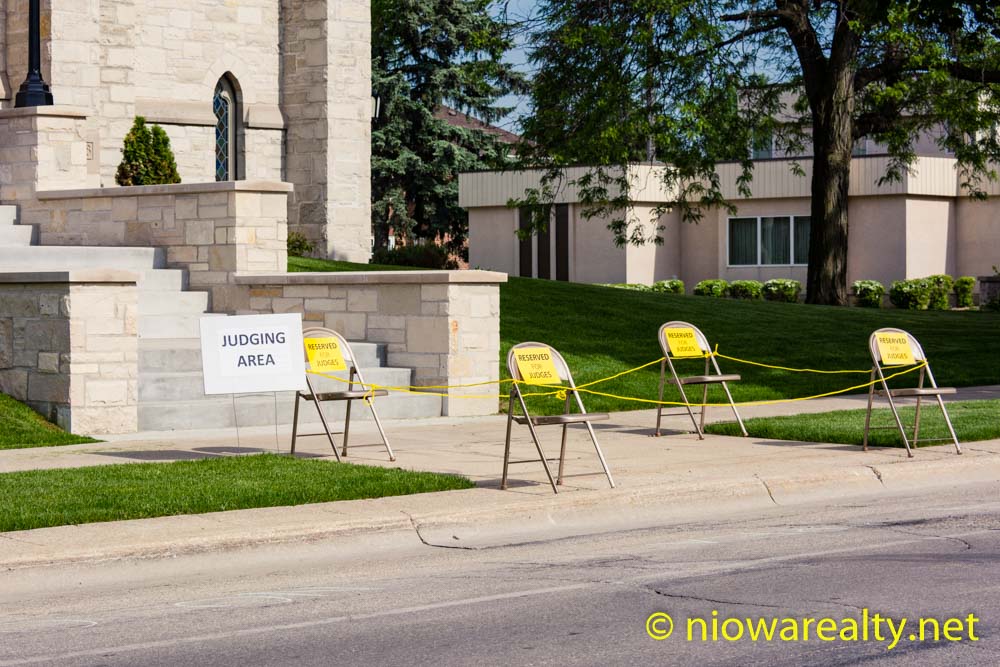 Perhaps this will be the day that'll end without rain.  I do hope we have enough clear days ahead so the farmers can get the rest of their corn and bean planted.  I was reminded again this afternoon of how brutal those winds were last week.  The after effects are now starting to manifest themselves.  I was shown two trees that showed no signs of weakness until yesterday when one started breaking from the center.  The first looked as though some invisible giant had twisted it enough so that it lost its strength to where it began leaning all the more each day.  I'd never seen anything like it.  The second was a pine tree that couldn't continue holding up its crown any longer so it also started sagging.  The whirling forces of that wind was far more deadly than I ever imagined.  I hope that episode was just a fluke and not something we'll expect to see on a regular basis.   How about we blame it on the Russians, OK?
After finishing with my morning appointments, I went out and placed "sold" signs on a few of my listings as well as making a few stops at vacant homes. In seeing the sold signs popping up around our City, I can say our market is continuing to chug along.  I'm having a public open house tomorrow afternoon on one of the most beautiful homes I have listed which is located at 323 – 6th St. NW.  Each time I'm in the home, I become all the more aware of the owner's craftsmanship.  Whomever will be the lucky one to own it, will be ever-thankful for purchasing it because it'll work for its new owners for many years to come.  It has far more going for it than one would ever imagine while driving by.  What a perfect thing to do after the parade is over tomorrow, so be sure to stop by and take a closer look.  Click on the following link to view its particulars.
A dear client of mine stopped by the office today talk about listing her home.  She's moving out of State to be with her husband who's already re-located because of his job.  One thing she mentioned which continued to linger in my thoughts, was how dis-appointed she's become with the direction our City is moving.  What used to be pretty neighborhoods, are now slumlord havens.  I couldn't help but agree with her as well as acknowledging it's too big and far too widespread for any singular change.  The problem has become multi-layered to where if you try to change one layer, the other layers fill in that void and then it's back on its same dysfunctional track.  Perhaps Bill Gates should be contacted to see if he's up for the challenge of restoring the integrity of our City.
Before I went to my last appointment, I grabbed my camera to take a photo of something I'd driven past earlier.  Unbeknownst to me, there are Band Festival judges that are going to be stationed near the steps of Trinity Lutheran Church.  The above photo is the spot where they'll be seated.  You can be sure those bands will be tooting all the more while marching past.  As I was driving away I thought, "Who must judge the judges?"  Yes, I believe you all think me to be a snicklefritz, but you just gotta wonder sometimes.