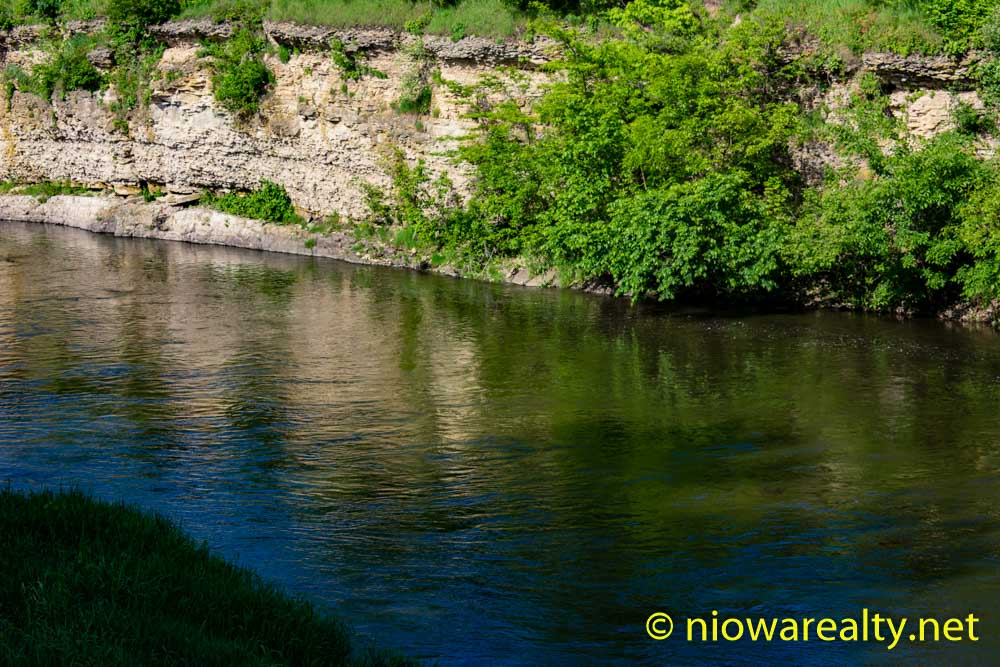 Of course while showing a home this evening, it had to start raining again.  At least it was a light shower and not long lasting.  So much for the slight chance of rain.  I should have started counting the number of continuous days we've had rain from the time it started about two weeks ago.
It was a pleasant drive up to Fertile this morning to show the acreage I have listed.  The various perennials were blooming and the sun was shining brightly.  It couldn't have been a better morning to present a country setting.  The buyer and I walked the entire eight acres, and while walking, I was pointing out all the different kinds of trees growing in the timber.  He learned something new when I told him that most of the cherry lumber that's used for furniture comes from choke cherry trees.  There are some young ones growing along the edge of the grove.  Their seeds were likely carried there by birds eating their fruit from one of the nature areas nearby.
A gentleman stopped by the office today to speak specifically about the direction our City is moving.  Once someone gets me started, I'm pretty hard to keep quiet when it comes to the past, present, and future of our community.  I was surprised I'd never met him before because his is one of our native sons.  I gave him the floor to speak about what he believed was best for our City along with sharing the ideas he had to make it grow.  The bulk of his plan sounded feasible, but after he finished, I went on to talk about the land mines and road blocks there always seem to be when a native attempts to make change.
One thing I've learned over these many years of working with the general public as well as watching from afar the mechanics of our City Government, is that too few people have far too much say in what they believe is best for our community.  The people that are in your face the most and scream the loudest seem to get their way far too much.  There are also those special interest groups who believe they want the best for the community when in reality, they're either trying to build up themselves and/or sustain their livelihoods be it in the public or private sectors.
The old saying that goes, "A prophet is never a prophet in his own land.", can be used time and time again whenever a new face with vibrant ideas stands at our public podiums promoting their bottles of snake oil.  The sad part about it, is that the bulk of our citizenry allows themselves to be duped by the slick talking out of town salespeople who could really care a hoot about what the long term effects will be on our community from their silver-tongued sales jobs.
I'm not sure if the gentleman was glad or dis-appointed with himself for stopping unannounced, but if he was sorry for stopping, I guess that's the risk one must take when asking someone you don't know for an opinion.  Another showing I had today was over near the Shell Rock River, so I made sure to take my camera and share with you the above photo.  Don't you just now have an itch to go tubing?