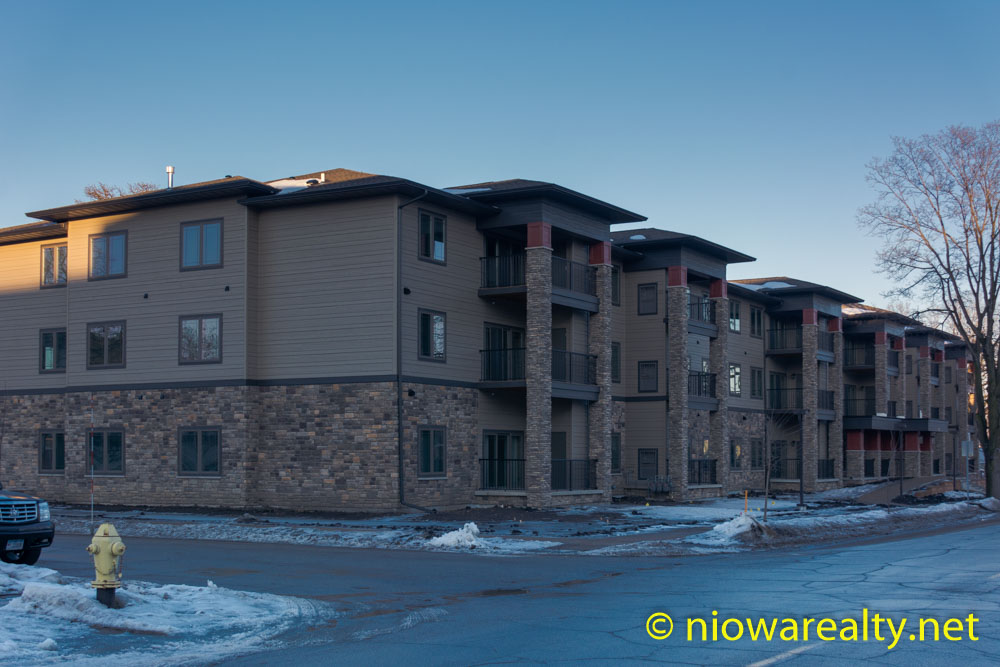 My day was split by two great tasks and luckily both of them have been accomplished.  My first and foremost was to get the near half inch thick ice chipped and scraped off the front sidewalk of my building.  I'm expecting visitors later this week, and I'd rather have a clean entrance from street to door.  I can't ever remember seeing ice that thick on our sidewalks before, along with it lasting so long.  After several hours of being fully focused on that ice sheet, I finally got it removed along with my neighbor's next door.  I just couldn't seem to get myself to stop at just my storefront.  Well, at least it's finished and our City block is back to being presentable again.
The second time consuming task, was to get my administrative work done on current office sales and listings.  As with may professions, most of the general public have no idea the nuts and bolts of real estate transactions.  So starting tomorrow, I can get back to focusing on my normal day to day duties.  I can certainly say that so far this month, it's already been abnormally busy for the month of January.
One of my meetings outside my office today was with a gentleman who most have no idea the depth of his mental capacity.  The few times I have an opportunity to speak to him during the year, he usually brings me up to speed on some sophisticated project he's working on at present. Having known him for a number of years and grown to understand his abilities, I finally said to him today, "You know I've known you for a number of years and I'm continuing to hope that some day before you leave this earth, you'll create something that'll "wow" all the rest of us, and if you don't, I'll be disappointed that you haven't made a great mark for mankind with your fine mind."  He was left nearly speechless for a moment or two, but I think he needed that boost of moral support.
As chance would have it, I managed to get myself invited over to Prairie Place on 1st which is the absolutely stunning condominium complex that's been under construction by the Good Shepherd.  Since I was to meet my guide in the lobby, I walked in and immediately became awed by the building's quality and design.  Finding him not waiting there for me, I quickly phone him, and he answered by saying, "Just hop on the elevator and come up to 3rd Floor."
Since there are at least six different floor plans, I was fortunate enough to get the grand tour of all of them.  I'm sure my guide was growing weary of my constant praise, but I couldn't help myself to where each unit I would enter, I'd find myself all the more delighted. I can't begin to speak of all the extras being offered, but I will say whomever designed and built those units knew exactly what they were doing.
What surprised me the most about every unit, was the amount of natural light they all have filtering within.  You'd never expect them to be that light-filled when driving past the complex from the outside.  The underground parking offers far more room for cars than you'd normally find in similar structures. Of course, there are community rooms for gatherings, exercise rooms, and extra storage rooms for all those off-season things we have to store away including Christmas trees.
In spite of it not being completely and totally finished, I was informed that there's already a third of them sold and getting close for occupancy.  Rest assured, when our weather warms, there'll be many more sold.  I mentioned to my guide while walking out, "Our City as a whole should get down and kiss the feet of Good Shepherd for turning a long awaited vision into a reality."  He may have thought me being overly flattering but I meant it.  They managed to create a new district within spitting distance of our Historic Downtown and I personally bless the for it.  Click on the following link to view its floor plans.
After all, don't you believe we should all start sending out the best of our intentions for the future of Prairie Place on 1st?