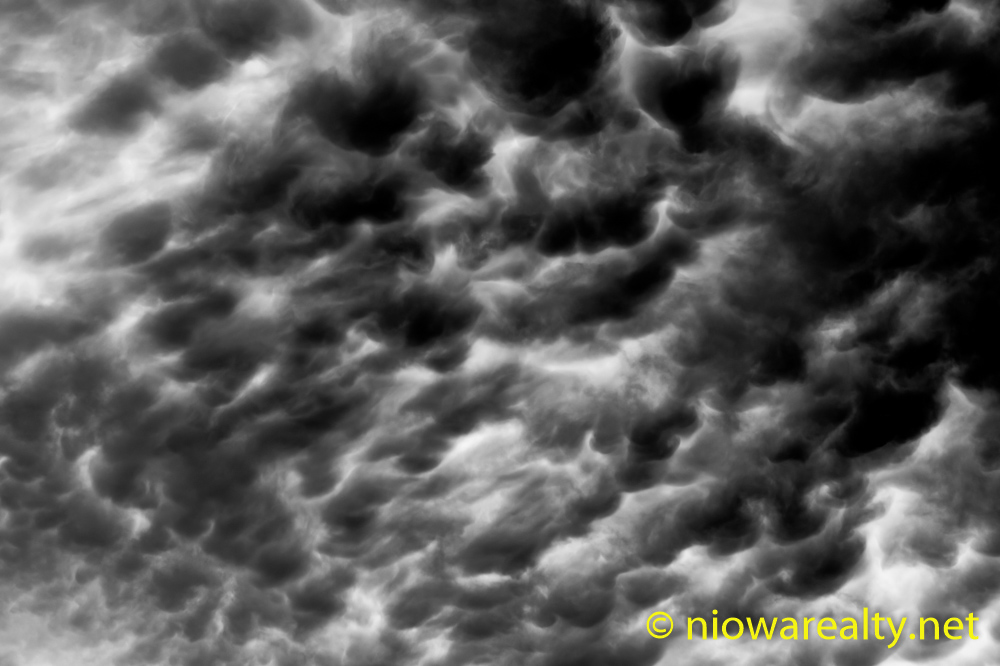 It had me a bit concerned this morning when reading our forecast for rain again along with possible flash flood warnings.  When I saw those evil looking vertical bands of clouds moving in from the west around 9:30 this morning I thought, "We're going to get it again!"  A number of years ago one of my customers who was a meteorologist spoke of those very same cloud formations I witnessed this morning.  He said they're the types of clouds which are some of the most dangerous because they can quickly turn themselves into funnel clouds, and we all know what they do.  I'm glad we didn't get the amount of rain they predicted or we would be seeing some flooding going on in our low areas. I don't ever want to experience another scenario like the Flood of 2008 again.  My heart went out to all those people who were made homeless in less than a day along with all their belongings including family keepsakes that could never be replaced.  After that happening, I learned to recognize the signs of something like that coming should it ever happen again, and if it does, I guarantee you I'll be on the phone to anyone and everyone.   I'll never forget early that Sunday morning before it hit my telling a woman at 7:30 a.m. that Mason City is going to get flooded.  The strange look I got from her was as though I was speaking a foreign language. About two hours later is when all "H" broke loose. I'll have to ask her when I have an opportunity if she remembers my words.  There's no question our soil is more than saturated and if we get a measurable amount anytime soon, we'll be looking at the rivers and streams in our area climbing up and over their banks.
One of my listings sold today to the most delightful young couple whom I've been working with on and off these past weeks.  There's no question in my mind they'll be exceptionally happy with it for many years to come.  I was surprised how one of the buyers spoke about the "feel" of the home which I've always had for it since I listed it.  It takes someone very attentive and possibly even soulful to pick up on quality of construction, flow of floor plan, and above all, a home's position within its neighborhood.  Like I've said, "You can pick your house, but you can't pick your neighbors."  Every time I drive by a home that's got a tall board fence around it I think, "What are you trying to keep in, or who are you trying to keep out?"  With that said, I'm exceptionally happy this young couple are the ones who purchased it.
There are two homes I wish to speak about tonight and they are 1057 Park Lane, and 15 N. Ohio here in Mason City.  First of all, I want everyone in Mason City to know that the seller of 1057 Park Lane reduced the price another $5K and I've scheduled a public open house for it this coming Saturday. Being at $124,500 now, it's well within its competitive range with other listings.  My listing at 15 N. Ohio has been getting shown, but not enough to generate an offer.  It's one of the cleanest homes I have listed and the floor plan is a classic mid-century design.  I know there'll be a young buyer who's taken by mid-century who'll buy it, but I'd rather it be more sooner than later.  Check them both out if you have time.
Oh I may sound a bit wicked when I tell you all I crossed paths with a man today who with his wife played some pretty nasty tricks on me about 20 years ago.  I'll never forget those two as long as I live, but when I saw him today I barely recognized him due to him now having a hunched back and completely bald.  I think he was afraid I would go over to the aisle where he was and talk to him because once he recognized me, he became fidgety and walked away in another direction.  When I drove away that's all I could think about was how the years have definitely not been good to him. For some, the weights of time can been exceptionally heavy.  It's now caused me to wonder if he later remembered what he and his wife did to me, but then again, evil justifies evil on every occasion.