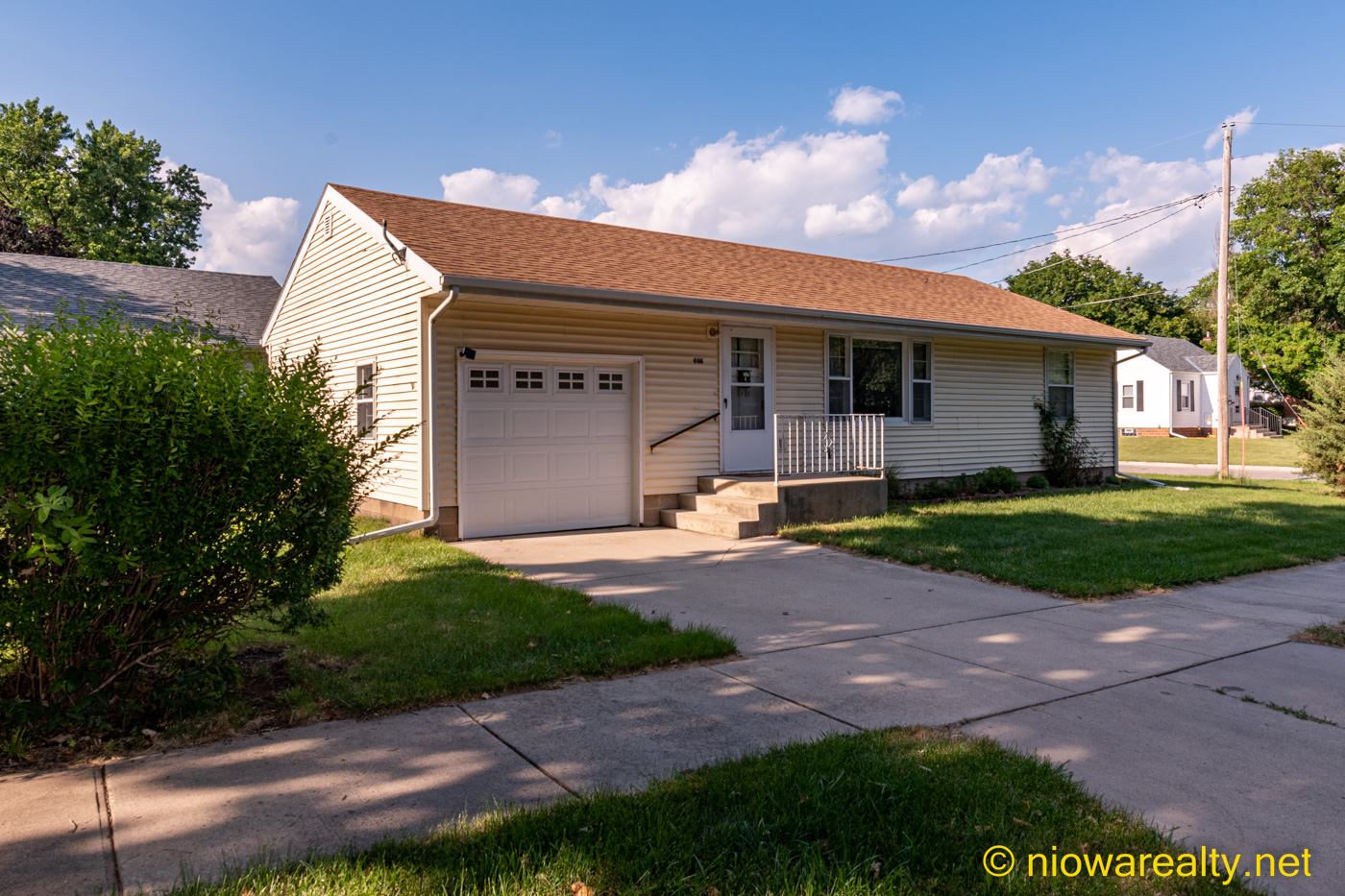 View More Photos
In spite of my arrival at office being exceptionally early, and for the only reason my wanting to stay ahead of what I figured was going to happen today, but by the time Noon arrived, I was falling further and further behind, and the main reason being the amount of activity we were getting on 142 Lakeview Drive.
One of the other agents submitted an offer on 26 – 12th St. SE this morning, so I presented it and the seller rejected it. Later on today, the buyers' agent submitted another offer on it, so we'll see what tomorrow brings.
I had a showing on 702 N. Jefferson mid-morning which went well, but I'm afraid the buyers would have to sell their home first before they'd be able to purchase it. I do have another showing on it late tomorrow afternoon, so we'll see how that goes. I'm really quite surprised we haven't had an offer on it yet because of its location and all those beautiful hard maple floors and woodwork. As I said before, I could see myself living in that home once I put my own finishing touches on it.
Well, as of right now, we have four offers on 142 Lakeview Drive here in Mason City, so we'll see what happens tomorrow because there's already three showings scheduled on it. I knew there'd be activity, but not expecting the number of viewings we've already had. Oh well, it'll all boil down to what the sellers want to do. The only unfortunate thing about multiple offers, is the fact that there'll be some very disappointed buyers who didn't end up with it. Now if I had a half dozen more homes like that to sell, I'd take the rest of the year off and go play.
I'm still trying to get a listing and sale put together since last Friday, and it looks like there's going to be some additional time wasted, and definitely not because of me. I sort of knew this was going to happen because nearly every time I have to deal with buyers or sellers who're living out of State, and especially when they don't know our market trends, there are those extra questions that have to be answered which often have nothing to do with pricing, and mainly because they have no clue about differences in sale prices when it comes to our City's districts. You'd think most people who live in various communities around our Country would know that location has a huge impact on pricing. Not to worry, I'll continue answering questions until there's a full understanding.
I do wish all of you would help me get 36 S. Illinois sold because that has been under the radar far too long and it's beginning to frustrate me. Some of the buyers have come up with the silliest of excuses for not pulling the trigger like, "Oh, my buyer can't make repairs and is afraid of the fuse box." Wow. The seller has lived there a number of years with that 150 amp fuse panel and hasn't once blown a fuse. The last time I blew a fuse, was back when I was very young and thought I knew how to re-wire a lamp. I've been told many times by electricians that if a homes service is split up properly, there shouldn't be a problem with blowing a fuse or breaker which I fully believe.
One of my friends who lives out East, sent me a photo of a flint spearhead he found while out walking a freshly turned field. He said it was the first one he'd found in a long time that was fully intact, and by the way it was created, he estimated it having been hammered-out about 2,000 years ago. Quite beautiful if I dare say. I did write back, "Wow. When looking at it, I began thinking and wondering what Iowa must've looked like way back then." There's no question in my mind their cultures were far more advanced than we give them credit. If you're looking for a good day-trip out of Mason City, take a drive over to Effigy Mounds National Park. For sure you'll be quite impressed by what you see. That natural look-out above the Mississippi is breathtaking.
I caught just a little bit of the Ukraine news today, and once again infuriated with the Russians stealing grain from them and then shipping it off to Turkey and Syria where there're selling it as if it was there own. Of course the Ukrainian farmers that are in those occupied areas, have told how the Russians have destroyed their farm machinery.
Wouldn't it be nice if an alien ship would appear and send those Russians and mercenaries running with their tails between their legs back to Russia? With all these recent sightings, I wouldn't be a bit surprised because I think we've been secretly watched, and for a very long time.
Late this afternoon I listed 666 – 9th St. NE which just happens to be tonight's photo of it's exterior, so click on it to start my slideshow. I sold it to the owner six years ago, and since she's moving into another chapter of her life, she decided to call on me to sell it.
I won't have it posted online until early tomorrow morning, but I will share some of its features tonight. We have it priced at $105,500.00 which is a fair price for a three bedroom ranch with an attached garage, main floor laundry, and located only a block from our municipal swimming pool.
I was happy to see she's taken care of it because as chance would have it, that happened to be where my mother lived while she was alive, and before I listed it for sale, I made sure it was in tip-top shape from stem to stern. I was definitely impressed by how well the current owner has taken care of those beautiful hardwood floors.
Before I left I asked the seller how she liked living there and she said she loved it, which is exactly what my mother used to say whenever asked. Yes, it's a good home every way you look at it. Be sure to watch for the listing tomorrow morning.
Tonight's One-liner is: And say my glory was I had such friends.
Related Property:
142 Lakeview Dr Mason City
26 12th St. SE Mason City
702 N Jefferson Ave. Mason City
36 S Illinois Mason City IA
666 – 9th St. NE Mason City