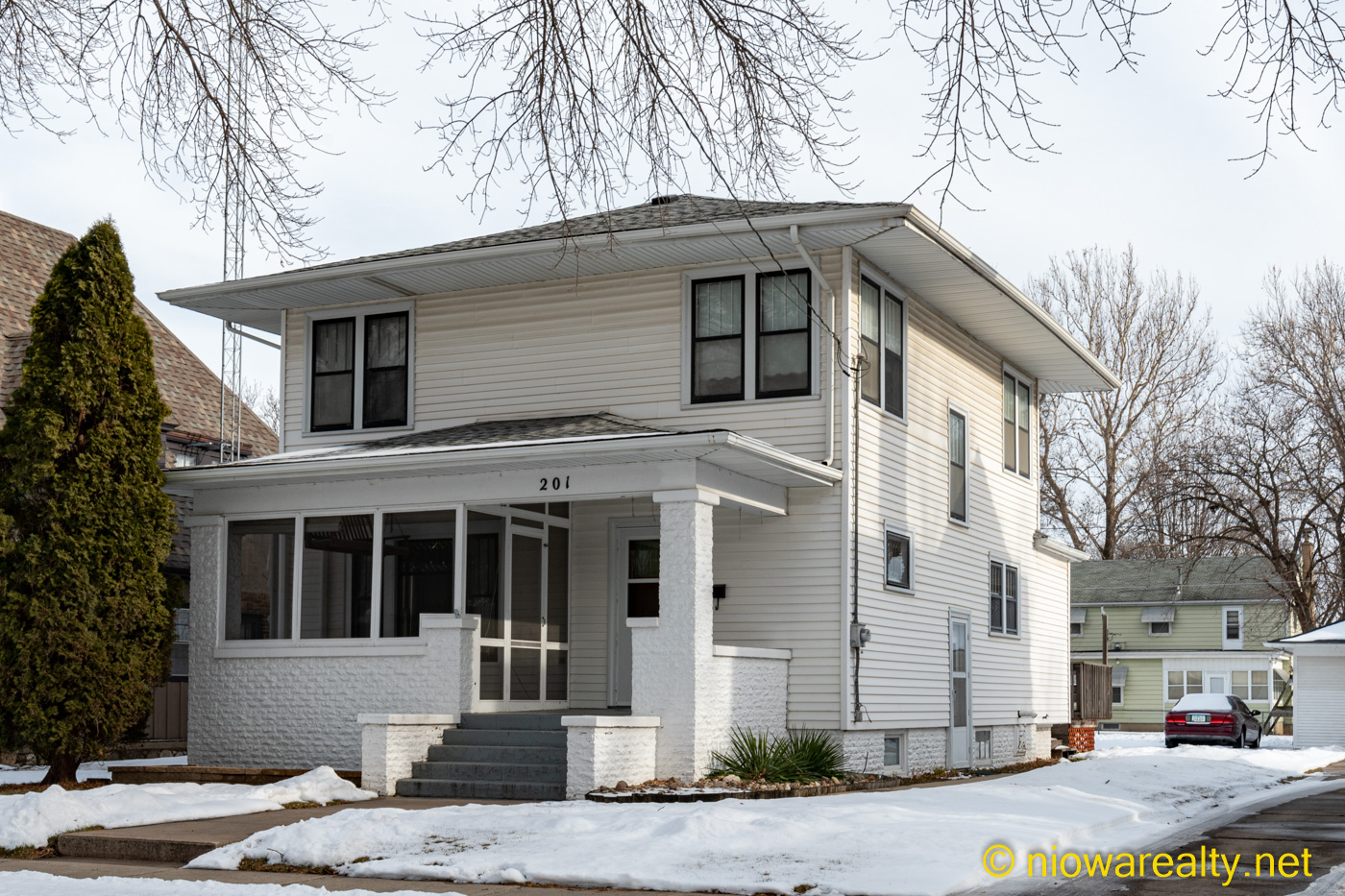 View More Photos
The first thing I must do, is apologize for wrongly naming last night, the church my grandparents attended. I realized this morning while visiting with a friend of mine who lives in Worth County, and talking about the photo I took of the burned-out windmill near that church. The name of that church is Elk Creek Lutheran Church instead of Deer Creek Lutheran Church which happens to be in rural Carpenter. Sorry for the mixup.
When thinking we were ready for a closing this coming Friday, I discovered the bank had not yet received the appraisal back, and only because the appraiser hadn't yet done his inspection of the property. The number of problems we've had with appraisers this past year has been enough to make a person go out and spit three times. There's no question in my mind we are in great need of more appraisers because many of the older ones have retired or getting near it, and the few younger ones we have, seem to take their sweet time in getting their reports submitted. Just today one of my colleagues mentioned something about a home that very appraiser we've been having problems with, happens to live in, so curious me went online to have a look. Oh my goodness! That home is assessed at well over a half million dollars. Gee, it's no wonder that particular appraiser likes to beat up older homes, and likely because such a soul has never even come close to understanding what the life of a real struggling first-time buyer is like. How can a person who's lived in a "castle" his or her entire life, have any concept of what's it's like to live in the real world? Like they used to say, "You'll never know what a hell is like until you've been singed a few times."
I had to meet a contractor over at one of my listings this morning to give instructions on some repairs and improvements that have to be done before we can get it closed. I'm not a very happy camper over those silly work requirements that "half million dollar" appraiser is insisting upon, but if we're going to get a first-time buyer into that home, that's what we'll have to do. My seller wasn't the happiest about it, but after having a good visit about the way in which this all came down, she's now realizing we have to keep trudging forward.
Just today I watched a short Youtube video which I'm now inserting the link to, which in my opinion, was one of the best "no bull" opinions on what's really wrong with our real estate market. I couldn't have agreed more fully with what she had to say, and for sure, I've shared a number of similar thoughts with you since our market started spiking right after the China-virus arrived on our shores.
I distinctly remember sharing with you some months ago the fact that our Country now has the greatest housing shortage since our National Association of Realtors started their record-keeping back in the 1950's. Not only are the rental barons buying up homes that should've been sold to first-time buyers, we're now finding private equity firms buying up single family dwellings and renting them out for big bucks.
It comes as no surprise our office has been continually getting calls from prospective tenants looking for housing, and just today, one of my friends mentioned how difficult it's been for his son to find a clean and fair-priced rental in another community several hours drive from here, and by the sounds of it, that town also has one or two people in ownership of far too many below-standard housing units.
When reading about two Downtown brick and mortar building owners, both getting grants for a half million dollars in order for them to re-furbish four apartments in each of their 2-story buildings, I'd say that's a big chunk of money for units that don't even offer private off-street parking. All eight of those tenants will have to park their cars in public parking lots. Do the math and then you'll see they're going to be spending at least $125K on each one of those units.
Yes, I'm afraid this housing shortage is going to be with us for a very long time because it's been a problem for at least a generation which most have swept under the carpet, just so they wouldn't have to deal with it.
Another stumbling block for getting many of our young buyers into moderate-priced housing, is their fear/inability to make repairs and improvements. Now that they've been duped into thinking all first homes should look like something on HDTV, they end up either staying put in their rentals, or allow themselves to be plugged into bloated mortgages for 30 years. Whatever happened to the idea that one should always start out small and then in time, work your way up?
I proudly announce that I have a new listing today which is located at 201 S. Vermont, here in Mason City which I spoke about last week as being one of the most comfortable "feeling" homes I've walked thru in some time. Please click on the above photo which will start your slideshow.
While taking photos of that beauty, I personally couldn't find one functional thing wrong with it. Yes, any new owner will likely change a few colors and possibly refinish the hardwood floors under the carpets, but that's about it because it's truly in move-in condition. That particular district has always been highly sought after, and since it has 4 bedrooms, the fourth could be easily transformed into a home office. That room happens to have a door leading out onto an upper decking. My hat goes off to the current owners who've been lovingly caring for it for over 55 years. Please, spread the word, and just remember, Christmas is just around the corner.
Tonight's One-liner is: What we call progress, is the exchange of one nuisance for another nuisance.
Related Property:
201 S Vermont Mason City