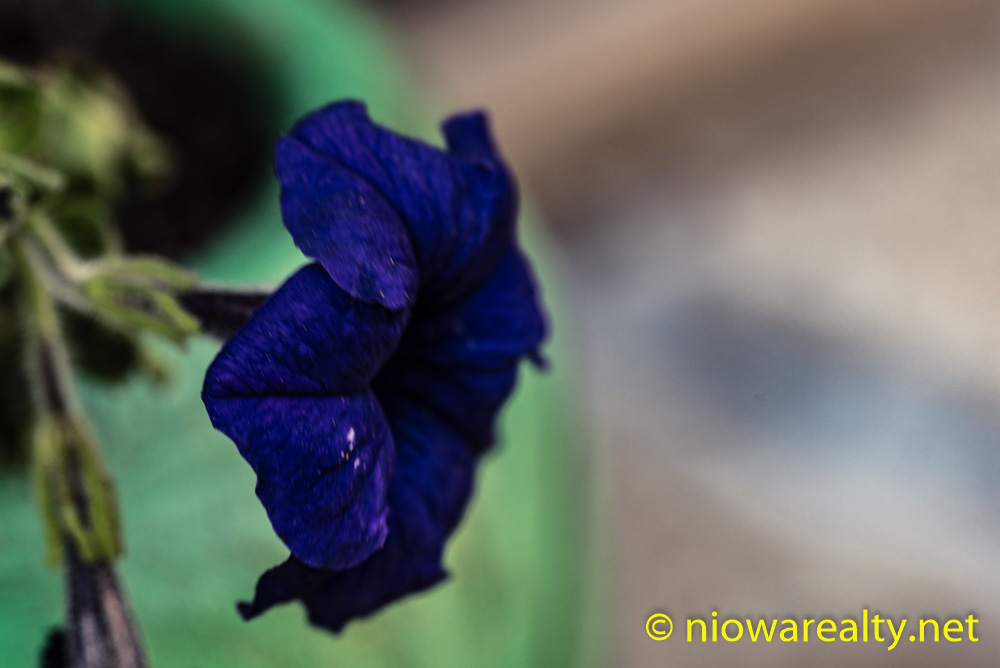 Looks like the heat and wind is back at it again after just one partial day of reprieve.  I've been empathizing with several of my sellers who're getting themselves moved out of their homes in this heat before their closings take place later this week.  All I can remind people is to take it slow and keep ahead of their fluid intake.
Without appearing to be dodging the outdoors, I spent most of my day working on files in my office.  I can say I've got pretty much everything under control after last Friday and Saturday's real estate blitz.  I'm not so sure we'll be seeing the market slow down any time soon.  The buyers had better get themselves situated in their new homes before there's another interest rate hike.
I'm been having some not so pleasant thoughts again about big charities that seem to bombard us on a daily basis via emails and mailings.  Some of them even make personal phone calls.  Ugh!   Today someone mentioned some letters he'd received from a charity that his father had donated to while he was alive, along with money he'd freely chosen to give as a bequeath out of his estate after he died.  He was angry as well as confused after receiving letters from that charity asking for more financial information regarding his father's estate.  Wow!  As if a handsome gift of money wasn't enough!
After having that conversation with him, a memory returned of an estate I was familiar with about five years ago.  Pretty much all that sweet little gentleman had left was his modest house with a hefty mortgage on it.  One of his relatives took me aside and told me she believed he was nearly sucked dry of money funds by all the written pleas from countless charities.  I said to her at the time, "What really makes me angry is that those fundraisers who work for many of those charities get huge percentages of their takes and are likely spending most of their time on a Florida beachfront sipping margaritas."
Having seen firsthand what willful waste takes place with those funds given to charitable organizations, I've developed a mindset to give freely, but make near certain those funds are being used as they were intended.  I'm afraid the more these stories get out regarding those bogus charity drives, there'll be all more reasons our general public will have to justify their own selfishness.  Selfless no-strings-attached giving is good, but one must always get plenty of first-hand knowledge before opening a checkbook.
I posted an alert today that I'm having a public open house this coming Saturday at 2040 Hunter's Ridge Drive.  I'm still a bit puzzled why it hasn't sold. We just recently had a major price reduction on it to where it's certainly competitively priced.  Click on this link and be sure to make a note to yourselves and stop by Saturday between 1:00 – 3:00.
2040 Hunter's Ridge Drive Mason City
I now leave you with my last thought.  "For many of those consumed by greed, there's never enough of more."  Unfortunately, their numbers are growing exponentially.