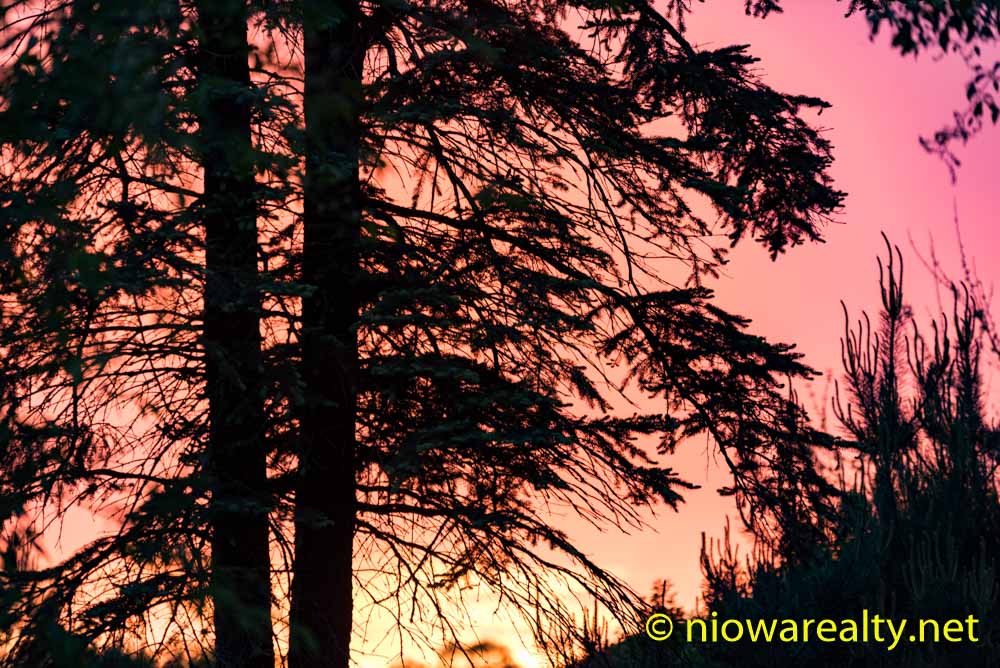 Welcome to June!  Today's weather was absolutely delightful.  I noticed a number of people out diligently working in their vegetable and flower gardens.  I also noticed some people planting flowers this afternoon in Central Park's flowerbeds.  Everyone's playing catch-up with their planting after that long cold spell we endured.
Late this morning I had to meet with an elderly lady who is moving out of State to be near her daughter.  When she came to the door I said, "I'm happy your home is sold but sad that you're leaving because in just this short period of time, I've come to consider you a dear person whom I've grown fond of, and wish we'd crossed paths long ago."   She did say she's going to miss all the friends she's made in Mason City and North Iowa.
Seems everyone's trying to get their homes readied for sale since the word is out that our market is contracting.  I just noticed one that came on the market about a week ago which is a flip.  I'm always a little more watchful on the buyers' behalf whenever showing homes that have been purchased cheap and then asking big bucks in short periods of time.  I've worked with several families who do a very good job of turning homes around, but there are others I've found more than questionable over the years.
Just a few days ago I spoke about how it is best not to re-visit a home from one's past for fear there'll be a distortion of memory.  I made an honest mistake by driving past a home which used to belong to a dear one whom I'd known for a very long time.  He was very fussy about his flowerbeds–especially his roses.  Today I noticed there's grass where the flowers and roses used to be.  I was a little angry with myself for a moment or two for looking at it while driving past.  It's yet another reminder to us all that the one thing we can be certain of is change.  Why can't change be always for the better?
In one big circle, I drove out and placed a Saturday public open house sign on 422 S. Tennessee Place that I'll be hosting, and then drove out to one of my listings and placed a sold rider atop my for sale sign, and lastly, I drove by a home which I hope to have listed either tomorrow, or early next week.  I'm hoping June will be as productive for me as this past May was.
While walking into a law firm's office, there was a charming young man also stepping in who seemed to think I was an attorney belonging to the firm to where he freely struck up a conversation.  I had to interject and tell him I was just visiting with some paperwork.  While we were both waiting for our respective appointments, he mentioned he was a farmer who lived quite far from his farm.  Of course the bulk of our conversation revolved around farming.  I kept thinking to myself, "So young to be such a big farmer."  If he's taken over a family farm, I bless him for it because I believe we've got more than enough out of State corporate farmland owners.  Wouldn't you agree?