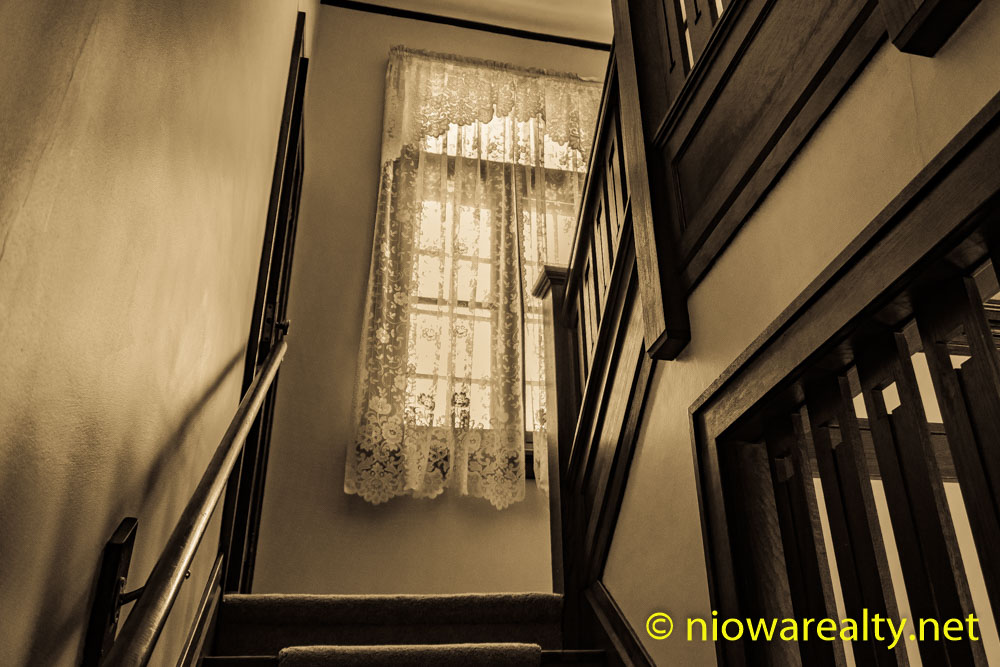 The last day of May is leaving us with sunshine and warmer temperatures.  If the wind were not blowing, I think it would've been considered a near perfect day.
My early morning was spent packing small boxes to be sent to various people who've been waiting for their items.  As I've said before, being a Realtor comes with the wearing of many different hats.  I kept the postal clerk busy enough to where she had to ask another clerk to open his window.  While walking out I thought, "Yet one more thankless job finished."  If there be but one acknowledgement of appreciation from any of those recipients, I'll be having to ask for someone to hand me the vapors should I faint.
Finding one of my long term clients in town, I called and asked if he'd like to have lunch somewhere Downtown.  After a moment or two of naming places to go, we both agreed on Chinese, so we met at "Wok and Roll" restaurant which is located on S. Delaware across from the Southbridge Mall parking lot.  Each time I go there, I'm reminded how good their food is as well as their fair prices.  They really have a good thing going, but I still don't understand why more people aren't frequenting their establishment.  Comparing it to all the other Chinese restaurants in our City, which includes Panda Express, their food quality and prices are light years ahead of everyone else.  In my opinion, they're even better than the "Thai Bistro" next door whose prices are steep and offering minimal quantities.  I think it's more the ambiance of "Thai Bistro" than anything else that keeps them in business.  While walking out we both agreed we'll have to do a repeat of "Wok and Roll" the next time he's in town.
My last closing of the month took place at a bank in Garner today.  Both the buyers and sellers were happy and that's what matters.  While small talking, the buyer mentioned he has eight brothers and sisters with two sets of twins, and how fun it was for him while in his adolescent years.  I couldn't help but bring up the meeting I had with a gentleman whom I'd spoken with about a month ago whose number of siblings is sixteen.  I enjoy listening to the stories people tell about their lives when young and still living at home.
Since I had about an hour to kill before my next appointment in Mason City, I decided to drive a few blocks to the Hancock County Courthouse and do some research of my own.  The few times I've been in that building, I'm continually amazed at its beauty as well as how well preserved it is.  I even mentioned to several of the clerks how lucky they are to have such a beautiful building in which to work.  My search took me to the Auditor's office which holds all the transfer books.  Nearly all of the general public has no clue of how or where to look in those books because they've never had reason to learn.  My years of research has taught me much about land transfers in our State, as well as being yet another hat I later learned to easily wear.  What I was looking for and subsequently found, was a parcel of land that was owned by my great aunt many years ago whom we as a family visited when I was very young. For a very long time, it's been bothering me to know if her farmstead was still there because I still remember her beautiful two story farmhouse.
When the clerk pulled it up on their aerial map after I found the parcel number, I was greatly saddened to see it completely gone to where one would never suspect there was a building site standing there long ago.  When I was describing her house to the clerk she said, "Oh! I would love to own a country home like that!"  All I could say was, "It's just another one of many that have bitten the dust over these years and it's a great shame for our generation and those that follow."  The only thing that now remains, are my memories of that beautiful four square with its french doors and sunlit mid-floor landing.