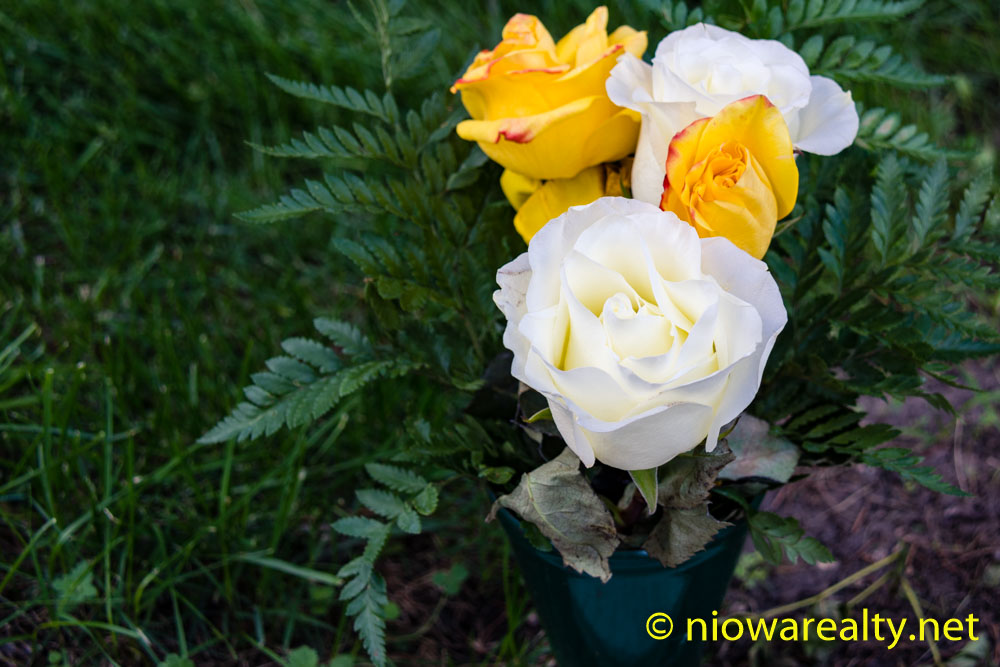 Since having a number of appointments in and around the Downtown, I'd say there were quite a few people out and about–especially after the carnival opened again for the kiddie rides.  I'd say those mechanical joy monsters look beyond the stage of being well worn and rickety.  I wouldn't be surprised if some of their parts came over on the Mayflower.  You couldn't pay me enough to climb into one of those contraptions.
I didn't have the inclination to stop at Central Park where a number of little tents were set up which looked like they were selling all kinds of what appeared to be carnival junk food along with fuzzy souvenirs. It did look like the children were having fun, so it guess that's what matters.
Believe it or not, I was over in Floyd County twice today conducting an inspection along with the showing of an acreage.  I'm still amazed at the prices many of our rural acreages are bringing.  Seems everyone wants privacy and distance from the general public.   I guess it does stand to reason considering all the stress working couples have to deal with on a daily basis.  My take on this whole upsurge in popularity is that they're wanting more distance as well as separation from their fellow humans to where when they arrive home, they can quietly rest and recharge without any fears of being bothered by pesty neighbors.
From what I've seen of late, there've been a good number of people that've opted for the country, but don't realize all the extra work involved.  There's the endless mowing, the upkeep of homes and out-buildings, the removal of snow from long lanes,  and above all,  the ever-present possibility of something happening to their septic tanks or wells.  When something does break down, it's usually in the dead of winter, which is why I make sure and let the city dwellers looking for country homes know all the extra work and concerns that are involved.  If you want to live in the country, make sure you do it with eyes wide open.
Now that we're nearing the end of May, I'm in hopes we'll have warmer days ahead to where we can keep our furnaces permanently turned off until Fall arrives.  I checked out our extended weather forecast and noticed it's still not going to be that warm. I think there's just going to be one day this week that may possibly come close to being in the upper 70's.
One of my showings today was to a couple whom I've known for a very long time.  The wife is such a sweetheart and always introduces me to others as the brother she never had.  I think the world of both of them, but the wife is one of those rare people who exudes goodness. Why can't everyone work at being just darned good without harboring hatreds, jealousies, and hidden agendas.  If all of us would ever reach that point, I think we'd finally consider ourselves to being citizens of the Peaceable Kingdom.
I stopped at the cemetery and visited a several of my dearly departed and then did my own little private walking tour.  I hope you're all enjoying our Memorial Day of 2017, so now as you know, marks the time our pull our our grills and dust off the patio furniture.  The above photo is one I took of a gravesite which exhibited an old-fashioned container housing fresh-cut roses.  It warmed my heart and brightened my soul.