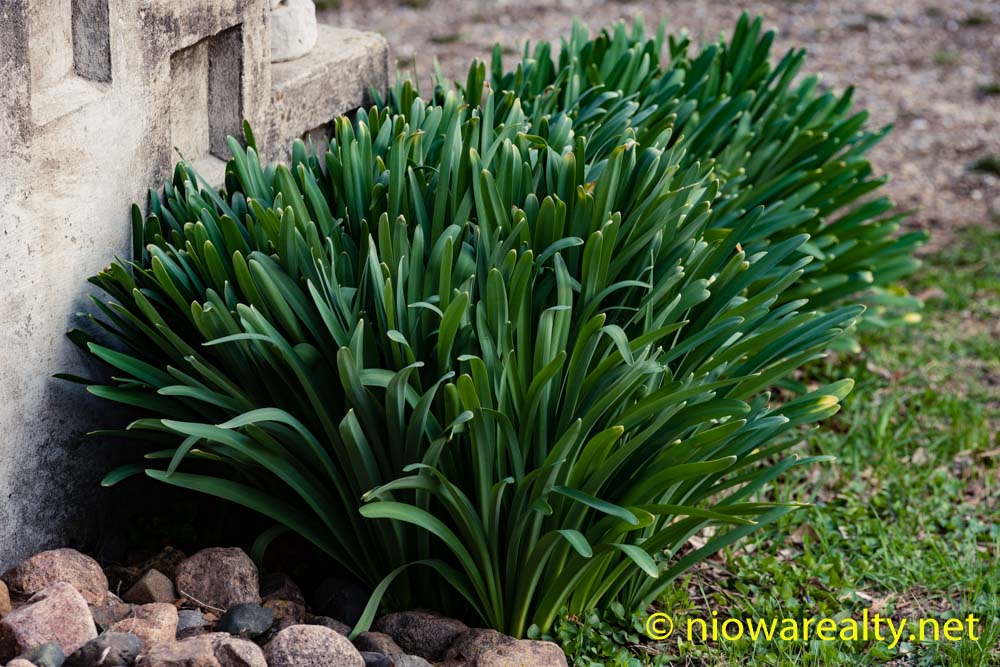 This was certainly a day that came and went in a whirl.  For sure I was in my car more time than at the office.  I think everyone was trying to lump two days work into one since many people will have the whole, or possibly part of their day off tomorrow.
Just today I was noticing the honest to goodness budding of trees and shrubs.  It's almost like magic during this time of Spring when seeing how quickly they bud out.  Many of the old-timers considered Good Friday to be the day they'd do all the pruning of fruit trees as well as the time they'd plant the cold crop veggies including potatoes.  I've heard the saying many times over about potatoes, "Plant them on Good Friday and you'll have new potatoes on the 4th of July."  Many of those old sayings have fallen by the wayside now that the bulk of our younger generation either didn't hear, or chose not to remember those delightful old sayings.
I had to go out and do some measuring near the edge of a wooded area in our City, and after I was finished, I decided to explore that large patch of woods.  After walking deep enough within, I suddenly remembered how much I don't like being in a more dense population of trees.  When hearing a twig snap behind me, I turned and noticed a half dozen young deer within a stone's throw.  The biggest doe just stood there in a stance of defiance. I looked at her and said, "Now I know where you and your troops are hiding during the day you naughty monkey."  After is said that, she simply turned and waddled off in another direction with her posse trailing behind.
I've been terribly thankful so far this year for the amount of business I've been given by my loyal and faithful customers.  But as we all know, we can't expect everyone to follow suit.  I happened to notice a recent sale of a home that a buyer whom I thought I'd done a very good job in selling both her and her husband, but later found they'd chosen another Realtor to market a home they later purchased and then re-sold.  I thought it exceptionally odd, but I just sent it down as being something never to be understood.
Hopefully, I'll be placing a home on the market late next week that'll certainly get a great deal of activity.  It's exceptionally well built along with being in one of our highly sought after neighborhoods.  I really appreciate it when sellers listen to my suggestions as far as marketing because it then becomes a win/win situation for everyone.
As we all know, today is the last Thursday before Easter.  Many know it as Holy Thursday, Maundy Thursday, and Green Thursday.  I like Grundonnerstag (Green Thursday) because it's supposed to represent the time when we eat fresh vegetables at the tail end of Lent. As I was walking thru the produce section of Fareway today, I could see they're now offering a greater selection of fresh veggies.  In every way, I hope you've all been having a great Grundonnerstag/Green Thursday.