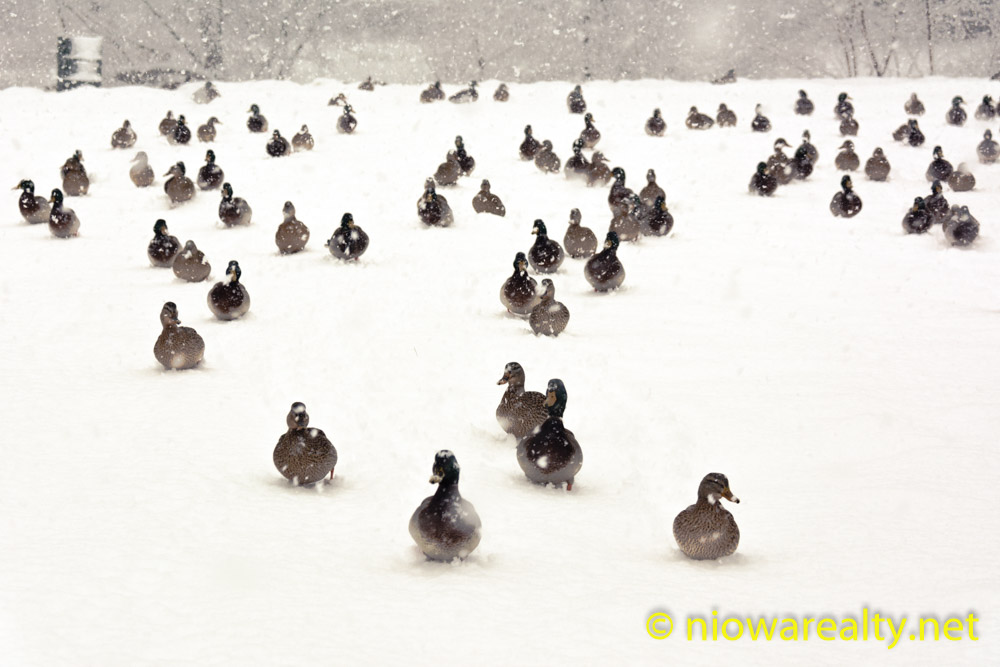 It certainly wasn't a pleasant experience to be driving to work this morning with the sleet coming down.  I'll never understand why people drive in weather like this thinking they're in the midst of blue skies and dry pavements.  Around noontime someone mentioned there were already ten accidents reported in the area.  There was one particular guy riding my bumper just a bit too close this morning who was likely in a hurry to get to work after seeing him finally turning off at the hospital.  I wonder if he takes his job in the medical field as lightly as he does driving on dangerous roads.
My showings today were a little quirky with the snow, slippery steps, and un-shoveled sidewalks.  I wouldn't say it was the most pleasant experiences for all of them, but at least they didn't call and cancel at the last minute after I'd already left the office.
Another box of edibles arrived at my office just as I got back in from shoveling the sidewalk for the second time.  I do appreciate the thoughtfulness of those with whom I do business. It sure doesn't seem like a whole year has gone by since last Christmas, yet in other ways for me this time around, seems years ago.
My computer was alerting me I had emails waiting to be read so I sat down and opened the in-box.  To my surprise I received a hilarious Christmas Greeting from a well known who can say some of the most wickedly funny things.  I almost fell off my chair in laughter after reading the last few lines.  I quickly replied, "Thank you immensely!   A good heaping tablespoon of organic wickedness does help to heat up our spirits."  After reading it over again, I couldn't help but giggle again and say to myself, "Somebody gave you more than a tablespoonful this morning."
Since I was going to be in the East Park area today, I thought I'd take my camera along just in case there'd be something worth a photo shot since we were having such a heavy yet beautiful snowfall.  I took one that I thought was good, but then noticed ducks down near the river, so I turned and headed down the lane leading to the river.  To my surprise, the ducks were hurriedly heading right towards me.  For a moment I didn't have a clue what they were doing until I realized they were hungry and believed I was bringing them something to eat.  I took a quick photo of them on the run before I turned around and drove off.  I could see their beaks drooping as they slowly waddled back towards the shoreline.
Their disappointment in me was soulfully bothersome for an hour or two until I finally caved and went over to Fareway looking for cracked corn where unfortunately there was none to be had.  Not giving up, I drove out to Tractor Supply where I knew they'd have a bag.  Well they did, but the smallest was a 50 lbs.  Still determined I'd feed those ducks, I drove back to the office, carried the bag of corn into the back and went searching for a five gallon pail.  I filled the pail, put it in my car, and off to East Park I went.  There they were again, but a little less eager to waddle my way until they saw me get out of my car with pail in hand.  Oh did they come running!  Like on the farm, I poured a long thick line of cracked corn in the snow so they wouldn't be creating a pile of wings, feet, and butt feathers fighting to get their share as I hollered, "Merry Christmas!"
The only thing I wished I'd done, was to bring my camera with me.  Looking at them from a distance, they looked like a serpentine line of feathers in motion. At a glance you'd of thought some giant Parisian stage girl had dropped her feather boa in the snow.