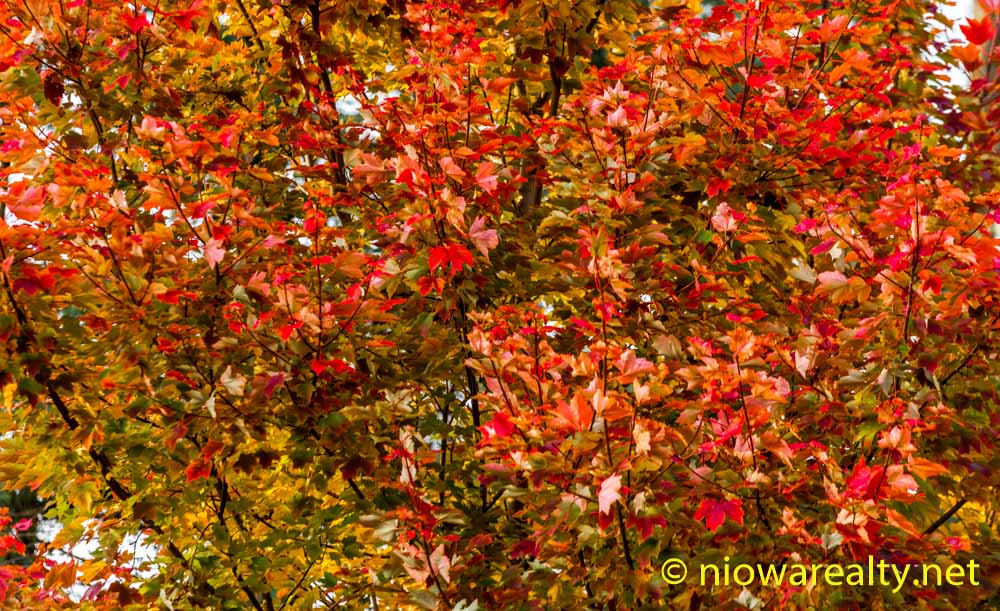 It seems to be taking longer this year for me to get accustomed to these cold mornings. I'm not sure if it's the dampness or maybe it's because we had above normal temperatures for the month of October. I decided it was time to get some manual labor done this morning and after about a half hour, I wasn't chilled anymore. I guess getting one's muscles moving is the trick to get internal furnaces started. After everything I wanted to do was finished, I congratulated myself in having yet another annoyance off my plate. I'm not so much like others who without a thought, leave noticeable work staring at them every day. For me, they become nerve-grinding annoyances. As they say, "Take care of the little things, and the big things take care of themselves." The thrust of that saying is meant that if you continue working at the littler projects, there never is born a big one.
As I suspected, my public open house today was overflowing with visitors to where I actually ran out of flyers. Whomever becomes the new owner of that home will soon learn how very well built and maintained it is. I wasn't a surprise to find how many people were shocked by the size of the interior. It's another one of those homes that appears smaller on the outside. There are two, if not three people whom I won't be surprised to find making an offer on it very soon. We'll see what happens with it this week. I love the tiger oak woodwork in the living room!  One thing I noticed while driving around town these days, are the lack of the normal Halloween decorations outside residences. I'd be curious to find out why that is. I would say there aren't even half as many as there were in the past. Perhaps people are keeping with the interior decorations rather than having them spill over into their yards.
I only hope it'll be a good trick-or-treat evening tomorrow for the little goblins that'll be scurrying from door to door. Even to this day, it still bothers me when I see older teenagers out on our youngster's candy trails. I wonder if there'll be sightings of those "scary clowns" that have been reported around the country. I'm believing it's just another way for those few to draw attention to themselves in a bad way.
I happened to be reading on the internet news several days ago about three more things that have been determined to be cancer causing, and they are, air fresheners, some cleaning products, and fabric softener sheets. It comes as no surprise because the smell of all three of them are enough to send me running. Every time I'm in a home where someone is excessively using plug-in air fresheners, I almost want to put on a gas mask. Some of the cleaning products I've used in the past usually end up in the garbage after one use because of their lingering smell. The fabric softener sheets were tried once and they also went in the trash because of not only the lingering smell, but the strangely slippery "feel" my fabrics had after using them. An appliance repair man once told me that those sheets are also bad for dryers. If someone really likes soft-feeling washables, they need to invest in a very good water softener. You can set them to give you all the super-soft water you'd want for washing, bathing, and showering. People really must start getting back to the basics, and I hope with the growing minimalistic mentality of the millennials, we'll start seeing larger trends toward simpler ways of living.
I've already been noticing more young buyers opting for our modest older homes which I'm glad to see because several years ago we had a glut of them. Once again, we're seeing tastes moving full circle back to the basics.