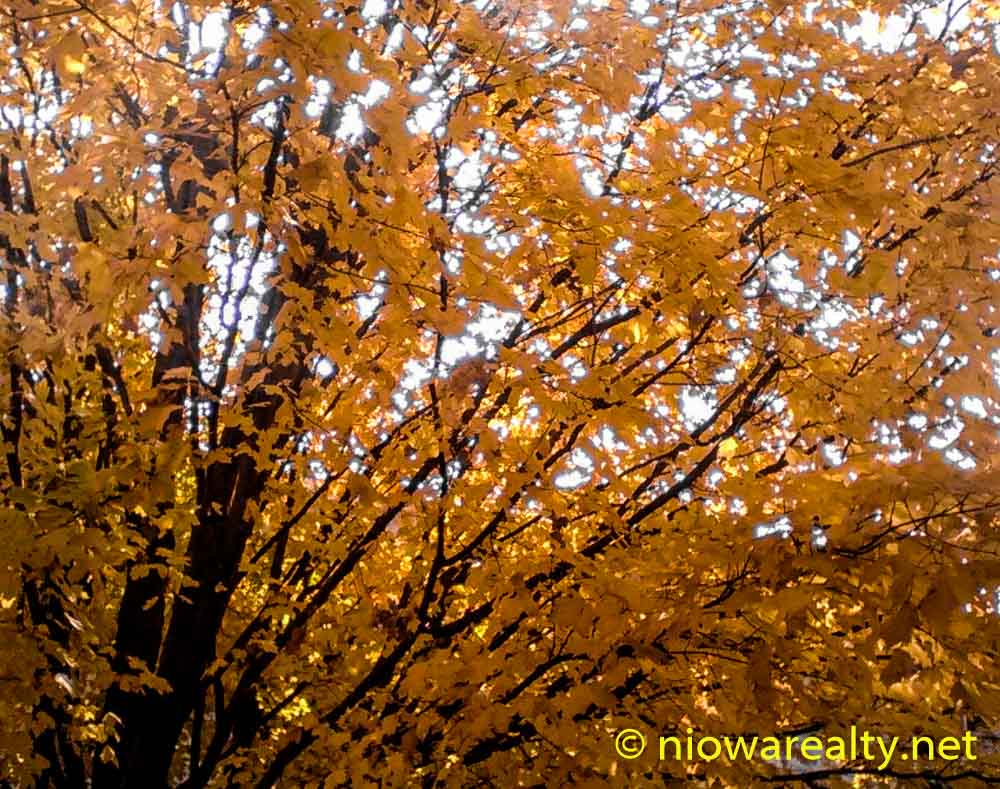 After reading about the somewhat rare occurrence of the "black moon" which is supposed to take place tomorrow night, I was excited about having an opportunity to see it until I later read that people living on the East Coast will be the only ones. We "middler's" will miss out again. Mother Nature has really been wrecking havoc of late with portions of Alabama and Georgia, as well a few of their surrounding States with the near record drought they're having. After reading how it's so bad that the ants and cockroaches are invading homes looking for water, I was all the more glad to be living in the upper Midwest. I'm sure they spared telling about the even nastier creatures entering communities in search of something to eat and drink. Yes, we find ourselves too quick to complain about bumps in the road with our weather, considering what's been happening out West and down South which has been far more widespread.
For it being the last Saturday in October, I was on the go since arriving at the office early this morning. One appointment turned into three before noon, and then continuing on after my public open house which was also a success. I have a feeling my open house tomorrow at 748 – 3rd St. SW will be very busy since it's in a good location and priced to sell. Perhaps my wish for all my current listings to be sold before hard winter arrives will come true. I've already visited with two prospective sellers about homes they're planning on selling in the near future, so I guess the office inventory will be re-replenished by new listings.   There's a listing I've been following that'll tell me the rest of the story when it closes.  I was sort of bushwhacked by another real estate agent a month or two ago which created a negative chain reaction with some clients whose family I've worked with for more than a generation. It's always understandable when loosing a client or customer when something like that happens because it's human nature to blame the nearest person without understanding that there are rules and protocol agents are encouraged to follow.
I was deeply hurt when I found they'd turned away from me, but after thinking thru the whole chain of events, I came to the conclusion I couldn't have done anything different. I'm hoping there'll be a day when they'll understand the position I was in and at least realize there was absolutely nothing I'd done wrong. I tried to explain the situation at the time, but they were far too angry about not being given at least a chance to purchase the home they wanted. This brings to mind another situation where a recent buyer felt she was not treated fairly to where she actually did something about it by sending a very sharp letter to that agent's broker. I said to her, "At least you let your feelings be known and perhaps it'll make a difference the next time a situation like yours takes place with another innocent buyer." In every profession there are people who do things that are frowned on, but when there are pro-active clients and customers who challenge their actions, it helps to create standards everyone can live with. I'm afraid it's easier to take the low road in these times rather than the high.
While at my public open house today I couldn't help but notice a maple tree that was "glowing" in the sunlight. I took the above photo of it which I name, "Autumn Gold".