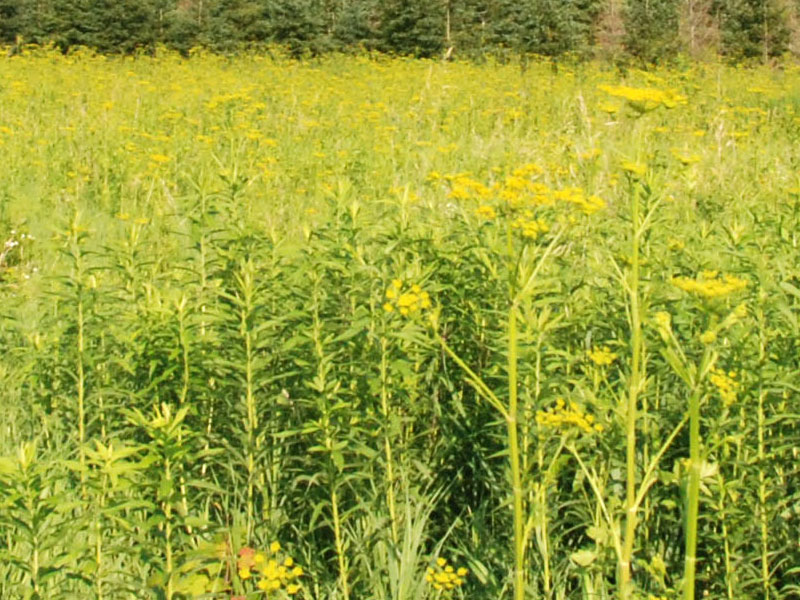 According to the University of Iowa Extension, our fair State is being invaded by a plant when in bloom, most would consider quite lovely. I have seen it more frequently these past ten years and every time I do, I think of several stories told me in recent years.  The common name of the plant is Wild Parsnip. It is a biennial which means it goes thru a two year life cycle. Just like Hollyhocks, they create the plant the first year and the second year the flowers and seeds appear.
My first story goes back about 8 years when I was showing an acreage in Worth County to prospective buyers who were transferring here from Eastern Iowa. I showed them the home and buildings first and then proceeded out in to the small grove and pasture area. The husband became quite vocal when he noticed a small patch of relatively tall weeds that had leaves on them that looked something like celery leaves and a head of yellow flowers that were something in the form of Queen Anne's Lace. He said, "You'd better tell the owner to get rid of those weeds because they will burn like you've never known."
I asked him what it was and he told me it was Wild Parsnip and he had a terrible experience with it the prior Summer on their acreage in Eastern Iowa. He said it all started when he decided to weed whack weeds that were growing in their ditch. He didn't know it was Wild Parsnip at the time, but due to his unfortunate choice of wearing a muscle shit and shorts when he was cutting the weeds, the juice from the plant splatted on his bare skin. He didn't think anything of it and when he went to shower after the weed whacking, he noticed red blotches beginning to appear on his hands, arms and legs. It wasn't but hours later and he had full blown blistering taking place on his skin causing extreme pain. He went to the doctor the next day and discovered it was from the juice of the Wild Parsnip. The juice from it is considered photo-toxic. Being on the skin is OK as long as it's not exposed to sunlight, but when sunlight hits the area the chemical reaction takes place. He said, "Let me show you what it did to me." He took off his long sleeved shirt and pulled up his slacks to his knees. I was in absolute shock. The scaring that was still there from those burns was frightening. Believe me, I remembered what the plant looked like as well as the scarring that it caused.
Not but several years later, a young man arrived at one of my clients acreages to do some mowing and weed whacking. I told him that I thought I saw a small patch of Wild Parsnip out near the ditch and warned him about the terrible burning from the juice. I guess I scared him enough to be careful but I guess not careful enough. Some weeks later the owner told me he had about three burns on his wrists where a small area of skin was exposed between shirt cuff and gloves. I was sorry to hear about that brush with Wild Parsnip but it could have been a great deal worse.
I do hope everyone reading this article research much on Wild Parsnip and make a concerted effort in eradicating this beauty and beast from our County and State. The above photo is a patch of Wild Parsnip