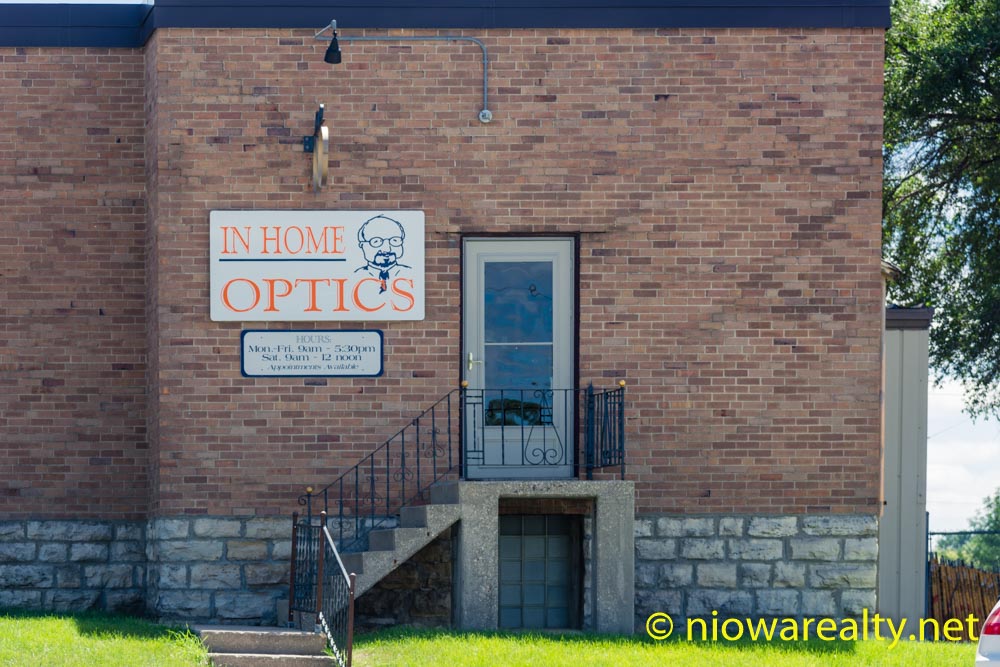 There were people walking about yesterday in our Historic Downtown inspecting some of the restored store fronts and lofts whom I believe were part of a Main Street Iowa tour and presentation.  When I received the notice some months ago regarding their being here, I was hoping I'd have time to participate and learn a few things, but as chance would have it, my recent weeks have been filled with time sensitive chores.  The day before yesterday there was a group of people being directed up and down the streets and given brief descriptions of the architecture in our Downtown.  I just happened to be up at the front desk working on a file when they arrived outside my building.  I could hear the leader of the group speaking about it and was delighted to hear him say something about how well the interior has been restored.  Now it's time to get the exterior finished and perhaps in a bit of the style of the Worth Brewing Company.  I'm torn between the subdued color combinations I've chosen and the more bold and striking look.  It will likely be more of the subdued earth tones because of my desire to tie in the colors of the exposed limestone on each side.  One thing for sure is it will not be painted white.
While driving back to my office from an appointment, I found myself being trapped from going farther down Federal by an old duffer who was busy chatting to someone on the sidewalk.  The pedestrian saw me waiting and was trying to bring their little chat to closure but the driver was oblivious.  I merely honked my horn at him when believing he didn't think anyone was behind him.  A second after I honked he nearly went crazy by laying on his horn, glaring at me in his rear view mirror, and actually reaching back and giving me the finger.  While he was driving off, he continued to honk his horn as he was turning the corner.  People talk about road rage!  We evidently had it here in the Downtown this afternoon.  All I was thinking was, "Old men can be just as bad as the young ones when it comes to the "old bull" mentality."  Believe me, I've endured enough old bulls in my life and consider them nothing more than bulky annoyances that need to be prodded out of one's way whether they like it our not.  Unfortunately they like to make lots of noise while taking a charging stance when having to move.  I know its not nice to call an older man a duffer, but he certainly was a classic example.
On the brighter side, which there always is when you look for it, I've been hearing of late some of the kindest words regarding one of our locally owned businesses.  I'm going to try to spotlight one of them every so often in my writing so to hopefully in an honest way, help the general public to become acquainted with them.  After all, locally owned businesses are the life blood of a community.  I had an opportunity to visit In Home Optics for the first time several weeks ago.  It's a small shop located at the crossroads of S. Pennsylvania and 5th St. SE here in Mason City.  The shop is quaint, the owner and his son are exceptionally helpful.  The short time I was there I could sense they really know their business and actually put their customers first.  During the following week, their name came up in conversation with other business people in the Downtown who've purchased glasses there and as I suspected, they all gave their own great revues.  So the next time you're in need of eyeglasses, don't forget to shop locally and make a point to visit In Home Optics.  Kevin and Kyle will be there to help you with your selections.  They're a living example of a growing local business.