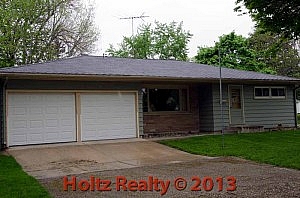 There are two homes that Holtz Realty has listed that should have, would have and could have been sold quite some time ago. The first one is a larger than it looks 3 bedroom ranch that was custom built back in the 1950's for a teacher. It was owned by them up until about 10 years ago when the present owner purchased it. It has a poured concrete foundation that has withstood the flood of 2008 without water as well as this extremely wet Spring and Summer. The kitchen is large with a breakfast area and offers a very roomy open living/dining room. There is a double attached garage as well as an attached 3 seasons room. What I find exceptional about this home is the location. It is only one block from the Hanford Park where there exists a delightful walking path. The residence has been reduced for the third time and is now only $109,500.00 What a buy! This home that is waiting for a new owner is located at 2102 S. Georgia Ave.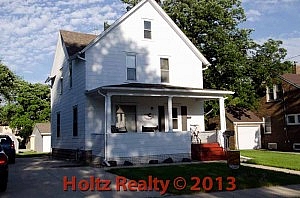 The second home is an absolutely charming 3 bedroom 2 story with a very impressive oak foyer with pillars and open staircase. I can see Christmas decorations all over the entry! There are many homes in Mason City of this general style but there are three features that this residence has that you don't normally find and they are: 1. It has a yard that is 150′ deep with a paved rear alley. 2. It has a nearly new 2 ½ car garage that's insulated with electric door openers. 3. There is a walk-up attic with more than normal head room for a possible loft for hobbies or storage. This home is in a short sale status and has been radically reduced. I think there are people out there that must think there is something wrong with this home but there isn't. If I were looking for a home today I would run faster that greased lightening to purchase it. This under the radar listing is priced at $59,500 and is located in one of my favorite blocks which is 945 N. Delaware Ave.
If you are even curious about either one of these homes, give Holtz Realty a call today.