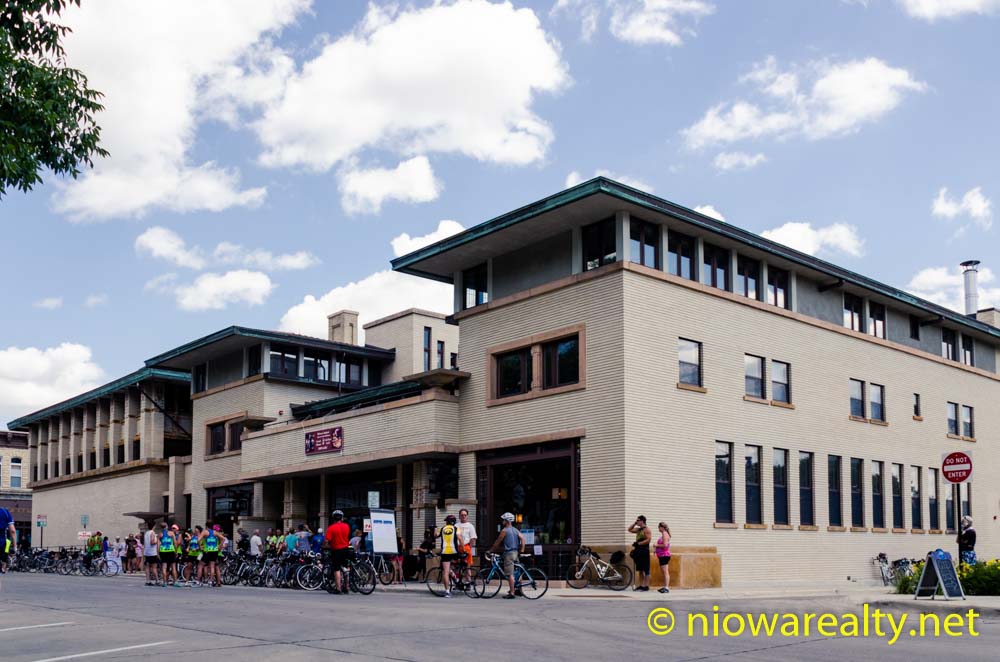 While waiting for another appointment to arrive as well as getting my feet un-frozen over the heat register at the office, I thought I'd see what's interesting on MSN late this afternoon.  On one of the main page articles captioned, "Best Places to Visit in all 50 States", I thought I'd click through and see if I've been to some of those places over the years as well as seeing now where the best place to visit is in Iowa.  To my delight, I found Mason City's Historic Park Inn Hotel listed again.  I really wish the residents of our City would realize how closely we are moving towards Mason City becoming the "Star of the North" here in Iowa.  With that in mind, I can't be more resolute in my belief that whatever we do as far as creating and improving on tourist attractions, we must continue to work at being all the bigger and better.
Every time I see something being done in our Historic Downtown that was at the time believed to be an "improvement" by a business owner, soon turned out to be borderline minimal at best up-grade.  If people can't come to the understanding that if improvements are to be made, then they must absolutely be done in a fashion to where visitors will go "Wow!" when they see them.  I far too clearly remember all the naysayers speaking about all the money being spent to get the Historic Park Inn Hotel back up and running.  In quiet circles I said, "When are people going to learn that sometimes you have to go the extra mile to make something stand out and be noticed."  I've been invited to homes of present and past business owners' homes and I nearly always walk away thinking, "Hmmm. Why can't you create such beautiful structures out of the buildings you own which have been your bread and butter all these years just as you have created such beautiful places to live?"
Over these long years of working in real estate sales, I worked for three different brokerage firms, and at each one, I personally made improvements to those office environments.  Everyone worries about having pleasant places to live, but fail to concern themselves about having attractive to the public places to work.  We must never forget that first impressions are always lasting impressions.  Just last year I lost a very good listing to a competitor due to what the owner thought of my office building while driving past.  He mentioned something to me about it during the second listing presentation and that's all I could say was, "The outside will be finished, but why didn't you take the time to stop and ask for a tour of the interior?"  His skewed first impression was partially my fault for not having the whole package complete.  Several weeks ago a very successful resident stopped by one of my public open houses and said, "My wife and I go walking Downtown sometimes and when walking past your office, we've noticed how beautiful it is inside." I thanked him and said, "When it's finally completed,  I'll be sending out invitations to my long over-due office open house."  He smiled and said, "I'll be looking for one from you in the mail."
While busy with office accounting today, a recurring thought came to mind about how absolutely thankful I am for the business the residents of North Iowa have given me over these sometime tumultuous years of real estate sales—and I really mean it.  On an uplifting note, please click on the link below to read the article I found on MSN.  Keep up the good work North Iowa and never stop to rest on today's laurels.