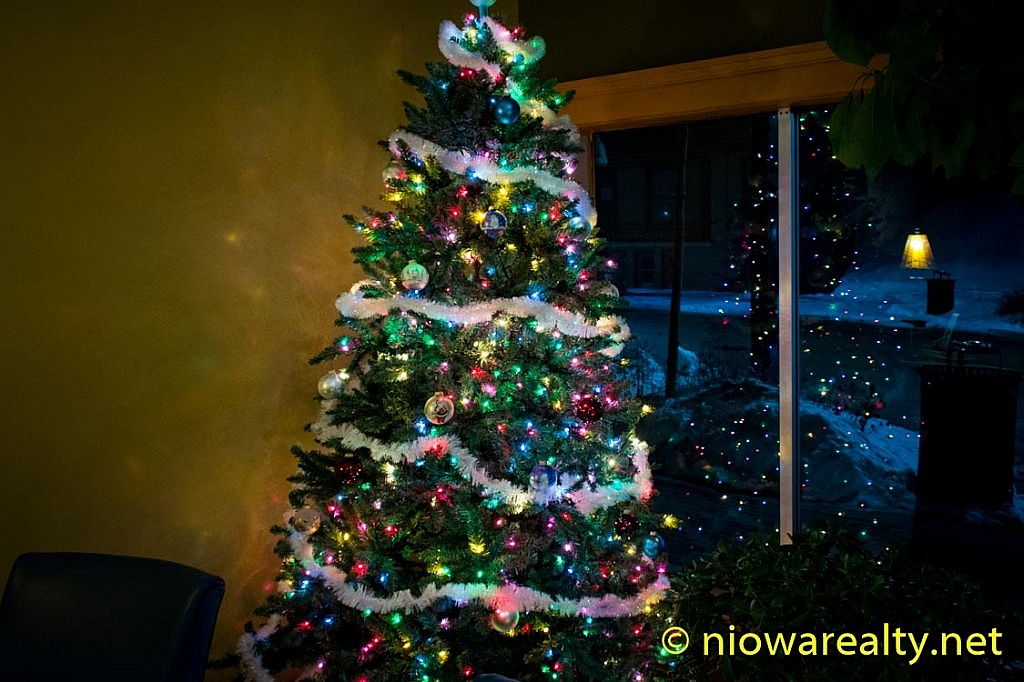 For it being Christmas Eve day, it certainly went by with a whoosh.  Between phone calls, text messages, and emails, the morning hours were suddenly gone which put me all the more in a hurry to get another little-big project done while I had time.
After spending about 3 hours cleaning a kitchen and still not up to my standards, it looks like I'll have a handful more hours to spend there before the new tenant gets the keys on the 1st of January.  Seemed the more I cleaned, the more I discovered, to where it turned out to be a far bigger project than I'd imagined.
While driving away, I was thinking about prior tenants in different units over these long years and deciding there's been a pattern established where I've found people who've taken care of their units during their residencies, along with the way they leave them, exhibits a higher knowledge and understanding of self-worth and commitment to standards by which they've branded themselves.
Nearly every one of those exceptionally conscientious young tenants went on to become "above the crowd" successes.  One of them in particular, evolved into becoming one of my dear friends, but also having been one of those better tenants ever having lived in that unit.  I'm sure even to this day, he has very fond memories of those years living there.
Whatever happened to shame?  It was a word that was often used in my young years to where one didn't even think of damaging someone else's property unless they were being vengeful.  Every home or apartment I ever lived in was always in better shape when I moved out than it was before I moved in.  It wasn't that I was trying to make an impression on the landlord, but rather not wanting a bad reflection on my person.  Had I not done what was proper, it would've created for me a lasting guilt.  And believe me, I don't do guilt well.
Not meaning to appear bashing our young, because I believe it's more the parents of those "piggies" who should be chastised for not teaching their children basic values.  I personally thank my parents and teachers for "learning me" those now hard-coded rules of behavior.
My last stop today was a Christmas Eve Service at a church I've never before stepped within.  The service lasted well over an hour due to the extra readings and additional music.  I'll say this, "Their choir and pianist/organist were rocking with their jazzy music to where the minister was even swaying."  In spite of her age, their pianist was light years ahead of where I'll never be.  Playing jazz well can be a daunting task.
The creepy cool and creepy crazy feelings I was having while walking the near two blocks to my car will likely trigger dreams tonight.  It was nearing twilight, but all the home and street lights kept it bright enough to where I could see nearly everything.  In my attempt to explain my feelings, I'd say I felt as though this particular time was suddenly being super-imposed over a time say 60 years ago. The more I noticed it, the more it happened to where I was having goose-bumps.  When I arrived at my car it finally stopped.  I got in and just sat there for a minute or two trying to remember the last time I had such an experience.  For sure it was at least 15 – 20 years ago.  Oh well, I'll certainly remember this off-worldly Christmas Eve of 2017.
Wishing you all a delightful evening along with a joyous day tomorrow. Oh by the way, I happened again upon the first appearance of a female vocalist on Britain's Got Talent who has, as far as I'm concerned, one of the most beautiful amateur voices.  Click on the following link to hear her.  Enjoy.