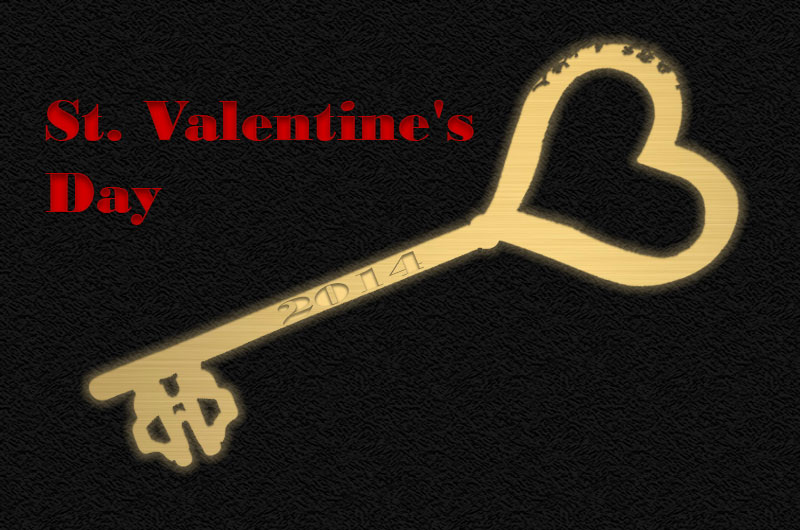 Since the death of St. Valentine in the first century AD, there grew a slow, but methodical following in the veneration of St. Valentine on February 14th. He was was canonized a saint for refusing to renounce his faith after being brought before Emperor Claudius. For that reason, he was ordered to be beaten with clubs and beheaded. The miracles ascribed to him were his having healed the deaf and blind. I believe the reason he is so widely connected with love and affection is that he also performed Christian marriages to those who were being persecuted by the still mostly pagan Romans at the time.
Geoffrey Chaucer, who's widely considered the father of English literature first mentioned St. Valentine's Day as the day associated with romantic love back while living in the High Middle Ages. During the 1700's, the celebration of the day evolved into giving flowers, confections, and simple handmade greeting cards. Those cards would have heart shapes, doves, and sometimes cupids on them to represent true love and affection. In some European countries, there are St. Valentine's keys given to those as a sign of being afforded the opportunity to unlock the giver's heart. Since the mid to late 1800's, the hand-created cards gave way to mass-produced cards which takes us up to where we are today.
Interesting isn't it? To see how the canonization of one saint caused a tradition to be created and evolve over centuries in many different churches and countries is quite a marvel. Some historians, without documented proof, believe that St. Valentine's Day was created to counter the pagan celebration of Lupercalia which took place in and around the 14th of February where it was believed to avert evil spirits, cleanse cities, and promote good health and fertility.
It's too bad there isn't the giving of the St. Valentine's Keys tradition here in the United States. Can you imagine how much fun that would be for the young in love, and some possibly in lust, to be presenting a beautiful key to someone they adore? I think it would be a far more memorable experience in the giving of a key. How about starting a tradition where every year the husband is married, he gives a small 14kt gold key with the year engraved on it to be attached to a gold bracelet created for his wife representing every year of marriage? Whenever they go out on the town, she can show off her bracelet and let the world know how many years they've been married. And if the bracelet becomes too filled with golden keys, then the husband would have created, a long and very well made gold necklace which would allow for additional keys to be attached. Also, each and every year the key would be given, it would have engraved on it that particular year. The more I think about it, the more I like the idea. Many keys for many years of love, affection, and above all, fidelity. With the ways of many in our time, the commitment of simply being true to one's spouse appears to be a daunting task.
Yes, I've likely loaded you up with far more info-mation than you'd have considered from me, but this is my take on the legacy of St. Valentine. Happy Valentine's Day!