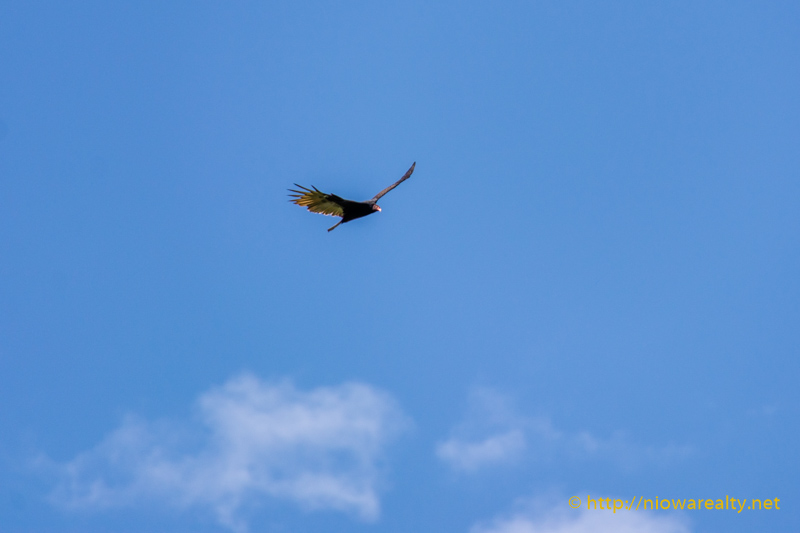 Winter in Mason City can be more than tolerable when the sun in shining bright and the wind isn't biting. For some reason, the brightness of the outdoors was more pronounced today and certainly worth experiencing.
I had to pay a visit to a patient at the hospital today who was up on 6th Floor. I've been to the hospital enough times in the past but can't remember being on 6th simply because of the views to be had from those windows. In between visiting with the patient, I found myself taking in the exceptional views. With all the leaves being off the trees in Forest Park made the landscape below even more interesting. I didn't realize how far one can see from that floor of the hospital. I mentioned to the nurse how she must truly enjoy being in the crow's nest of the building and have such beautiful views of the city. Noticing my excitement she said, "I'll have to start noticing them more." Being above the "canopy" of oak trees gives one the feeling of being above of it all. All the cares and worries are trapped below. The houses looked like they were intricately created for doll houses. The cars were smaller than the matchbox toys children used to play with along with the people walking that appeared the size of those stationary humans glued to their positions in towns created on big sheets of plywood for the toy train enthusiasts. One of my childhood friends had one and was determined to make his railroad town as life-like as possible. Whenever he would take me to the basement of his home and show me a new addition, I felt as though I could crawl right into the setting. I understood more fully today why some people prefer to have views and willing to pay extra for them. High-rise condos and apartments in the larger cities do fetch a pretty price from people standing in line simply to afford the views. Being up just enough gives one that sense of freedom from the hustle and bustle of daily life. I've always had that feeling whenever being up and a bit away on bodies of water. The birds of flight seem to be so close at times that you think you can reach out and touch their wings.
Briarstone Lake is where I have of late seen some of the most beautiful birds in flight and always wished I could stay a bit longer.  Perhaps if those who believes they have it all figured out in their little "box" worlds, would take a few moments once in a while and get above the canopy or go sit on a raised bank of a lake or river where they would be able get their lives put back into perspective. A glimpse at the immensity of it all from a 6th floor window was enough to cause me to wonder how much more I would see if I were but one, two, three, or four more floors higher. I read something once long ago that I recalled when looking out those windows. It went something like this. "As we grow older with minds open, we find that the true understanding of life's processes become revealed to us. It's as if we are climbing a mountain and once in a while we step back and take in the views. We soon find from each elevation in the climb, a more clear picture of it all and become truly humbled by the magnitude of the workings of the universe."
Don't you just once in a while want to grow wings and try to catch a thermal?