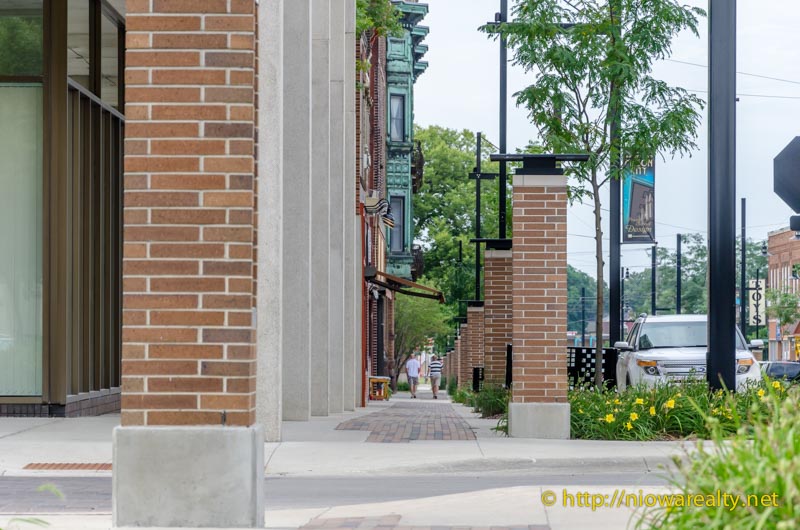 As I was coming back to the office with a small take-away to munch on for lunch, I noticed a gentleman outside my office getting ready to take a photo. I could tell he was a visitor as I'd never seen him before and he had some pamphlets of Mason City under his arm. I struck up a conversation and discovered that he is traveling across Iowa studying the walking habits of the residents. He began asking me questions about the convenience of walking to the bulk of the shopping areas in Mason City. Evidently he had already scouted out the Southbridge Mall area as well as the east and west side shopping areas. I suppose that's all I was doing was confirming what he had already surmised. He said he noticed a number of older people out walking in the downtown area with whom he asked questions about the convenience to basic goods and services without having to drive. He did bring something to light that I had noticed but didn't think about long enough to get the reasoning behind it. He told me that most older people, especially women, don't like walking alone in areas where there are few people around.
I'm certain that is true because an elderly client of mine will not walk in a park or walking path where there are very few or no people in sight. She recently told me she doesn't feel comfortable walking alone should she fall or stray dog start bothering her. I'm sure everyone has heard about what happened on the East Coast recently where a man in his 40's was out jogging and was attacked and killed by big dog that was owned by one of the residents along the jogging path. What a horrible way to die! I can't understand what must go through the minds of people who leave their likely biting dogs loose. Even on the farm, our dogs always knew their boundaries and even then, we never left them unattended. I remember too well the days when I used to go for a jog and encounter a loose dog that was not friendly. A bite can happen in the bat of an eye.
With that said, the gentleman asked about the StreetScape and StoreFront Projects and if there will be additional improvements to the downtown. I told him that in these past four years, there have been great and good changes to the central business district and likely more to come in the future. His last question was, "If I come back in two years, will I see more significant changes?" I answered, "If progress continues as it has been, then absolutely." In every way, I would love to see more people leisurely walking downtown. Walking zones help create healthy habits.