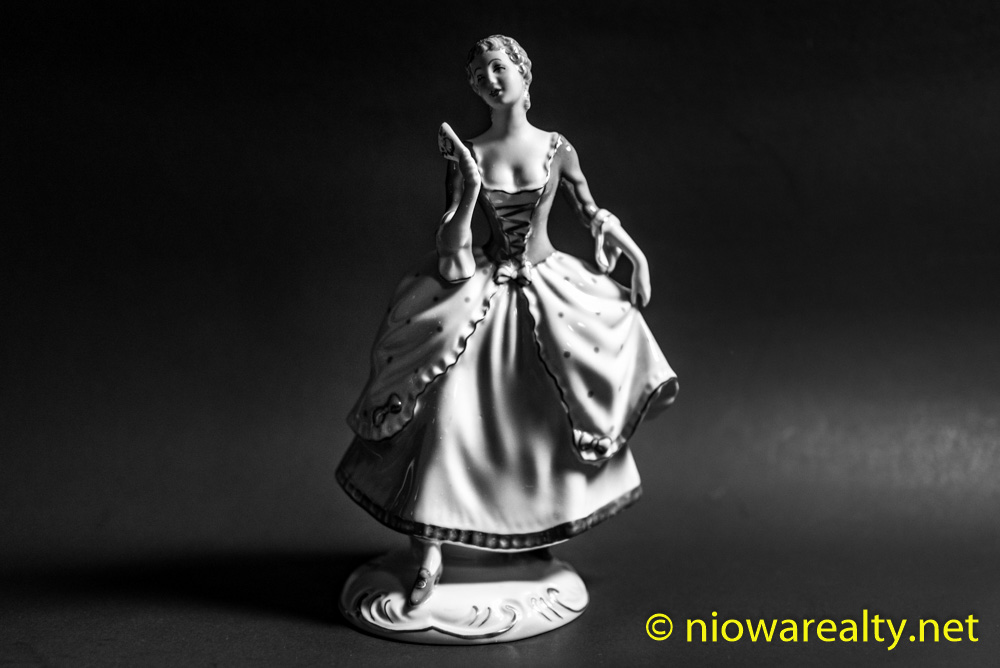 It's absolutely amazing how we went from about four inches of heavy snow on the ground this morning to dry streets, sidewalks, and green grass.  I felt sorry for the Robins fluttering about as if they were out of their elements.  I wasn't surprised to find the trees covered with ice this morning.  I was parked under a tall one this afternoon and had to move because chunks of ice were falling off the branches and onto my car.  I'm just hoping this is the last of the white stuff for these remaining weeks.  It was supposed to be the first day of Spring several days ago, but I think the powers that be forgot to inform Mother Nature.
I'm not sure why there's been so much activity in the market this week, but I guess we all should be glad to find this kind of movement so early in the buying season.  I hope to have one more home sale under my belt tomorrow.  I've been working with a particular buyer for the last several months and I think we've finally found something that's a closer fit.  Since I know the buyer is very handy and if it does get purchased, we'll see a plain old yard turned into a showplace because I've seen his work before.  I wish everyone had the love of landscaping and flower gardening as he does because we'd see our City being transformed into quite the showplace of natural beauty.
I had a very interesting conversation with one of my clients who lives out of State early this morning.  He was asking my advice concerning a problem tenant that he has in his eight unit apartment building.  He mentioned how in all the years he's owned it, he's never had a tenant problem to the degree he now has.  He also went on to say that his leases contain clauses in them stating who is allowed to be living in the apartments.  When this particular tenant moved in was she divorced with a young child, so on the lease he inserted her name along with the child's.  Not but a few months after she moved in, while there doing some maintenance, he noticed a young man in his early 20's walking into her apartment.  From that moment on, he suspected she had a toy-boyfriend.  Several weeks later, he confronted the tenant regarding her suspected live-in. The tenant immediately became defensive to where my client simply said, "You're not allowed to have a live-in because he's not on the lease you signed."  The tenant snapped back by saying, "Well then put him on the lease because I'm NOT having him move out!"  My client replied, "If you don't get rid of him, I'm going to evict you.", which was immediately followed by more acid-tongued remarks from the tenant to where my client decided he'd had enough bashings from her and walked away.  Later in conversation with him, I was brought even more up to speed by him telling me the tenant was approaching 40 years age and her new male live-in was but 21.  From what I gathered, his tenant emigrated here from France and took some sort of office job with a large construction company.
I said, "Hmm.  It sounds like she's developed quite the attachment to her 21 year old part-time fry cook."  He sternly replied, "I received a very insulting phone call from him several days ago telling me I should mind my own business as well as my having lived a good life and should just leave everyone else alone to where he made me feel as though I wasn't worthy of even being alive anymore because I'm old!"  All I could say was, "When hormones are raging and lust-filled thoughts and deeds are in the air, all words out of those mouths are in desperation to keep the two of them under that same roof."  He said, "You're right, and I've already called my attorney to get eviction papers in the mail because now they're telling the other tenants in that building how bad a landlord I am along with spreading vicious rumors about me."  I teasingly said, "Well, that's what your tenant deserves for defying the terms of your lease and harboring the French woman's lover."  He did get a much needed chuckle out of that one and hopefully relieved some pent-up stress.  I find it becoming more commonplace with people freely breeching their contracts and that's not a good sign in our times.