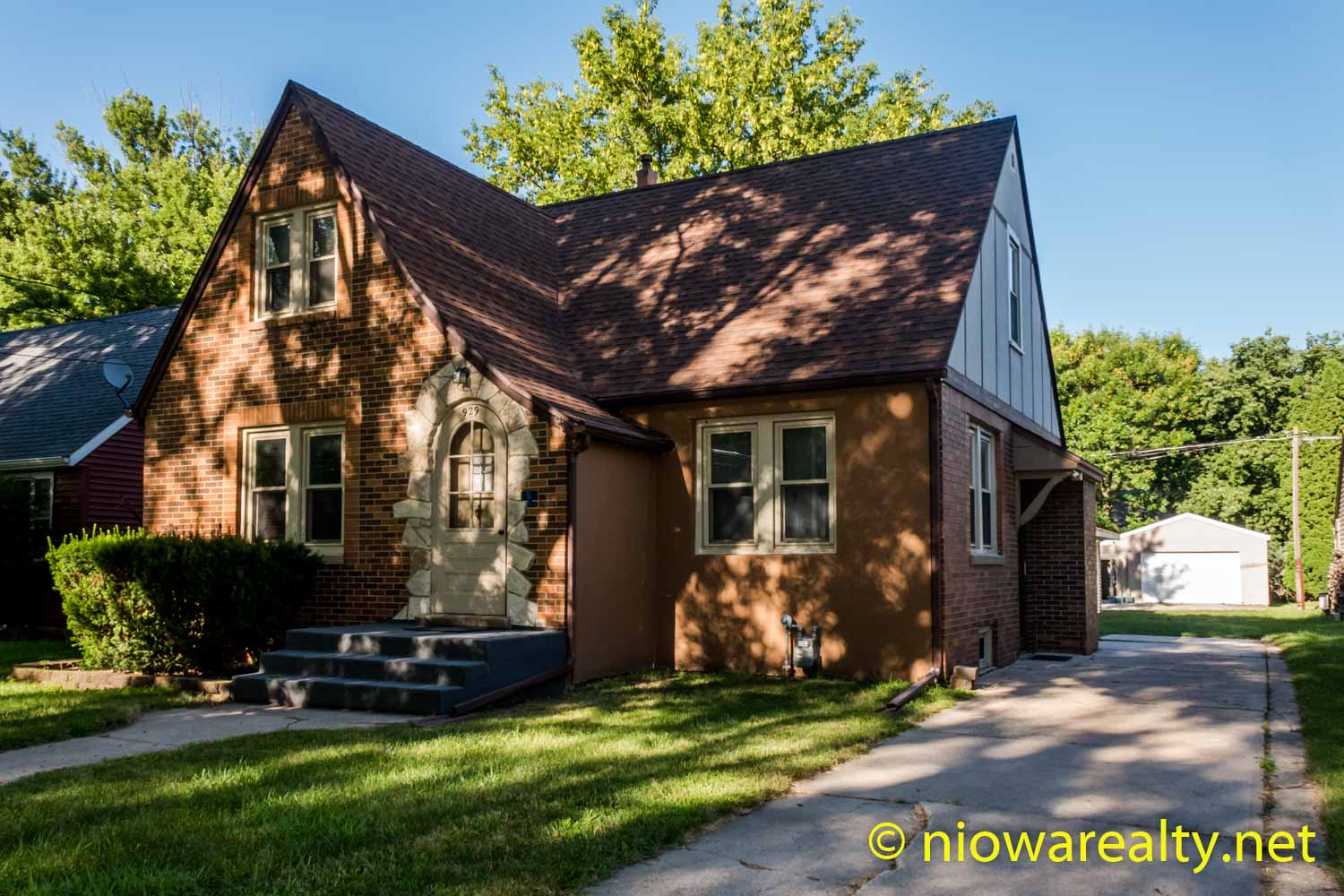 View More Photos
Being it already mid-week, I'd say there's been a great amount of real estate activity for our office, but on the down-side, I'll have to admit there was great dis-appointment when hearing after two weeks of waiting and wondering, a particular buyer working with another Realtor, decided at the last moment against placing an offer on one of my listings.  I would dare say that must've been some kind of emotional roller-coaster.  Unfortunately, it spilled over to the seller's side which made it all the worse.  If there's one thing I really work hard at, is to keep emotions from running rampant during the buying and selling of homes.  People tend not to see straight and think clearly when they're being overwhelmed with their own internal chaos.  I'm now hoping the next person who looks at the home, will be the one who purchases it.
First thing this morning I posted on-line my new listing at 929 N. Madison Ave. here in Mason City.  I then went back over to the house and placed an open house rider on my yard sign, along with my "open house" tent sign.  I suspect there'll be quite few people in attendance this coming Saturday.  I've always liked those two blocks of homes that are mostly brick. That particular neighborhood has been my bread and butter for many years.  I'd say I've sold over 70% of those homes in that district at one time or another.  There've even been those that I've sold more than once or twice.
Over these past several days, I've been quickly brought up to speed with an insect that's invaded our area these past several years.  Always thinking I'm up to speed with invasive species, I'd say I was blind-sighted by the arrival of Japanese beetles.  My first encounter with them was while showing the garden of a listing of mine yesterday.
While I was out there, I made sure to show the prospective buyers the long stretch of grape vines on a fence.  Just as I drew closer, a near swarm of bugs flew out of that cluster.  There were still some square-ish, florescent green bugs still on their leaves.  Having never seen any bug like that before, I tried to get a closer look, but they flew away.  Oh Mercy!  The damage they'd done to those grape leaves was jaw-dropping.
As chance would have it, I was at another home today where the sellers quickly pointed out two areas of their lawn where two small Linden trees had just been cut down.  I asked why, and to my surprise, they told me they had to be cut down because the Japanese beetles had killed them.  That was my second experience.
My third was when at a home where the seller mentioned how they're trying to destroy rose bushes that were planted out back.  For sure, our State is going to have a very big problem with them.  I did a little reading about them later today, and found they are definitely invading our State and those surrounding.  We're already preparing for the death of many Ash trees by the infestations of Emerald Ash Borers, so it looks like right behind them, we'll be fighting Japanese beetles.  It seems the most invasive of species have come from the Orient.
Today I received two deep price reductions.  The first one is 40 Lakeview Dr.  The price was dropped from $276,000.00 to $259,000.00.  The second one is 1141 – 14th St. SE.  The price on it was dropped from $369,500.00 to $358,500.00.  Both homes are of exceptional value, so tell friends, relatives, and co-workers, because they will be SOLD!  I've included above, the photos of both.
Tonight's one-liner is:  Gossip always has to components–one voice and one ear.
Related Property:
929 N. Madison Ave. – Mason City
40 Lakeview Drive Mason City
1141 14th St. SE Mason City