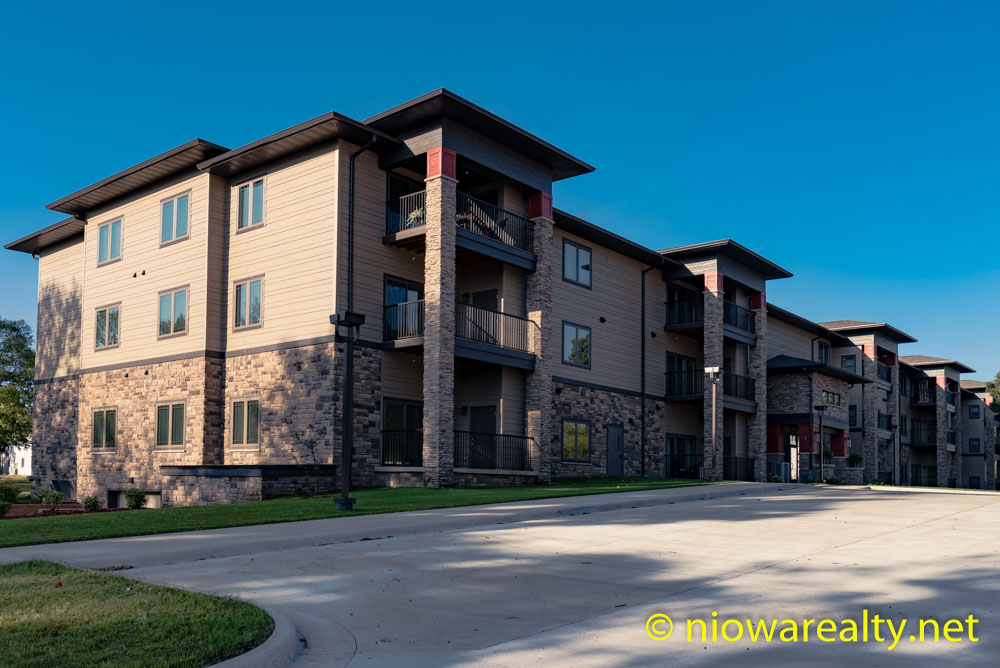 It certainly wasn't one of those days I'd write home about.  If I didn't know better, I would've sworn it was as if our City was transported somewhere on the coastline of a Scandinavian country during an overcast winter day.  The air was exceptionally damp where it was almost fog-like, while certainly happy I was inside most of the day.
My public open house at Prairie Place in 1st was a great success and hopefully there'll be another sale or two soon.  I arrived there about a half hour early so to make sure all the lights were on in the units and get the flyers and treats laid out for the visitors.  I was glad to find a good mixture of age groups which as far as I'm concerned, is really what there should always be in senior housing.  About three or four of the groups showed real interest to where I made sure they had all printouts with them before they walked out.  There were some left-over homemade cookies, so I made sure to leave them with one of the residents for their weekly Monday morning coffee that takes place at 9:00 am.  With there still being people there after closing time, I didn't get all the units locked up, signs pulled, and back at my office until around 4:00 pm which is a rarity for being that late.  All I can say is that the more I'm there, the more comfortable I am with the whole concept of Prairie Place on 1st.  Once the remaining units are sold, there'll certainly be a waiting list for future vacancies.
Just as I was driving home, I realized I needed to stop at Menards to pick up a few supplies.  That store is on a par with Walmart in my book to where I get in and get out as fast as I can for fear I'll see something all the more shocking.  I have no idea where those people come from, but some can appear to be off-worldly by the way they dress in public, the way they've let themselves go, and above all, what comes out of their mouths.  I may sound wicked, but some of them remind me of characters out of the movie "Idiocracy".
Only five more days and counting when the sun will alas starting shining a little bit more until we're back on track to having at least some normal daylight hours. I mentioned to a dear friend this morning how much I dislike this time of year.  The cold and darkness seems to not only enter our bones, but also creep deep into our psyches.  There've been numerous times when I've told people who're feeling a bit down these dark days, to turn all the more lights on in their homes so to counter-act those fleeting symptoms of light deprivation that nearly all of  have to one degree or another.
Not sure if anyone noticed them at my public open house today, but I decided to wear my vibrant red socks that came with a package of dress socks I purchased several months ago.  I thought they looked rather flamboyantly charming with my blue suede shoes and beige slacks.  One of my relatives who I ran into today may have thought I was starting to steer away from my more conservative dress code or possibly having become a little touched.  In spite of our cold and dark days, we still gotta have a little fun. Don't you think?