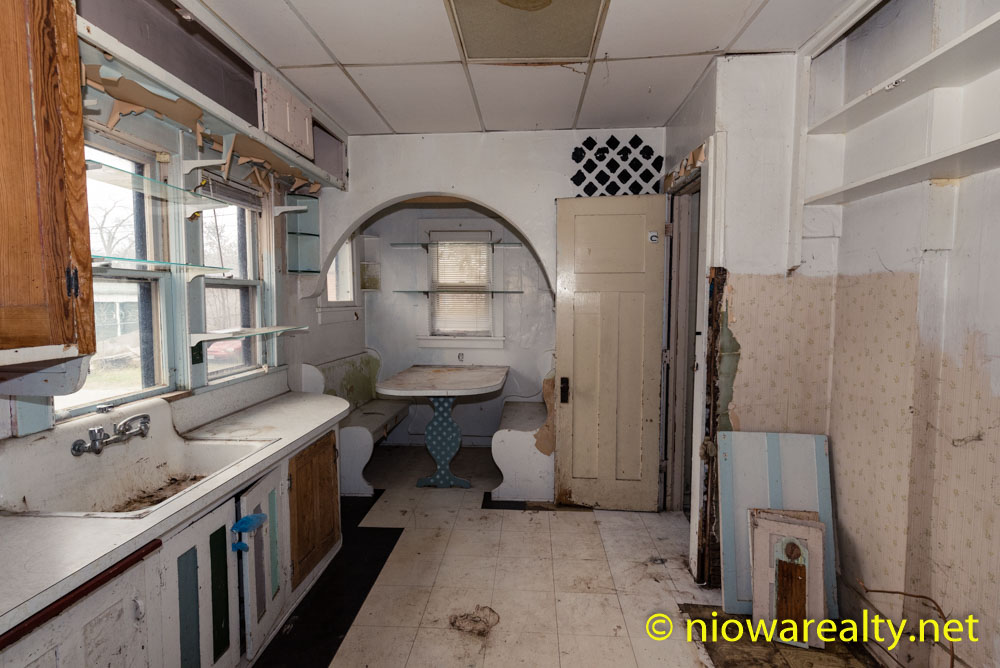 Well, I managed to get thru the day without beating myself up too badly from my outdoor work today.  Thank goodness I had a two hour break with phone calls and an appointment to show one home.  At least I've finally got past a tediously long and daunting task, so now I can move forward with my little project without having to brace myself for another workout when I arrive there.
A Realtor brought in an offer on one of my listings, and hopefully we'll be able to get it put together these next couple of days.  Seems the market is continuing to chug along even in this "between holidays" time frame.  I'd say our pleasant weather has something to do with it, but it looks like starting lateTuesday, the temps are going to drop down into the 20s and remain there.
The home I showed today brought back wonderful memories of times spent in one similar to it a number of years ago.  It was almost as if I was having de ja vu while inspecting each room and hallway.  Homes like it were built by monied people with more than a few children.  There were some modifications made to it likely in the 1930's or 40's by a previous owner who must've wanted to to look more like a new home that generation.  I'm certainly not a purist, but changes made to a home should aways be in sync with its original design and appeal.
I was in a home several weeks ago that possesses the most interesting floor plan.  At first look I thought, "What kind of cluster-funk is this?", but after walking thru it several times, I realized that it must've been custom built by another family with money, and was likely personally supervising the contractor in every detail from start to finish.  Now where can you find a home that's a combination of Cape Code, Prairie School, California Bungalow, and Four Square?  Well, I'd say that home has features of each one, yet they all esthetically fit comfortably together. I was wowed by its near 10ft. tall ceilings and hand tooled crown moulding. I'd wager there's not another like it in all North Iowa.
This afternoon I was visiting with a client about all these letters and postcards that many of our City residents have been receiving from so-called "investors" wanting to buy homes they own sight unseen.  There's no question in my mind they're getting those addresses from Iowa's Public Records along with the assistance of likely a computer algorithm that estimates the age of the owner by the number of years a given property has been owned.  Believe it or not, I actually received two of those postcards from one of them who knows I'm a Realtor.  He must've had someone else pull the names and addresses without looking at them before being mailed.  Why can't people make money the old fashioned way by either working honestly for it, or inheriting it fairly and equitably?
My "spotlight" home tonight is being shined on 21 – 11th St. NE here in Mason City.  It's truly a diamond in the rough, but oh does it have good bones.  I'm waiting for some industrious young person to buy it and transform it back to its original glory.  It would certainly be a win-win situation after it's been brought back because it'll not only make a great first home, but also an instant savings account when it comes time to sell it.  The above photo is of its kitchen that's begging for someone to come sit in that charming breakfast nook.  Can't you see the possibilities?