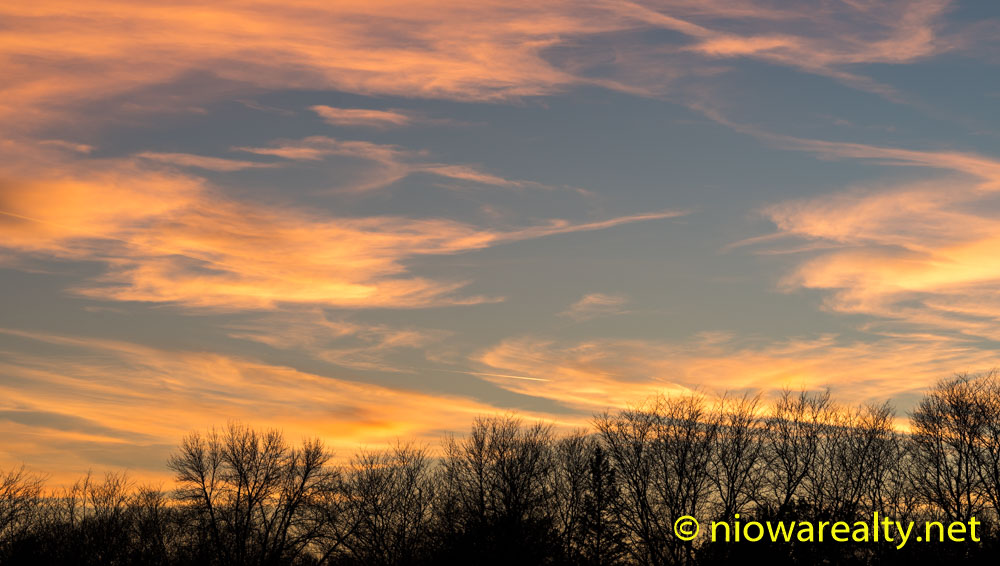 Fortunately the sun was shining and the wind wasn't blowing which was likely why I had a good turn-out at my open house located at 422 S. Tennessee Place. One of the people in attendance was a person I'd shown it to some months ago and liked it all the more the second time thru. We had a nice chat about the unit up until another group showed up while excusing myself to greet them. I'm hoping to get a call from that buyer early next week. I'm convinced it made a good and lasting impression today.
With it being a little less busy, I spent several hours this morning working on my normal monthly bill paying and record keeping. As I've mentioned before, most in the general public have no idea how much extra work is done behind the scenes and out of sight at a real estate office. The Iowa Real Estate Commission is very strict about bank accounts, ledgers and files which is, in the end, good for everyone.
Tomorrow morning I have an appointment with people coming from Cedar Rapids to have a tour of Prairie Place on 1st. After a long conversation on the phone with one of them several days ago, I'm pretty sure they'll be very impressed with the units as well as the type of asset-protecting ownership it affords. I mentioned in conversation this morning with one of our City's prominent businesspeople, how the word really should get out to wealthy children of parents who're not so financially endowed. What a great gift of love it would be for a successful child to purchase one of those units for a parent or parents. She was in total agreement.
One particular couple came to mind after I wrote last night's article, but I believe a "gift" was given to purchase one of those Village Coop units which have exceptionally high monthly fees. Yes the purchase prices on them are lower, but the monthly costs are noticeably higher. And by the way, who wants to be stuck out on a windy hill on the fringe of our City's limits where you have to get in your car and drive to everything?
Looks like more of our Snowbirds are leaving now that Thanksgiving has come and gone. As much as I don't like winter, I could never see myself owning a 2nd home as far away as Florida, California, or Arizona. Absentee ownership is a recipe for more potential problems than its worth. I'd rather rent a cottage or apartment somewhere near a body of water for maybe a month or two and leave it at that. When you think about it, from about the last week of December to the first week in February, that's the time frame when we usually have extended days of bitter cold. All the other winter days are random, and certainly not so brutally cold.
I was over at Clear Lake this afternoon, and while waiting for an appointment to arrive, I started counting all the front entrances of homes that have wooden or composite steps leading to their front doors. I'll likely never grow used to finding them to be on the cheap. They're not only dangerous when wet and icy, but also they distort a home's original design and appeal when on a drive-by. Wooden decks and podiums belong at side and rear doorways.
The evening sky was so beautiful tonight, I thought it worthy of a photo, so I snapped the above to share with you all. As the sun travels lower in our skies during these days, the colors are all the more vivid due to its low angles.