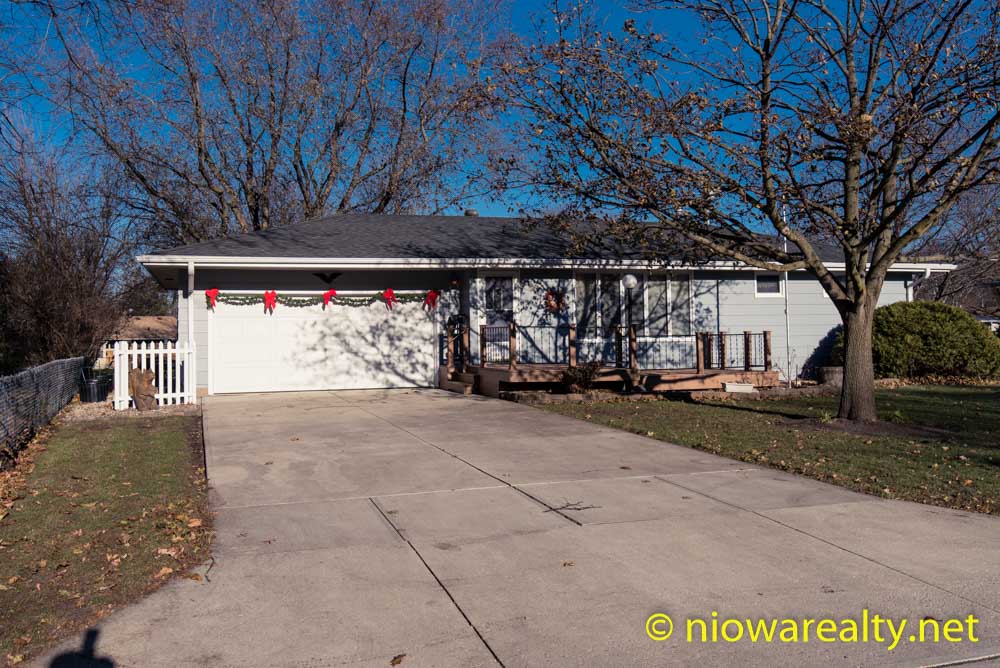 Ouch!  Looks like we're going to be pounded this winter with an abundance of Alberta Clippers sailing thru North Iowa.  Each time that wind starts, it feels all the more biting than it did the last time it arrived.  At least many of the seasonal outdoor workers will be taking numerous days off with the exception of perhaps driving a plow every time it snows.
One of the appointments I had today took me to a very rickety and ultra-filthy bargain basement home.  It was of course empty, but the "essence" of the previous occupants lingered on.  First off, they certainly had more than one dog, but even though the heat was off, the pungent smell of them remained.  For sure they must have had real substance abuse issues because the signs were evident nearly everywhere I looked.
While walking thru, I was praying they didn't have children living in that squalid structure. Too many wonder why children grow up to be "bad seed" burdens on the State. It doesn't take a rocket scientist to trace their lives back to when they were children and exposed on a daily basis all our social evils at such tender and innocent ages.   I said to the buyers, "All I see is a big lot, and a shell with relatively good bones, but everything else needs to be scraped off and hauled away."  Surprisingly they agreed, so I guess they'll be putting a pencil to their costs of improvements and get back to me.  If they do buy it, I'm confident the quality of tenants/occupants will be markedly better than what I viewed today. I did teasingly say to them again, "You know this is Realtor abuse." Coming out of places like that oft times makes me want to burn and/or bury all the clothes I'm wearing.
Oh, I must share with you a sight I hadn't seen in many years. An elderly lady just had to show me a hand corn planter that came from her grandparents.  I was totally intrigued by it because I'd not seen one with all its components intact.  We laughed about how today's farmers wouldn't have a clue what it was, or the reason why many years ago farmers would "drill" their corn with special planters with trip wires.  That's back when we didn't have herbicides and the fields had to be cultivated several times during growing seasons.  It all took me back to the "big farm" we lived on before my parents decided to move to our fair City.
Holtz Realty has another "curtain rising" today on a new listing.  If it doesn't sell before the end of this year, I'll be extremely surprised because it offers everything most buyers are looking for here in Mason City–especially its location.   It's a roomy 3+ bedroom ranch with 1 3/4 baths, open kitchen/dining/living area, big bathroom, finished basement with a possible 4th bedroom and 3/4 bath, 2 car attached garage, and a very large fenced back yard.  It's priced to sell at $128,500.00, so don't hesitate to call or tell friends and relatives about 1034 Park Lane here in Mason City.
Click on its link to see for yourselves.