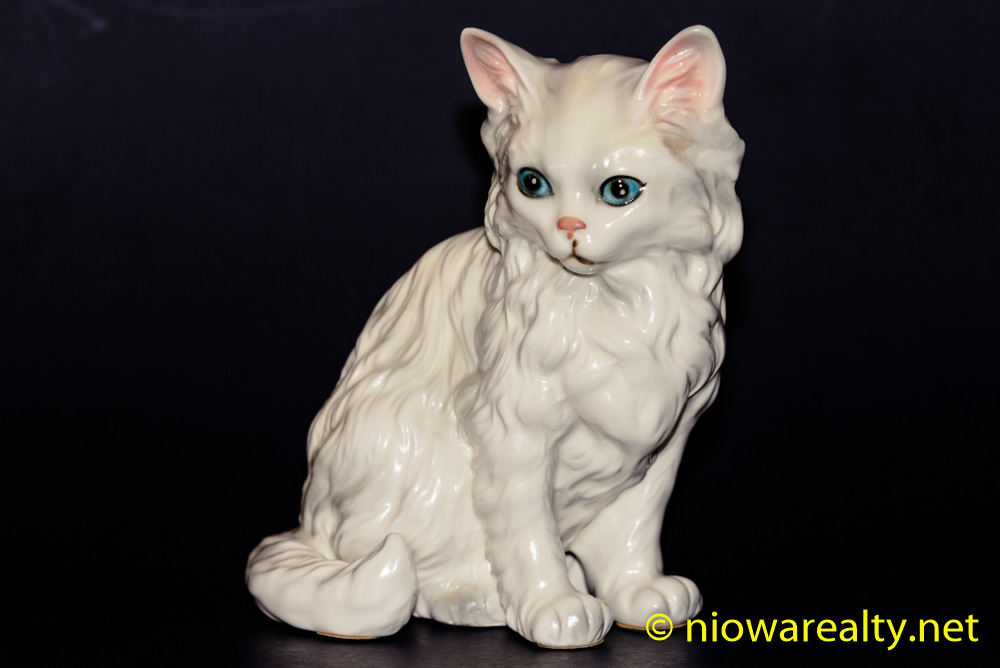 From about 7:30 this morning, I was either on the phone, helping walk-ins, or responding to emails and texts. Somehow it felt like Monday all over again. After the day was done, I left the office knowing I'd accomplished many little things, but nothing big.
After it grew light enough, I went out and took new photos of several of my listings that've been improved since being listed. At one of them, the "yell" was almost scared out of me while walking thru the service door of its detached garage. I'm sure you all know how much I despise squirrels. Well, you'll need only one guess to know what went running past me and then out a hole it had chewed thru. Oh Mercy! I couldn't believe the mess it had made in such a short time. I did notify the owners and for sure they've already been there to get it cleaned up and the hole fixed.
There should be a year-round season for those vile creatures in North Iowa. I don't even want to "go there" in sharing the number of homes I've shown over the years that suffered great damage from those bushy-tailed rats. Every time I see someone feeding them, I remember the horror stories told by those who fed them and later discovering their cute little half-tamed friends didn't want to wait to be fed, thus deciding to chew their way into their servants' attached garages and help themselves. I'm sure you didn't know they're able to chew thru thick plastic storage bins if they believe something edible is contained. My mantra has always been, "The only squirrel I like has to be either pan-fried or barbecued."
There was a bit of a stir Downtown today over a pussy that managed to get itself at the bottom of a deep exterior window well. I heard several City workers had to use a long ladder so they could get down to a likely starving pussy. From what I understood, it was tame, fully grown, and wanting a hug. I asked if someone reported it missing, but evidently not. Most likely someone grew tired of it and dumped it off in the Downtown. It's just another example of how some who believe they want a pet, more sooner than later grow tired of it and dump it far enough away from their home or apartment so to make sure it wouldn't find its way home. As far as I'm concerned, that's one of the most inhumane things to do to an unwanted pet–especially if it's a pussy.
Later this afternoon I listed a real "diamond in the rough" located at 21 – 11th St. NE here in Mason City. I've got it posted everywhere, but without photos due to the owner still working on getting it cleaned out enough so I can take photos. If anyone is looking for free stuff, there's now plenty to choose from at the curbside.
The home is a very well built 2 story which offers gorgeous oak woodwork, built-ins, and floors. There's an open staircase leading up to 3 large bedrooms and a bath. Yes, it needs many hours of restoration, but it'll be a rock solid long-term investment when finished. I was in it many years ago and I can tell you it was quite the beauty back then. There's also a newer roof, and the wiring is circuit breaker. I was delightfully surprised nearly all the woodwork is un-painted and in exceptionally good shape. Hopefully by the first of next week, I'll have photos to share. It's worthy of at least a drive-by.