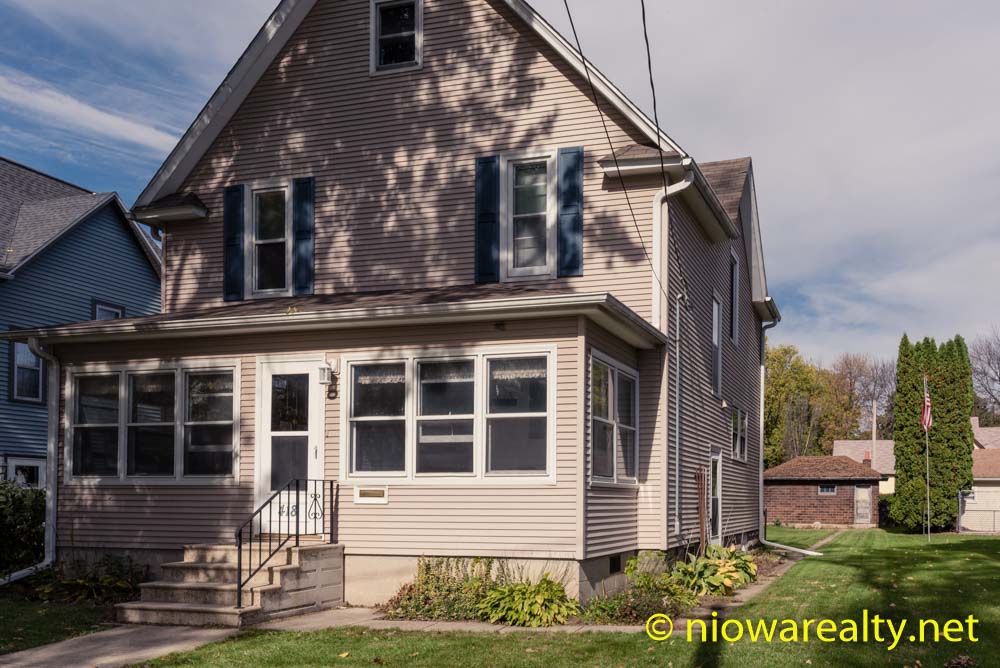 Yet another beautiful weather day again to where I believe we all could live with this until Christmas.  The maple trees are still showing their brilliant colors and fortunately the light frost we had didn't damage our late blooming flowers.  One thing I am glad about that little "frosting" we had, was the killing off of many of those biting jiggers.  They were getting to be rather aggravating whenever outside for even the shortest of periods.
We're starting to get more buyer calls again and hopefully now back on track with sales for the remainder of the year. There have also been some new listings on the market this week, but I didn't see anything that looked that promising for some of the buyers I've been working with.
I did manage to get the home I recently spoke about listed today.  It was the second time I'd been there, and once again I believe it has an absolutely wonderful floor plan to where it has a real "grounding" effect when inside.  It's located at 418 – 7th St. SE here in Mason City, and all the homes around it are clean and well kept.  I've sold other homes in those blocks and have found buyers to be happy they purchased them.  There are two very good features this home offers.  First of all it has four bedrooms which many young families are seeking, and secondly, it has a half bath on the main floor.  Most of our older two story homes only have three bedrooms, and don't have a half bath on the first floor which most buyers don't like.  Having that extra bedroom and half bath will certainly make it more marketable.  I'm planning on having it open this Saturday from 1 – 3 PM so if you or anyone you know is looking for a home, stop on down.
Late this morning I toured a home that certainly "wowed" me.  It's listed with another agent, but I thought I'd go out and preview it.  Whomever built it was exceptionally particular about the woodwork, doors, and cabinetry.  It offers the most beautiful maple woodwork I've ever seen in a newer home.  The interior doors are even six paneled and also of maple.  I told the agent there'll certainly be someone with an eye for quality who'll snap it up.
Early this morning I happened upon a few clever jokes I thought worth sharing, so here they are:
Do you know why Pigmies don't eat clowns?  Because they taste funny.
I hate going to weddings, because there's always gotta be an old lady next to me who turns and whispers in my ear, "You're next." So I started doing the same at funerals, "You're next."
You know you're a red neck when you go to family reunions in your pickup truck waiting for the opportunity to say, "Hop in my little Princess. I'll all be OK because everybody here knows we're just kissing cousins!"
Enough for tonight. Just thought I'd throw these in to remind you that a good laugh is the best medicine.  The above photo is of my curtain rising on 418 – 7th St. SE.  Take a closer look if it pleases you.